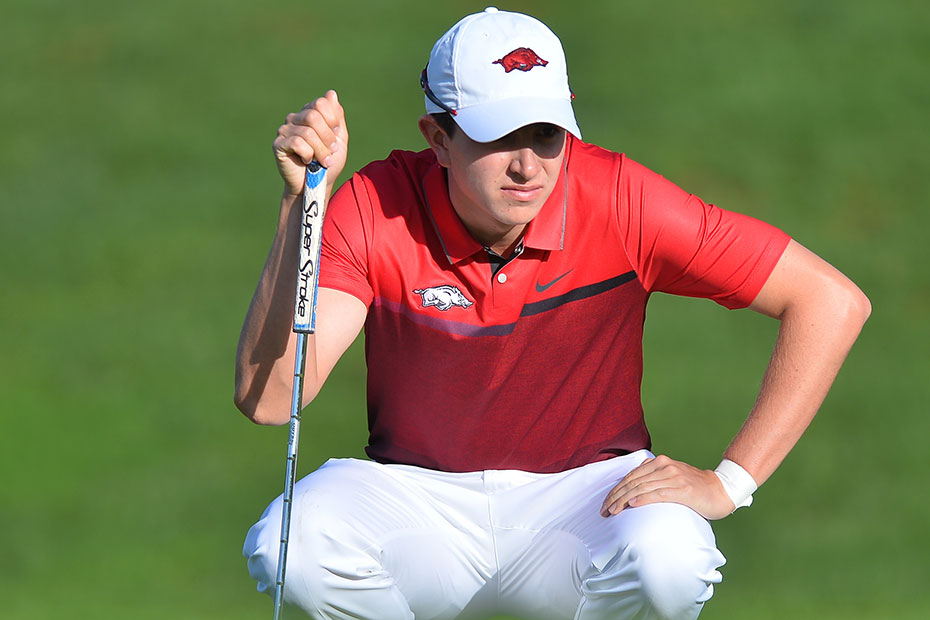 Echavarria Claims Title, Hogs Runner Up in Georgia
ATHENS, Ga. – The Arkansas men's golf team continued its strong play on Monday at the one day 36-hole Southern Intercollegiate, finishing runner up in the 14-team field, while Nicolas Echavarria topped the leaderboard to earn co-champion honors at Athens Country Club.
"The team came out and played great today," said Arkansas head coach Brad McMakin. "To have a chance to win against second-ranked Georgia on its home course will give us a lot of confidence next week. This was a great team effort all around."
Echavarria recorded the first win of his career with rounds of 70-67/137 to sit deadlocked with Georgia's Greyson Sigg for the individual championship. He was bogey free over his final 27 holes, shooting seven-under during the span to capture the victory. At one stroke off the lead standing on the 18 tee box, the senior carded a birdie on the par four finishing hole to tie for the title.
The Razorbacks (-17) 279-280/559 finished three strokes behind second-ranked Georgia (271-285/556) as one of two teams under par for the tournament. Liberty (+2), Furman (+8) and Kennesaw State (+14) rounded out the top five.
Arkansas' 17-under was its lowest score to par since a 28-under mark at the NCAA Columbia Regional during the 2013-14 season. After trailing by eight shots at the midway point, the Razorbacks closed UGA's lead to just one on the back nine, but the Bulldogs pulled away for the three-shot victory.
Taylor Moore put himself in position for another victory, finishing tied for third with rounds of 68-70/138 at six-under and one off the lead. He went bogey-free for a 25-hole span, recording eight birdies along the way to jump into contention for the third straight event. The senior has seven consecutive rounds under par and has a head-to-head record of 233-3-3 over his last three tournaments with a victory, second place and third place finish.
Kolton Crawford recorded his fourth top 20 finish in his last five events, posting a one-under 68-75/143 to sit in a tie for 12th place overall. He opened the day with a bogey-free four-under 68, his fourth round under par this year.
Charles Kim (74-71/145) and Alec Tahy (73-72/145) finished tied for 17th overall at one-over for the tournament as both players recorded their first top 20 finish of the season.
Arkansas returns to action on March 21-22 at the Valspar Collegiate in Palm City, Florida. Rounds one and two will be played on the first day, followed by the third round on day two at the Floridian Golf Club.
Team Quick Hits
• Arkansas has finished third or better in three of its four spring tournaments, including one victory.
• The Razorbacks have a head-to-head record of 44-11-1 during the spring season.
• Arkansas led the tournament in par three scoring at two-over.
• The Razorbacks paced the field with 126 pars and finished second with 32 birdies.
• The last time Arkansas had two different players win an event in the same season came in 2010 with Jamie Marshall and David Lingmerth.
Player Quick Hits
• Nicolas Echavarria recorded his first collegiate victory and his second top 10 finish of the year.
• Echavarria finished tied for second in the field in par four scoring at three-under.
• Echavarria was bogey free and shot seven-under over his final 27 holes.
• Moore extended his streak of rounds under par to seven, going 24-under during the stretch.
• Moore has finished first, second and third respectively in his last three events.
• Moore has a head-to-head record of 233-3-3 over his last three tournaments
@RazorbackMGolf Lineup
T1. Nicholas Echavarria – 70-67/137 (-7)
T3. Taylor Moore – 68-70/138 (-6)
T12. Kolton Crawford – 68-75/143 (-1)
T17. Charles Kim – 74-71/145 (+1)
T17. Alec Tahy – 73-72/145 (+1)
Southern Intercollegiate Final Results (GolfStat Rankings)
1. Georgia (2) – 271-285/556 (-20)
2. Arkansas (27) – 279-280/559 (-17)
3. Liberty – 291-288/579 (+3)
4. Furman – 292-292/584 (+8)
T5. Kennesaw State – 293-297/590 (+14)
T5. Augusta State (36) – 298-292/590 (+14)
T5. USC Upstate – 295-295/590 (+14)
8. Gardner-Webb – 305-396/601 (+25)
9. Youngstown State – 307-295/602 (+26)
10. Western Carolina – 308-302/610 (+34)
11. Francis Marion – 304-308/612 (+36)
12. Stetson – 307-306/613 (+37)
13. IUPUI – 327-307/634 (+58)
14. Savannah State – 328-309/637 (+61)
For more information on Arkansas men's basketball, follow @RazorbackMGolf on Twitter.