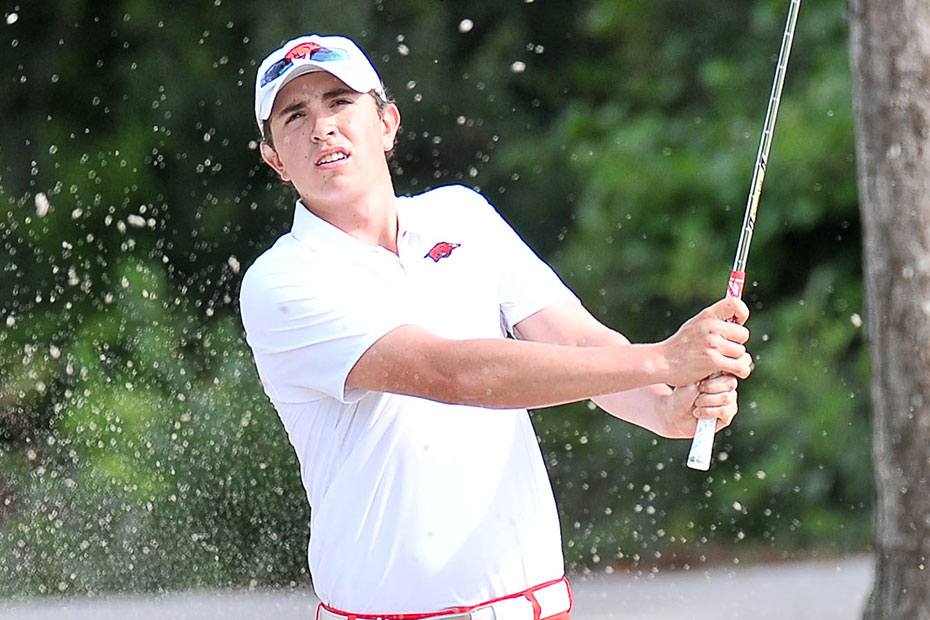 Echavarria Makes Second Round Move
CARLSBAD, Calif. – Led by senior Nicolas Echavarria's two-under 69, the Arkansas men's golf team got off to a better start in round two of the Gifford Collegiate and improved its four-man score to sit in eighth place heading into Wednesday's final round at the La Costa Legends Course.
Echavarria's 69 was the third-lowest round turned in by the 81-player field on Tuesday, highlighted by a three-under front nine. The six-stroke improvement from round one to round two bumped Echavarria up 28 spots on the leaderboard into a tie for 18th place (75-69). He reached as low as four-under through the first eight holes thanks to a pair of birdies and an eagle on the par 5 7th hole. Echavarria joins classmate Taylor Moore with an eagle through the first two rounds.
Moore turned in Arkansas second-best score of the day with an even-par 71 and carries good momentum into Wednesday's final round after playing his last 12 holes at two-under. Entering the day in a tie for second place just one stroke off the leader, sophomore Alvaro Ortiz battled back with two birdies on the back before following his opening round 68 with a 75. He sits in a tie for 12th, looking for his third top 15 performance of the fall.
Sitting seven strokes out of third place, Arkansas will play alongside Northwestern and USF on Wednesday, taking the first tee from 10-10:44 a.m. CT. Live scoring for all three rounds can be found on www.Golfstat.com or via the Golfstat Live app.
Senior Kolton Crawford turned in his second straight counting score with a 74 after a first round 73. The Texas native has played the back nine at even-par both rounds. Making his second career start, freshman Noah Edmondson posted his second straight 76.
Quick Hits
Arkansas has played the course's par 5s at 12-under, led by Ortiz (-6) and Moore (-5).
As a team, the Razorbacks are tied for the tournament lead with 113 pars.
Arkansas made the turn at even-par, good for a five-stroke improvement from the first round.
Ortiz leads the field in par 5 scoring at six-under.
Ortiz leads Arkansas and ranks third in the field with nine birdies.
Ortiz's six birdies tied for the most in the 81-player field.
A day after Moore equaled Echavarria's career total of five eagles, Nicolas retook the lead with six.
Crawford leads Arkansas with 26 pars, just one off the tournament-best.
@RazorbackMGolf Lineup (Stroke Average)
T12. Alvaro Ortiz – 68-75/143
T18. Nicolas Echavarria – 75-69/144
T26. Taylor Moore – 74-71/145
T33. Kolton Crawford – 73-74/147
T60. Noah Edmondson – 76-76/152
Gifford Collegiate Standings (Golfweek Ranking)
1. Washington (47) – 285-275/560
2. Stanford (5) – 285-277/562
3. San Diego State (26) – 290-282/572
4. UCLA (29) – 287-288/575
5. Oregon (31) – 287-290/577
T6. Colorado (71) – 292-286/578
T6. USF (22) – 290-288/578
8. Arkansas – 290-289/579
9. Northwestern (52) – 298-290/588
T10. Harvard (80) – 298-293/591
T10. Texas AM (28) – 292-299/591
12. Marquette (90) – 299-293/592
13. Wisconsin (143) – 294-299/593
14. Tennessee (44) – 296-298/594
15. San Jose State (96) – 306-307/613