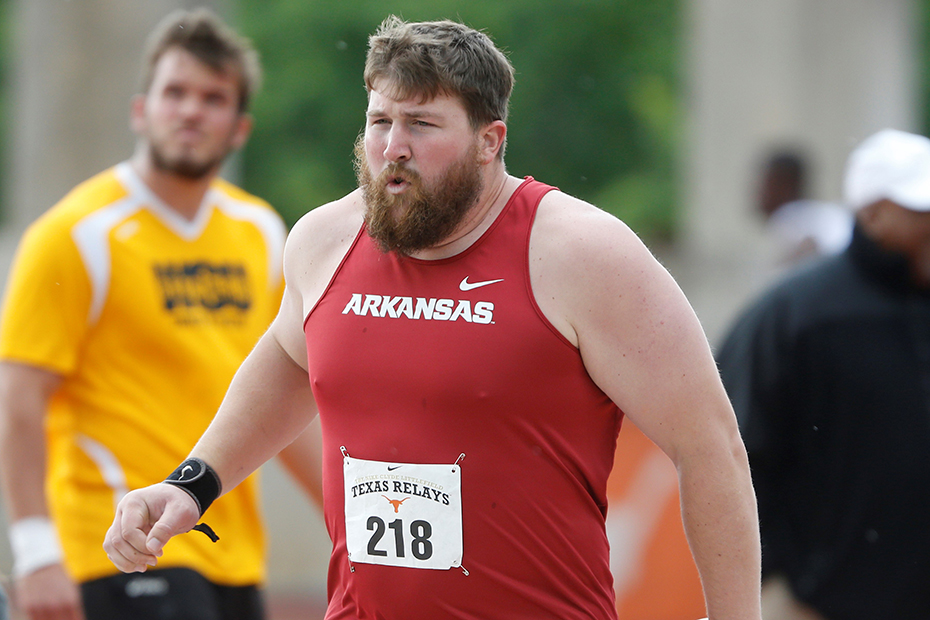 Event Victories and Top Times Highlight Day Two
Texas Results
Stanford Results
AUSTIN, Texas/PALO ALTO, Calif. – Arkansas men's track and field team had outstanding showings in Austin, Texas and Palo Alto, California on Friday competing in the Texas Relays and Stanford Invitational, respectively. Major performances came out of both meets as Arkansas collected two event winners in Texas and posted several PRs and NCAA top-10 times at Stanford.
Senior thrower, Devin Randall, was the first Razorback of the day to earn an event win placing first in the b section of the shot put with a throw of 16.75m/54-11.50. Randall's entered the finals of the event ranked sixth and improved on his mark on his fifth attempt to capture the event title. Freshman Jeff Rogers finished third in the shot put with a throw of 16.51m/54-2.
Arkansas hurdle duo, Larry Donald and Kemar Mowatt also delivered on day two for the Razorbacks finishing first and third, respectively. Donald ran one hundredths of a second off his personal best time to earn the victory with 50.91. The Razorback hurdlers' times from this weekend place them among an elite few collegians whom have run sub-51 in the intermediate hurdles this season.
In the relays Arkansas team of Roy Ejiakuekwu, Obi Igbokwe, Ryan Green and Ryan Thomas finished fourth in the sprint medley in 3:19.71. Green and Ejiakuekwu were also members of Arkansas's 4×100-meter relay team along with 2015 NCAA champions Kenzo Cotton and Marqueze Washington. The Razorback 4×100 clocked the second fastest time of the day to qualify for Saturday's final section.
Out on the pacific coast Arkansas distance faced off against tough NCAA and professional competition in the 1,500, 5,000 and 10,000-meter runs.
Freshman Ethan Moehn kicked off the day at Cobb Stadium with a lifetime best performance of 3:49.29 to finish fourth in section four of the 1,500-meter run.
5K crew of Jack Bruce, Austen Dalquist, Alex George and Cale Wallace took their turns on the track during the evening session. All four Razorbacks posted solid performances, each improving to a new PR. Bruce and George received acknowledgement for their sub-14 performances – George the fourth fastest collegian in the event with 13:49.46. The 2015 European Junior 5K champion, George, currently sits at the top of the SEC in the 5K and has the fourth best time in the NCAA.
2016 NCAA indoor 5K All-American, Gabe Gonzalez, completed Arkansas's spectacular day with a career best in the 10,000-meter run of 29:01.62. Entered in the fast section of the event, Gonzalez, held his own against several professional athletes, running a time under 30 min to place 10th overall as the second best collegian. His time ranks him among the five best NCAA 10K performers this season.
The Razorbacks will resume competition in Texas tomorrow morning at 10:40 a.m. with the 4×800-meter relay. Arkansas final day in Austin will feature performances in the 4×100, 4×200, and 4×400-meter relays as well as the long jump.
LHN Texas Relays TV Schedule (all times Central):
| | | |
| --- | --- | --- |
| Date | Time (CT) | Events |
| Sat, April 2 | 1:30 p.m. | Finals, 4x100M, 110/100M Hurdles, 100M, 4x400M, 200M, Field events |
Clyde Littlefield Texas Relays
Mike A. Myers Stadium
Austin, Texas
Day one
400 Meter Hurdles (Prelims)
Kemar Mowatt – 50.66q
Larry Donald – 50.90q
Day two
110 Meter Hurdles
Larry Donald – 14.40w
400 Meter Hurdles
Larry Donald (1) – 50.91
Kemar Mowatt (3) – 51.38
4×100 Meter Relay
Arkansas – 40.26q
Ryan Green, Roy Ejiakuekwu, Kenzo Cotton, Marqueze Washington
Sprint Medley Relay (Invitational)
Arkansas (4) – 3:19.71
Roy Ejiakuekwu, Obi Igbokwe, Ryan Green, Ryan Thomas
Long Jump Section B
Kurt Jenner (5) – 7.27m/23-10.25
Shot Put Section B
Devin Randall (1) – 16.75m/54-11.5
Jeff Rogers (3) – 16.51m/54-2
Discus Throw Section B
Devin Randall (14) – 46.55m/152-8
Stanford Invitational
Cobb Stadium & Angell Field
Palo Alto, Calif.
1,500 Meters (Section 4)
Ethan Moehn – 3:49.29
5,000 Meters (Section 3)
Cale Wallace (14) – 14:15.10
5,000 Meters (Section 2)
Jack Bruce (6) – 13:54.15
Austen Dalquist (16) – 14:18.40
5,000 Meters (Section 1)
Alex George (8) – 13:49.46
10,000 Meters (Section 1)
Gabe Gonzalez (10) – 29:01.62
Frankline Tonui (24) – 29:41.37
Discus Throw Collegiate
Erich Sullins (3) – 50.93m/167-1
For more information on Arkansas track and field including in-meet updates, follow @RazorbackTF on Twitter.