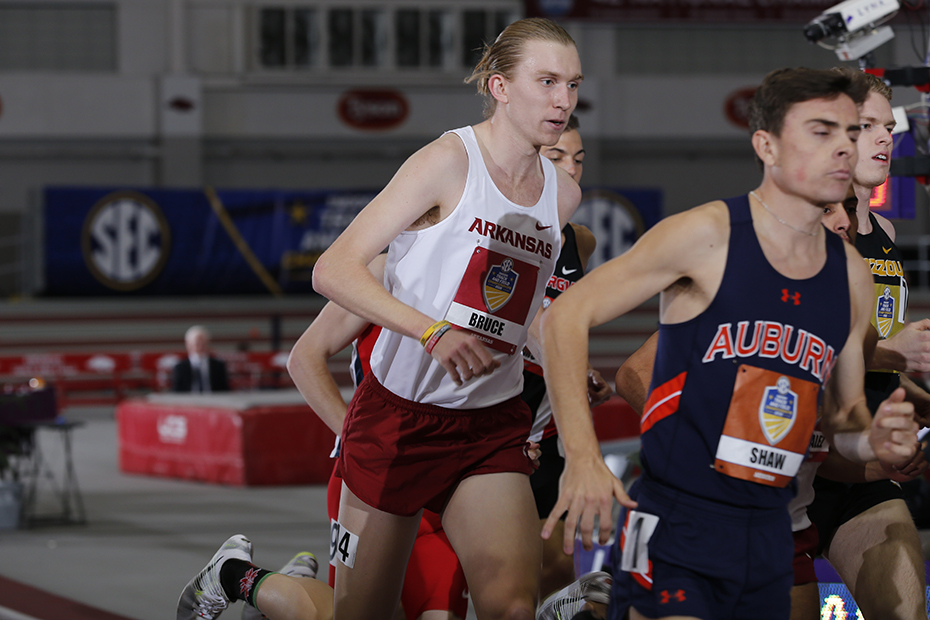 Fast 1,500s Cap Competition In California
Bryan Clay Meet Schedule | Start Lists | Friday Results
Mt. SAC Meet Schedule | Start Lists | Friday Results
Texas Meet Schedule
AZUSA and NORWALK, Calif. – The No. 7 Arkansas men's track and field team returned to action in Azusa and Norwalk on Friday evening at the Bryan Clay Invitational and Mt. SAC Relays, respectively.
Bryan Clay Invitational
The Razorback middle-distance crew had a successful outing at Cougar Athletic Stadium as all five student-athletes collected career best times in the 1,500-meter run. 2015 cross country All-American, Jack Bruce, had the best performance of the day, running 3 minutes, 41.67 seconds to finish first in the competitive field.
Along with Bruce, Arkansas freshman quartet of Austen Dalquist, Ethan Moehn, Alex George and Cameron Griffith secured times in the 1,500 that should hold strong for qualification into the NCAA first round.
Results – Bryan Clay
1,500 | Jack Bruce (1) – 3:41.67
1,500 | Austen Dalquist (13) – 3:44.16
1,500 | Ethan Moehn (18) – 3:44.60
1,500 | Alex George (20) – 3:44.64
1,500 | Cameron Griffith (26) – 3:45.87
Mt. SAC Relays
2015 NCAA first round qualifier, Frankline Tonui, was the only Razorback to race at Falcon Stadium on day two of the Mt. SAC relays. In his 2016 steeplechase debut, Tonui, posted a 9:01.88 performance – the fourth best time in the Southeastern Conference this season.
Results – Mt. SAC
3KSC | Frankline Tonui (26) – 9:01.88
Arkansas will kick off competition at the Texas Invitational at Mike A. Myers Stadium tomorrow morning at 9:00 a.m. CDT.
For more information on Arkansas track and field including in-meet updates, follow @RazorbackTF on Twitter.