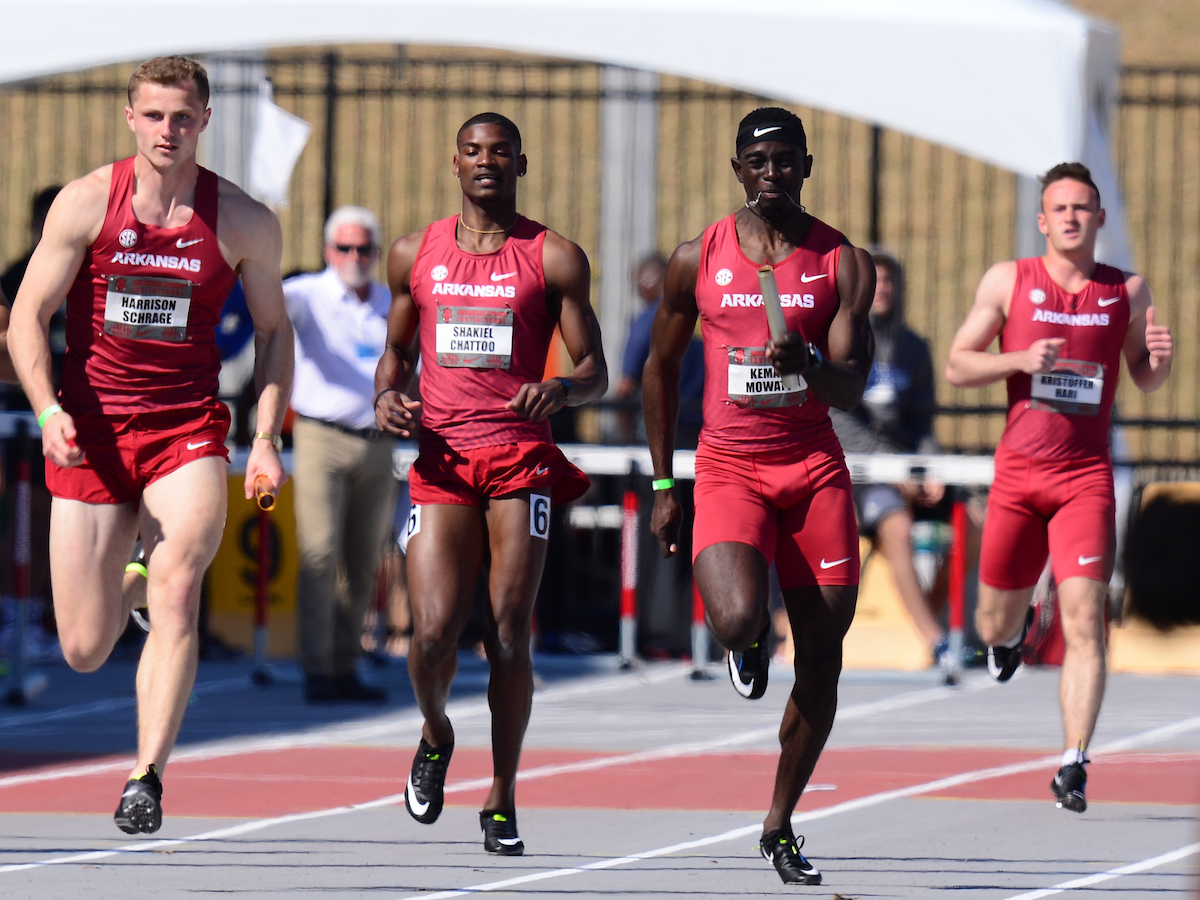 Field Events, Sprints Dominate Outdoor Opener
Results (html) | Results (pdf)
FAYETTEVILLE, Ark. – The 11th-ranked University of Arkansas men's track and field team opened its 2018 outdoor season with four event titles and six runner-up finishes at the Arkansas Spring Invitational at John McDonnell Field on Saturday.
Senior Kenzo Cotton was part of three of Arkansas' victories with wins as the anchor leg of the 4x100m and 4x400m relays and sailing to the 100m title in the season opener.
The field events and sprints dominated the day with Arkansas getting wins in the long jump, 4x100m relay and the 100m. They added second-place showings in the discus, high jump, 200m, 400m, 110m hurdles, the 4x100m relay and 4x400m relay events as well. As the day closed, the Razorbacks counted 17 top-5 finishes.
Arkansas 4x100m relay team posted a meet record running a 39.31 in route to the first win of the day. Kristoffer Hari, Kemar Mowatt and Obi Igbokwe had the Razorbacks in the lead, but anchor Kenzo Cotton slammed the door shut pulling away from the field in the final leg.
The Razorbacks picked up a runner-up finish in the 4x100m with solid performances from Sam Schillinger, Harrison Schrage, Kevin Harris and John Winn who ran 39.87.
Cotton returned to the track picking up the win in the 100m running a 10.12, the fastest time in the NCAA this season. His time is the fifth-best mark in program history.
In the field events, the Razorbacks picked up a win in the long jump from sophomore Harrison Schrage. Schrage jumped 7.69m (25-2.75) winning by one inch. Schrage posted his winning jump in his second effort in his flight.
Senior Kemar Mowatt ran a 14.30 in the 110m hurdles and Winn notched a personal best and his second runner-up finish of the day running a 47.41 in the 400m. Hari added a runner-up finish to his day running 21.16 in the 200m. Senior Rubin Owens added a fourth runner-up finish for the Razorbacks with a personal best 2.11m (6-11) effort in the high jump.
Up Next
The Razorbacks split the squad taking part in the Clyde Littlefield Texas Relays March 29-31, and the Stanford Invitational, March 30-31. Arkansas returns home hosting the John McDonnell Invitational April 13-14.
Event Winners
4x100M Relay | Kristoffer Hari, Kemar Mowatt, Obi Igbokwe, Kenzo Cotton – 39.31 (meet record)
100M | Kenzo Cotton – 10.12 (fastest time in NCAA this year)
Long Jump | Harrison Schrage – 7.69m (25-2.75)
4x400M Relay | Chambers/Mowatt/Winn/Cotton – 3:10.30
Arkansas Spring Invitational
March 23-24, 2018
Randal Tyson Track Center (Fayetteville, Ark.)
Hammer (Friday)
3. Erich Sullins – 58.49m (191-10)
Javelin
4. Alex Springer – 59.23m (194-4)
Long Jump
1. Harrison Schrage – 7.69m (25-2.75) (PR)
14. Trae Carey – 6.42m (21.0.75)
Shot Put
4. Sam Kempka – 16.78m (55-0.75)
15. Gabe Moore – 13.59m (44-7)
Discus
2. Erich Sullins – 48.51m (159-2)
9. Gabe Moore – 44.13 (144-9)
High Jump
2. Rubin Owens – 2.11m (6-11)
4. Brendon Rivera – 2.01m (6-7)
4x100M Relay
1. Hari/Mowatt/Igbokwe/Cotton – 39.31 (meet rec)
2. Schillinger/Schrage/Harris/Winn – 39.87
6. Chambers/ Stephen, Donald, Woodhall – 41.29
1500M
7. Kieran Taylor -4:02.64
8. Reese Walters – 4:03.36
110M Hurdles
2. Kemar Mowatt – 14.30
5. Travius Chambers -14.81
100M
1. Kenzo Cotton – 10.12 (fastest time in NCAA this year)
400M
2. John Winn – 47.41 (PR)
10. Chase Pareti – 49.17
11. Hunter Woodhall – 49.26
200M
2. Kristoffer Hari – 21.16
3. Kevin Harris – 21.20
800M Invitational
4. Ethan Moehn – 1:51.95
1500M Invitational
5. Carter Persyn – 3:51.91
7. Andrew Ronoh – 3:52.94
8. Kyle Hosting – 3:53.11
11. Kyle Levermore – 4:03.27
4x400M Relay
1. Chambers/Mowatt/Winn/Cotton – 3:10.30
10. Pareti/Woodhall/Taylor/Walters – 3:19.81