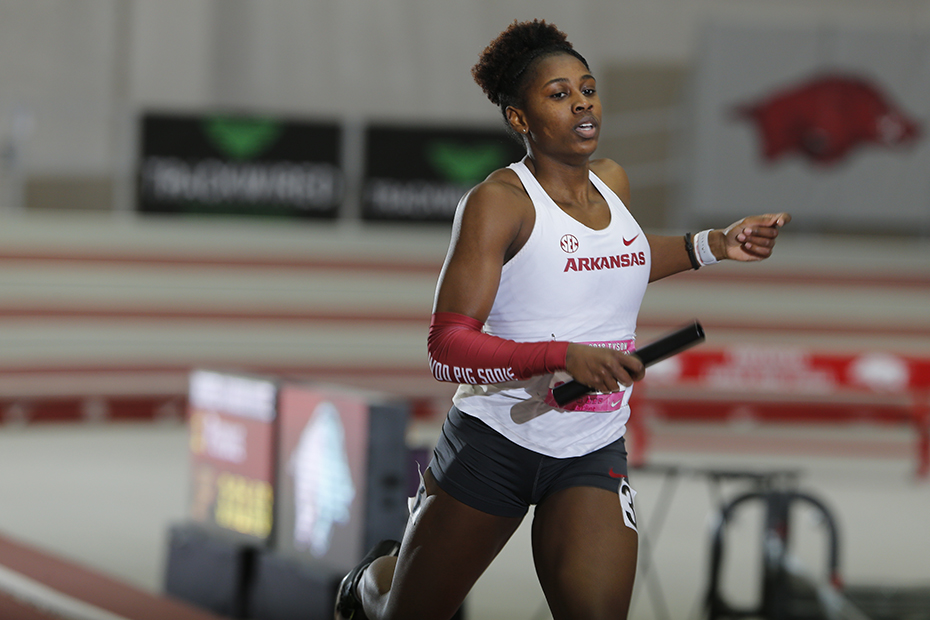 Final Day Of Tyson Powered By Sprints And Vault
FAYETTEVILLE, Ark. – The final day of the Tyson Invitational concluded with an outstanding showing by the No. 1 Arkansas women's track and field pole vault crew and sprinters on Saturday afternoon at the Randal Tyson Track Center in Fayetteville.
Arkansas pole vault trio Lexi Jacobus, Tori Hoggard and Desiree Freier all finished among the top-eight best competitors in the invitational section of the event led by Jacobus who was the top collegian. Currently ranked No. 2 in the NCAA, Jacobus finished with as best clearance of 4.51m/14-9 1/2, maintaining her streak of 14-foot plus bars through every meet in which she's competed this season. Not far behind, Hoggard claimed the fourth spot in the event with a vault of 4.41m/14-5 1/2, while Freier finished seventh for her efforts to get over 4.16m/13-7 3/4.
From the Field to the Track
Fresh off top-three performances in the short sprints and hurdles on Friday evening, junior Payton Chadwick and sophomore Jada Baylark returned to the track, placing second and sixth, respectively, in the invitational section of the 200-meter dash. Baylark's 23.36 performance was a .13 second improvement upon her personal best, keeping her the mix for potential NCAA qualification in the event.
"Jada [Baylark] is an Arkansas kid and Payton [Chadwick] is an Arkansas kid and you always want those kids to do well," Johnson said. "They're actually doing exceptional right now. That said, we're in a tough league and face tough competition ahead. We'll have to clean up some technical things but we're very proud of them."
The Razorbacks capped the day clocking a season best in the 4-x-400-meter relay of 3:35.15 off the heels of Taliyah Brooks, Chadwick, Morgan Burks-Magee.
At the Husky Classic in Seattle, Washington, the Razorbacks had a pair of eighth-place finishers in the mile and 3,000 meters. Viljoen finished the mile at 4:39.01 while Nichwitz finished in 4:39.01 in the 3,000.
Arkansas returns to action on Friday, Feb. 16 hosting its indoor regular season finale, the Arkansas Qualifier at the Randal Tyson Track Center.
Tyson Invitational
February 10, 2018
Randal Tyson Track Center (Fayetteville, Ark.)
200 Meters Invitational
2. Payton Chadwick – 23.15
6. Jada Baylark – 23.36
13. Kiara Parker – 24.02
200 Meters
15. Tamara Kuykendall – 23.95
51. Kayla Carter – 25.80
4-x-400 Meter Relay
Arkansas A: Brooks, Burks-Magee, Chadwick, Parker – 3:35.15
High Jump
3. Carmen Sitz – 1.70m/5-7
Pole Vault Invitational
2. Lexi Jacobus – 4.51m/14-9 1/2
4. Tori Hoggard – 4.41m/14-5 1/2
7. Desiree Freier – 4.16m/13-7 3/4
Pole Vault
6. Ellie Ramos-Mata – 13.99m/13-1
9. Rylee Robinson – 3.84m/12-7 1/4
9. Morgan Hartsell – 3.84m/12-7 1/4
Husky Classic
February 10, 2018
Dempsey Indoor Track (Seattle, Wash.)
Husky Classic
February 10, 2018
Dempsey Indoor Track (Seattle, Wash.)
Mile
8. Carina Viljoen – 4:39.01
3,000 Meters
8. Nikki Hiltz – 9:04.64
20. Taylor Werner – 9:18.54
22. Devin Clark – 9:20.65
42. Rachel Nitchwitz – 9:35.24
For more information on Arkansas track and field including in-meet updates, follow @RazorbackTF on Twitter.