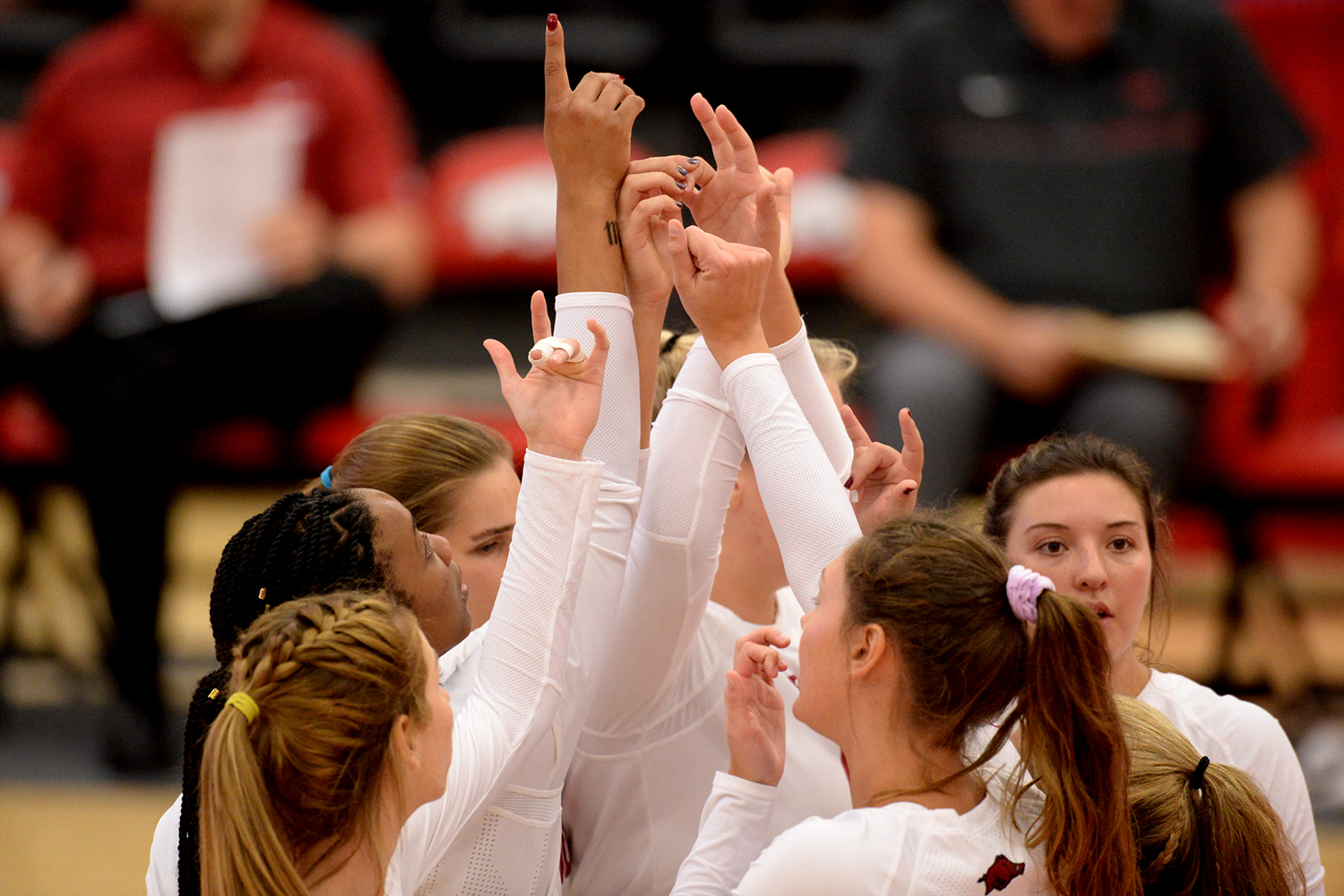 Five-Set Loss to NC State in Weekend Opener
ATLANTA, Ga. – Sophomore Hailey Dirrigl led a trio of Razorbacks in double figures and junior co-captain Rachel Rippee registered her second double-double of the season but the University of Arkansas volleyball team dropped a five-set match to NC State Friday afternoon in Atlanta. With the result, Arkansas drops to 6-3 and returns to the court Saturday looking for a weekend split when it takes on host Georgia Tech.
FINAL
NC State 3, Arkansas 2 | Box Score
Attendance: TBA | Time: 2:13
O'Keefe Gymnasium (Atlanta, Ga.)
#RazorStats
• Stat leaders vs NC State
o Kills: Hailey Dirrigl – 16
o Digs: Okiana Valle – 23
o Blocks: Kelly O'Brien – 6.0 (0-6)
• Double-Double
o Rachel Rippee – 51 assists, 10 digs
• First series meeting since 1997 and third overall
In the decisive fifth set, the teams traded blows and were the score was tied at 4-all before NC State (6-3) rattled off three in a row to force head coach Jason Watson to call a timeout. Trailing 9-6, the Razorbacks put together a streak of their own to pull even at 10-10. The score was tied twice more—at 11 and 13—but Arkansas never took a lead. Out of a 13-13 timeout, NC State won the next two points to take the match.
Dirrigl put down 16 kills and followed closely by sophomore Logan Brown with 15 kills and senior Kelly O'Brien with 12 kills. The senior opposite finished the match with a .348 hitting percentage and a tied her season best with a team-high six blocks. Rippee collected 51 assists and 10 digs for the 21st double-double of her career.
From the service line, Arkansas rang up a season-high 11 aces including four by freshman Lauren Evans. She was one of four Razorbacks with multiple service winners along with Dirrigl, Rippee and libero Okiana Valle who each had two aces in the match. Arkansas has 28 aces in its last four matches, good for 2.00 per set.
Along with O'Brien's efforts at the net, Valle helped anchor the defense with a match-high 23 digs. It was her third match of the season with 20 or more digs.
For more information about Arkansas volleyball, follow @RazorbackVB on Facebook, Instagram and Twitter.