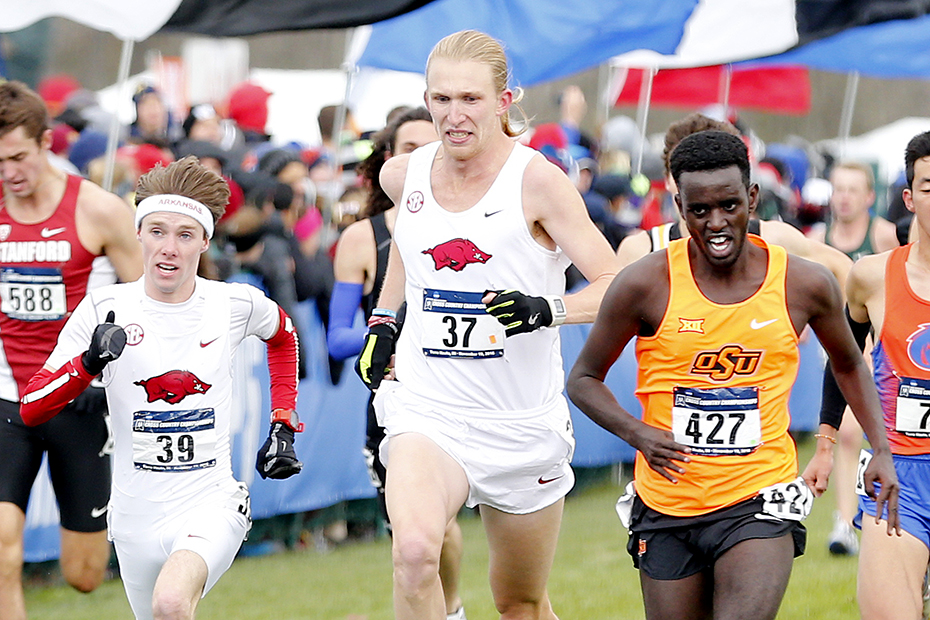 George And Bruce Pace Hogs At Pre-Nats
LOUISVILLE, Ky. — The No. 5 Arkansas men's cross country team posted its fourth-consecutive top-10 team finish, placing ninth at Pre-Nationals in Louisville Saturday morning.
Head coach Chris Bucknam's Hogs were led by All-American seniors Alex George and Jack Bruce who finished 16th and 18th, respectively.
"It's not the result we were hoping for today," Bucknam said. "I think we're a significantly better team. We had some unfortunate luck with Austen Dalquist falling a little bit ill. He gave it a shot but was unable to complete the race. It was just a combination of a few things and we just weren't ready to race fast today."
Race Breakdown
Behind from the beginning due to a miscue by the starter the Razorbacks had to exert extra energy early on in order to position themselves to finish well. George and Bruce gradually moved up the leaderboards, racing past their competitors with each passing mile marker. George completed the 8K race in a season best 23 minutes, 26.50 seconds – two seconds shy of his PR. Bruce closed strong right behind George, shaving 21 seconds off his former personal best with a final time of 23:28.90.
Junior trio Cameron Griffith, Ethan Moehn and Kyle Levermore finished 76th, 116th and 160th, respectively, to complete the Razorbacks' top five.
"I believe in this team and know we're a better team than we showed today," Bucknam said. "This meet was a wake-up call that you have to be on top of your game at this level at these kind of meets and we're going to have to be on top of our game if we we're going to defend out SEC title. We've got a lot of work ahead of us to do and it's not necessarily physical. We'll put our heads together, continue to evaluate and then move forward."
Up Next
With the regular season behind them the Razorbacks will shift their focus to postseason competition, opening up at the 2017 Southeastern Conference Cross Country Championships in Athens, Georgia Friday, Oct. 27.
Team Results
1. BYU, 41 (1-6-7-12-15)
2. Colorado, 118 (9-11-14-40-44)
3. Oregon, 129 (17-24-28-29-31)
4. Virginia Tech, 148 (2-13-41-42-50)
5. Ole Miss, 193 (20-32-34-48-59)
9. Arkansas, 374 (16-18-74-113-153)
Arkansas Results (Overall)
16. Alex George – 23:26.50
18. Jack Bruce – 23:28.90
76. Cameron Griffith – 24:18.60
116. Ethan Moehn – 24:35.60
160. Kyle Levermore – 24:57.30
212. Preston Cates – 25:24.10
2017 Cross Country Schedule
Fri, Sept. 1 – Cowboy Preview (Stillwater, Okla.) 1st of 4
Fri, Sept. 15 – Iona College Meet of Champions (New York, N.Y.) 2nd of 11
Sat, Sept. 30 – Chile Pepper Festival (Agri Park) 1st of 40
Sat, Oct. 14 – Pre-Nationals (Louisville, Ky.) 9th of 40
Fri, Oct. 27 – SEC Championship (Athens, Ga.)
Fri, Nov. 10 – NCAA South Central Regional (College Station, Texas)
Sat, Nov. 18 – NCAA Championship (Louisville, Ky.)
*italicized meet denotes completion.
For more information on Arkansas track and field including in-meet updates, follow @RazorbackTF on Twitter.