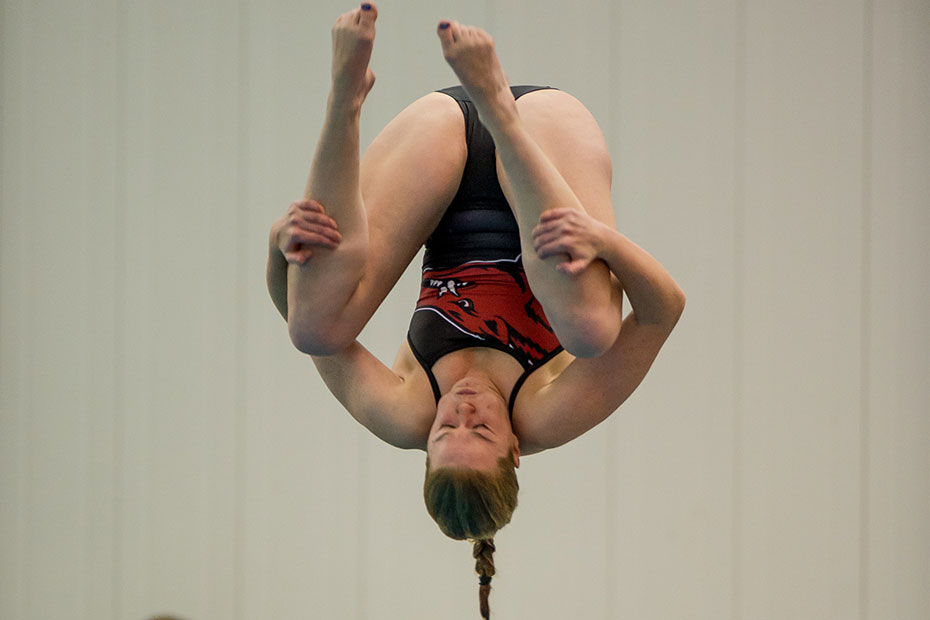 Gillis Punches Ticket To NCAA Championships
COLLEGE STATION, Texas – Arkansas sophomore diver Nicole Gillis earned a spot at the 2016 NCAA Swimming and Diving Championships with her performance on the three-meter springboard Tuesday at the Zone D Diving qualifier being held at Texas A&M's Student Recreation Center Natatorium.
Gillis posted a 12-dive total of 651.60 to take sixth overall in the event and punch her ticket to the national meet. Her final six-dive list of 326.45 was 3.25 points shy of her personal best.
The Johannesburg, South Africa, native will make her first NCAA Championship appearance March 16-19 at Georgia Tech's McAuley Aquatic Center in Atlanta. She is also eligible to compete on the one-meter springboard, thanks to her top-10 finish in the event Monday.
Gillis is the first Arkansas diver since Madison Palmer in 2008 to qualify for NCAAs.
"Today we put Arkansas back on the NCAA Championship diving map," Arkansas diving coach Jeff DiNicola said. "I'm proud of Nicole's efforts over the past two days.  She has had a very solid and consistent meet.  She stepped up to the competition and did not back down."
Also contributing to the Razorbacks' day two efforts, senior Hannah Bortnick finished 26th overall with a six-dive score of 264.35, senior Shelby Bartlett was 42nd at 229.65 and freshman Molly Harvie placed 45th with a score of 224.65.
"Hannah had a really good day with only one miss, and I'm glad that she was able to finish her diving career happy today. I know she will be successful in her next life adventure. Molly had another great meet experience and is focused on the many lessons that will help her be even more successful at future meets and in her career. Shelby is very focused on platform, and I'm ready to see how well she can perform in tomorrow's event."
Action continues Wednesday with the platform competition at 11 a.m. The trio of Gillis, Bartlett and Harvie will compete in the event.
Live results from the meet can be found at DiveMeets.com.
The NCAA Zone D Diving Championships is one of five meets across the nation, serving as a qualifier for the 2016 NCAA Swimming and Diving Championships March 16-19 at Georgia Tech's McAuley Aquatic Center in Atlanta. Zone D is allocated six qualifiers for the one-meter springboard and nine qualifiers in each the three-meter springboard and platform.
For more information on Arkansas swimming and diving, follow @RazorbackSD on Twitter.