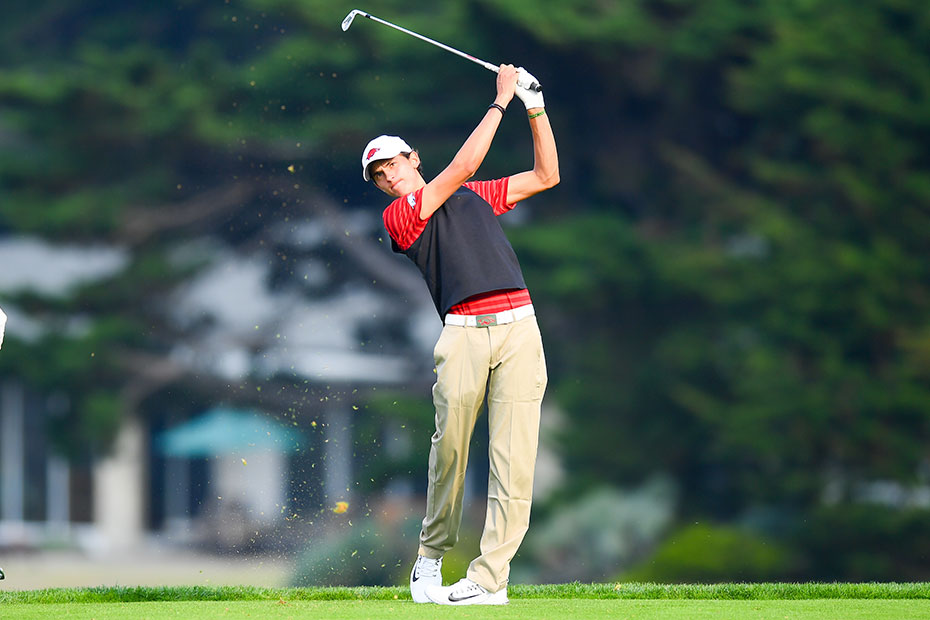 Hogs Tie Program Record, Lead At TPC Sawgrass
Day 1 Results | Final Round Tee Times
PONTE VEDRA BEACH, Fla. – The No. 20 Arkansas men's golf team tied its lowest round in program history Monday afternoon and holds a four-shot lead on a loaded field in the 10th Sea Best Invitational at TPC Sawgrass.
After opening the day with a 2-over 282 to sit in seventh place overall, the Razorbacks regrouped and came out firing in the afternoon round, posting a 13-under 267 to tie the program record originally during the 2003 TaylorMade Intercollegiate.
The 267 is also the second-lowest score in the 10-year history of the Sea Best Invitational, sitting only behind a 15-under 265 by Florida two years ago. Arkansas now holds two of the three lowest scores in the history of the event after posting a 272 last year.
In a loaded field that features six of the top 30 teams in the country, Arkansas (-11) leads South Florida (-7) by four strokes and Liberty (-6) by five shots. The Razorbacks are nine strokes clear of No. 28 Tennessee (-2), the only other team in red figures.
Entering the day with two of the top 25 stroke averages in the country, senior Alvaro Ortiz and sophomore Mason Overstreet put on a show in the afternoon. Both players fired 5-under 65's as Ortiz tallied one eagle and five birdies, while Overstreet recorded six birdies, including four on the back nine.
Luis Garza had the most consistent day, opening the tournament with a 3-under 67 and following that up with a 1-under 69 to sit T-4th overall and lead the team. William Buhl is tied with Ortiz and Overstreet at T-10th overall after rounds of 70-68 – 138 (-2) that featured four birdies in the afternoon.
Tyson Reeder and Landon Ernst are T-49th at 6-over, with Ernst competing as an individual.
The Razorbacks will tee off Tuesday morning in the final round, paired with South Florida and Liberty starting at 8:30 a.m. CT. Live Stats will be available at Golfstat.com or via the Golfstat Live app.
For more information on Arkansas men's golf, follow @RazorbackMGolf on Twitter.
Razorback Lineup Day 1 Results

| Place | Player | Score |
| --- | --- | --- |
| T4. | Luis Garza | 67-69 – 136 (-4) |
| T10. | Alvaro Ortiz | 73-65 – 138 (-2) |
| T10. | Mason Overstreet | 73-65 – 138 (-2) |
| T10. | William Buhl | 70-68 – 138 (-2) |
| T49. | Tyson Reeder | 72-74 – 146 (+6) |
| T49. (IND) | Landon Ernst | 71-75 – 146 (+6) |
Sea Best Invitational Day 1 Team Results

| Place | Team | Score |
| --- | --- | --- |
| 1. | No. 20 Arkansas | 282-267 – 549 (-11) |
| 3. | No. 43 South Florida | 274-279 – 553 (-7) |
| 2. | Liberty | 277-277 – 554 (-6) |
| 4. | No. 28 Tennessee | 278-280 – 558 (-2) |
| 6. | No. 24 North Carolina | 281-280 – 561 (+1) |
| T8. | No. 11 LSU | 283-279 – 562 (+2) |
| 5. | Jacksonville | 281-281 – 562 (+2) |
| T8. | Lipscomb | 280-285 – 565 (+5) |
| 7. | No. 27 North Florida | 280-286 – 566 (+6) |
| 10. | East Carolina | 288-281 – 569 (+9) |
| 11. | Campbell | 290-285 – 575 (+15) |
| 12. | No. 23 Duke | 287-297 – 584 (+24) |
| 13. | USC Upstate | 299-308 – 607 (+47) |
| 14. | Winthrop | 312-299 – 611 (+51) |