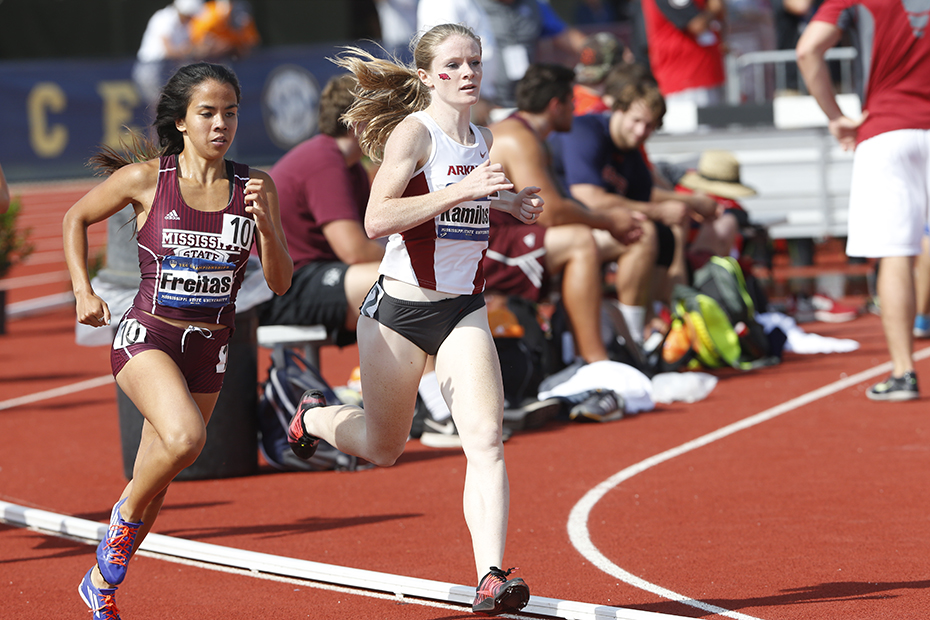 Huge Personal Bests Highlight Day Two
Bryan Clay Meet Schedule | Start Lists | Friday Results
Mt. SAC Meet Schedule | Start Lists | Friday Results
Texas Meet Schedule
AZUSA and NORWALK, Calif.  – Arkansas women's track and field team closed their California campaign on Friday evening with several personal best performances in Azusa and Norwalk at the Bryan Clay Invitational and Mt. SAC Relays, respectively.
The top-ranked Razorbacks were led by senior, Jessica Kamilos, who had an outstanding showing in the 5,000-meter run at Mt. SAC, posting a lifetime best of 16 minutes, .4 seconds – the ninth best time in Arkansas history. Kamilos had a previous best time in the event of 16:28.48 prior to today's competition.
Bryan Clay Invitational
Three Razorbacks, Therese Haiss, Valerie Reina and Annika Sisson all raced to new 1,500 PRs at Azusa Pacific on the final day of the Bryan Clay Invitational. Haiss had the strongest time of the day, crossing the finish line in 4:19.26 to earn a spot inside the SEC top five in the event.
Results – Bryan Clay
1,500 | Therese Haiss (7) – 4:19.26
1,500 | Valerie Reina (14) – 4:22.78
1,500 | Annika Sisson (15) – 4:23.80
1,500 | Aubree Worden (47) – 4:33.90
Mt. SAC Relays
In addition to Kamilos' solid effort, freshmen duo, Sydney Brown and Devin Clark successfully navigated the stacked 5K heats at Cerritos College. In her first collegiate outdoor 5K race, Clark, collected a new personal best of 16:15.09 to finish as one of the best underclassman in the field. The lone 1,500 Razorback runner at Mt. SAC, Nikki Hiltz, completed Arkansas' successful weekend in California with a 4:20.56 performance at Falcon Stadium.
Results – Mt. SAC
1,500 | Nikki Hiltz (14) – 4:20.56
5,000 | Jessica Kamilos (16) – 16:00.04
5,000 | Devin Clark (25) – 16:15.09
5,000 | Regan Ward (unattached) – 16:21.54
5,000 | Sydney Brown (51) – 16:49.82
Coach Harter on California Competitions
"Jessica Kamilos had a huge PR in the 5,000 today by over 20 seconds and really ran a solid race in an extremely competitive field. We also had some great efforts in the 5,000 from Sydney Brown and Regan Ward. Devin Clark competed in the 5K for the first time and ran an amazing personal best of 16:15. Our 1,500 runners also had outstanding performances across the board. Nikki Hiltz battled a large field and came up with good opening time of 4:20 at Mt. SAC. Over in Azusa, Therese Haiss, Valerie Reina and Annika Sisson all ran lifetime bests in the 1,500. Aubree Worden also had a good showing in the event. Mt. SAC weekend never fails to deliver great results for our program and we will look to keep going and carry the momentum through the remainder of the season."
Arkansas will kick off competition at the Texas Invitational at Mike A. Myers Stadium tomorrow morning at 9:00 a.m. CDT.
For more information on Arkansas track and field including in-meet updates, follow @RazorbackTF on Twitter.