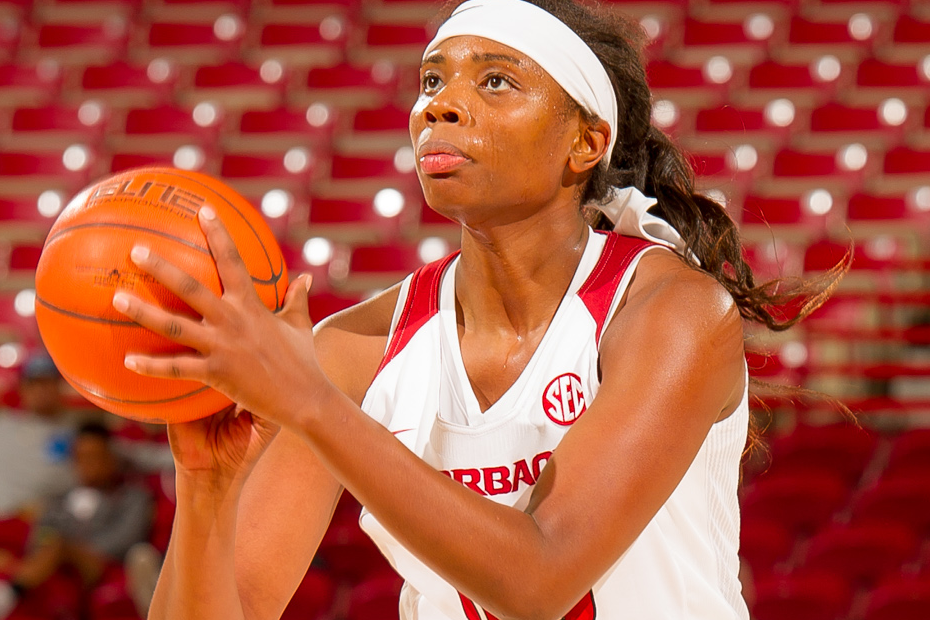 Jackson Scores 20 in W. Basketball Exhibition Win
FAYETTEVILLE, Ark. – Junior Jessica Jackson dropped in 20 points leading the University of Arkansas women's basketball team to a 73-52 exhibition win over Missouri Southern in Bud Walton Arena Sunday afternoon.
Jackson was one of two Razorbacks in double figures joined by junior Kelsey Brooks who scored 15 in the victory.
Arkansas' 73 points is the most since 2009 and the Razorbacks finished with 11 blocks, an exhibition game record.
The new four-quarter format seemed to be a seamless adjustment for both teams with the Razorbacks outscoring the Lions in each frame. Arkansas scored the game's first points when Brooks hit a jumper in the paint. Those points lead to a 10-0 run for Arkansas and the Razorbacks never trailed in the contest.
Head coach Jimmy Dykes was able to find playing time for all 11 eligible players (Tatiyana Smith cannot play until the next semester) with all but one player scoring in the win. In addition to Jackson and Brooks' mid-season performances, junior transfer Alecia Cooley and sophomore transfer Devin Cosper each added nine points. Jackson led the team with eight rebounds followed by seven for Colley and five for freshman Keiryn Swenson.
FROM COACH DYKES
Opening Statement
"I told our players in the locker room, you always want to win; there is value in winning and with eight new players who stepped up and played today for the first time ever in a Razorback jersey. Overall I thought our effort was good. Missouri Southern was a hard team for us with their style and all of our new players but again this game showed us how to win.
About the rebounding
"We rebounded at about a 32% rate and that's pretty good but we are not a good rebounding team right now. We are not overly big and we have to box off in all five positions. We are working on getting better at that right now."
EXHIBITION GAME NOTES
• Arkansas is on a 12-game exhibition win streak including the win today
• The Razorbacks are 6-0 against Missouri Southern in exhibition action and 8-0 overall
• Arkansas is 32-11 all-time in exhibition games
• Arkansas is 5-1 on this date in exhibition games
• Arkansas won the tip
• Junior Kelsey Brooks scored the first basket of the game
• Junior Alecia Cooley was the first newcomer to score
• Sophomore Devin Cosper had Arkansas' first three-pointer of the game
• Sophomore Devin Cosper took the game's first charge
STARTERS
Melissa Wolff, Jessica Jackson, Kelsey Brooks, Alecia Cooley, Jordan Danberry
UP NEXT
• Arkansas opens the regular season Friday, Nov. 13, hosting Southeastern Louisiana at 10:30 a.m. in Bud Walton Arena
• Friday, Nov. 13 is Elementary Day
• Arkansas is 19-0 in home openers
• Click here for tickets
• Click here for schedule
For more information on Arkansas women's basketball, follow @RazorbackWBB on Twitter.