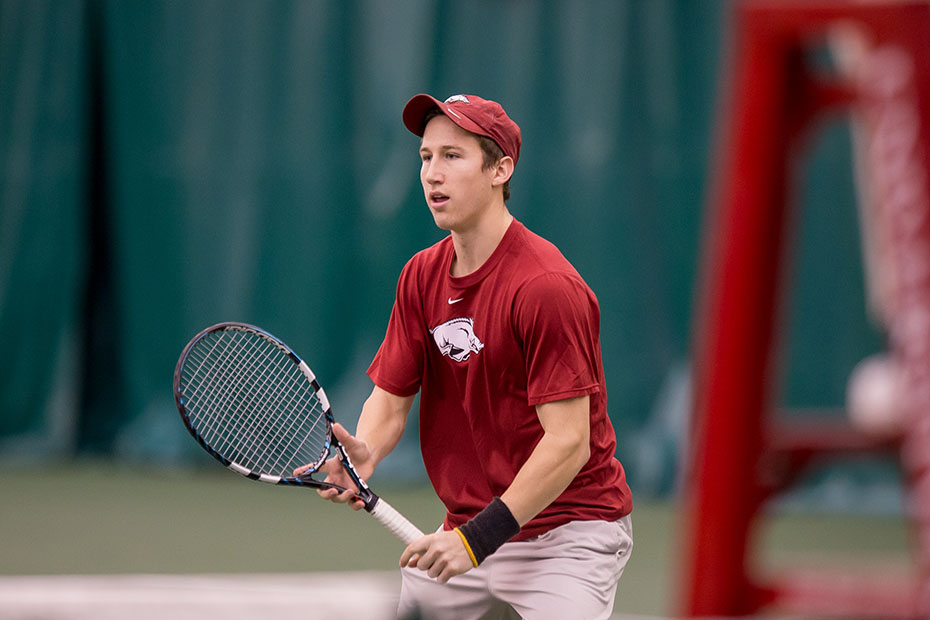 Arkansas Completes Day One of SEC Tournament
AUBURN, Ala.– The University of Arkansas men's tennis team completed day one of the SEC Fall Tournament in Auburn, Ala. at the Yarbrough Tennis Center. Juan Marino and William Albanese won the singles round of 16 and will compete in the quarterfinals on Saturday, Oct. 24.
Albanese had a bye in the round of 32, but defeated Langford Hills of Alabama, 7-5, 7-6. He will play against Florida's No. 3 seed, Joshua Wardell Saturday, Oct. 24th at 11:00 a.m.
Marino defeated opponent Sunay Bhat of Tennessee in the round of 32 of the B Singles Draw to advance to the round of 16. Marino defeated Bhat 6-4, 6-2. In the round of 16, he defeated Eddie Nguyen of Auburn in just two matches. Marino plays the No.1 seed, Kris Yee of Vanderbilt, Saturday, Oct. 24th at 11:00 a.m.
In the A Doubles round of 16, Marco Micolani and Salazar fell to Jack Schipanski and Luis Valero of Tennessee, 8-3. Johan den Toom and doubles partner Albanese competed in the A doubles round of 16 and lost 8-2 to Auburn's Edward Nguyen and Marko Krickovic.
Jacob Herndon and David Herrerias defeated Vanderbilt's Tate Allwardt and Alex Ross in a close match, 8-7. Herndon and Herrerias advanced to the B Doubles draw quarterfinals and will play Andrew Schafer and Gabriel Friedrich of South Carolina on Saturday at 9:00 a.m.
The Razorbacks will continue competition play at the University of Auburn through the weekend. The finals are set for Sunday and the tournament features eight conference competitors, including Alabama, Auburn, Florida, Mississippi State, Ole Miss, South Carolina, Tennessee and Vanderbilt.
For more information on Arkansas men's tennis, follow @RazorbackMTEN on Twitter.