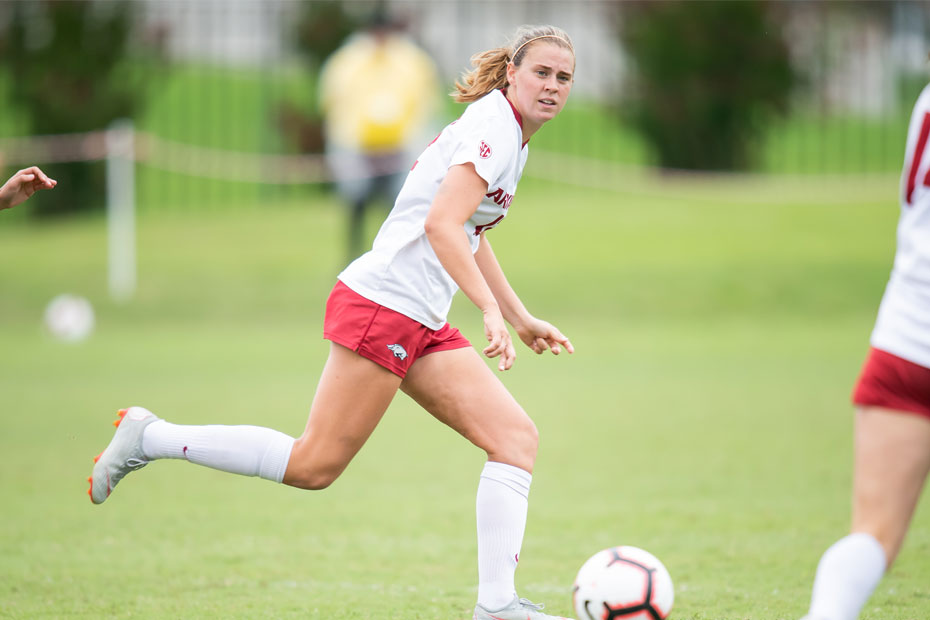 McKeon Header Finishes Shutout Over Alabama
TUSCALOOSA, Ala. — The Razorback soccer team utilized a gutsy performance Sunday night to shutout the Alabama Crimson Tide, 1-0, at the University of Alabama Soccer Complex. It's the second shutout of the year for Arkansas and the first in SEC play.
The win is Arkansas' fourth win over the Tide in the last six meetings dating back to 2012 and second-straight conference victory, giving it six points in the SEC standings. Arkansas is now 7-2-2 on the year and 2-1-0 in conference play. Alabama falls to 6-5-1 overall and 0-3-0 in the SEC.
Arkansas' attacking third broke through what was a defensive stalemate for nearly 80 minutes when junior Kayla McKeon headed home a cross at the far post from sophomore Taylor Malham. It was McKeon's team-leading fifth goal of the year and Malham's team-leading sixth assist.
McKeon nearly had her fifth goal of the year earlier in the match when Arkansas was awarded a penalty kick in the 31st minute, but her shot was knocked away by Alabama keeper Alex Plavin. McKeon finished the match with a team-high four shots in 67 minutes, two going on target.
The Razorbacks have won four of their last seven true road matches going back to last season and all four have been shutouts. The defense allowed only seven shots against the Crimson Tide on Sunday and just one corner kick. It's the seventh match this year that an Arkansas opponent has taken two or less corners in a game.
Sound Byte
"The players were very good tonight and earned that one. We know Alabama is a very good team, who has scored a lot of goals, but I thought we limited their chances to one late. This was just a gutsy performance on the road and to get the shutout was a big goal of ours."  – Head coach Colby Hale on the road victory over Alabama
How It Went Down
31st minute – Arkansas had an opportunity to take a 1-0 lead in the latter part of the first half when Alabama was whistled for a foul inside the box on a run by Stefani Doyle. Kayla McKeon, taking her second penalty kick of the year, fired a right-footed shot, but Alabama goalkeeper Alex Plavin guessed correctly to make the save and keep the match scoreless.
79th minute – McKeon made good later in the match after the failed penalty conversion. After one of seven corners were taken by Taylor Malham on the right side of the field, Malham was able to reset the offense and take another cross at the end line and found McKeon at the far post. The junior timed her header perfectly and beat the keeper easily for her fifth goal of the year and third game winner.
Other Key Notes
– Junior Kayla McKeon scored her fifth goal of the year and 18th of her career Sunday night. She now has seven game-winners in her career.
– Arkansas' defense held Alabama to only one corner kick in the match. It's the seventh time this year a Razorback opponent has taken two corners or less in a match.
– Sophomore Taylor Malham earned her team-leading sixth assist of the season on McKeon's goal. Her six assists tie for second in the SEC.
– Malham has recorded an assist in three-consecutive matches and now has eight points for the year. She's earned at least one point in seven of 11 matches, more than any other Razorback.
– Redshirt sophomore Taylor Beitz earned her second victory of the year and played a career-high 90 minutes. She also tied a career-high three saves.
– After earning seven corner kicks Sunday against Alabama, Arkansas is now 6-2-1 when taking five or more corners this season.
Up Next
The Razorbacks return home next week to take on Missouri at Razorback Field on Thursday. First kick is slated for 6 p.m. and will be televised nationally on the SEC Network.
For more information on Razorback Soccer, follow @RazorbackSoccer on Twitter.