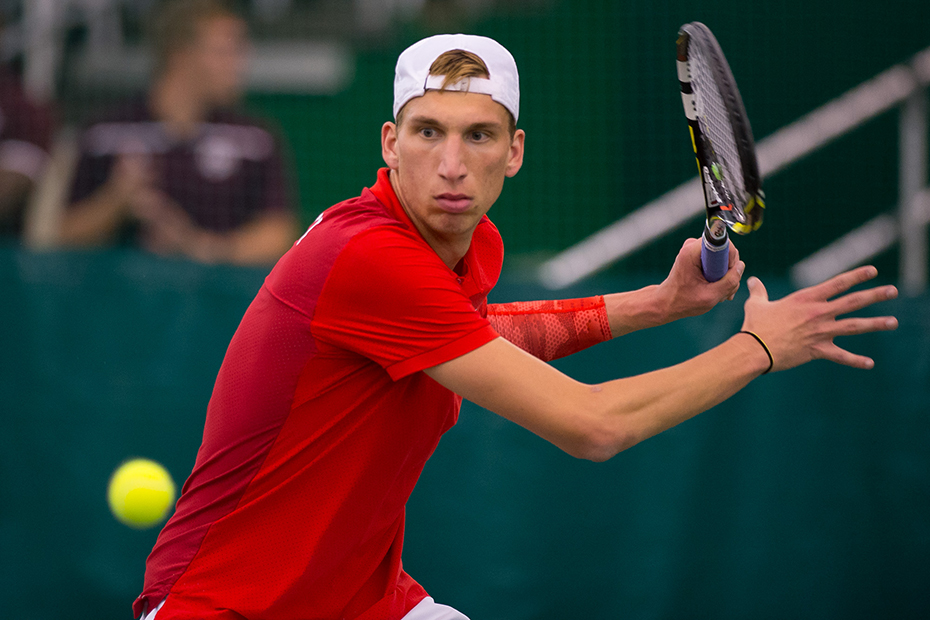 Men's Tennis Reaches Top Dozen
FAYETTEVILLE, Ark. — Earlier this season, the Arkansas men's tennis team reached No. 13 in the country, its highest mark since 2006. Although it was a notable accomplishment, the Razorbacks were not done climbing.
In this week's Oracle/ITA Rankings, the team finds itself at No. 12 following a 5-2 win at Vanderbilt on April 8. Arkansas ranks third among all Southeastern Conference teams, behind No. 11 Texas A&M and No. 6 Georgia, who visits George M. Billingsley Tennis Center this Friday for a 4:30 p.m. CDT matchup.
"We're excited to reach this high ranking with two huge weekends ahead of us," head coach Andy Jackson said. "Playing against Georgia is an opportunity for us to move into the top 10, and then the SEC Tournament follows to get the postseason started."
In singles rankings, Mike Redlicki moved up two spots to No. 26, while Jose Salazar made a big leap from No. 103 to No. 76. The two have combined for a 26-7 record at the top two singles spots, including a 15-5 mark in SEC competition and a 15-6 record against ranked opponents.
It is the highest ranking for Redlicki this year, having claimed three consecutive wins over top 50 opponents. As for Salazar, he has won five of his last six matches overall at the No. 2 spot.
While the team's 19-5 overall record is impressive enough, it is the Razorbacks' 7-3 SEC mark which should be turning heads. To put it in perspective, the team's seven conference wins in 2016 are already more than the six the program claimed from the 2010-2015 seasons combined.
As Arkansas has reached unprecedented success this season, Jackson takes pride in the way how his team has handled winning and continued to progress forward.
"We understand there are some quirks in the rankings and we try to play well as opposed to just looking at the number," he said. "It says a lot about our team because our guys focus on going out there and playing rather than focusing on the things they can't control."
For more information on Razorback men's tennis, please follow @RazorbackMTEN on Twitter.