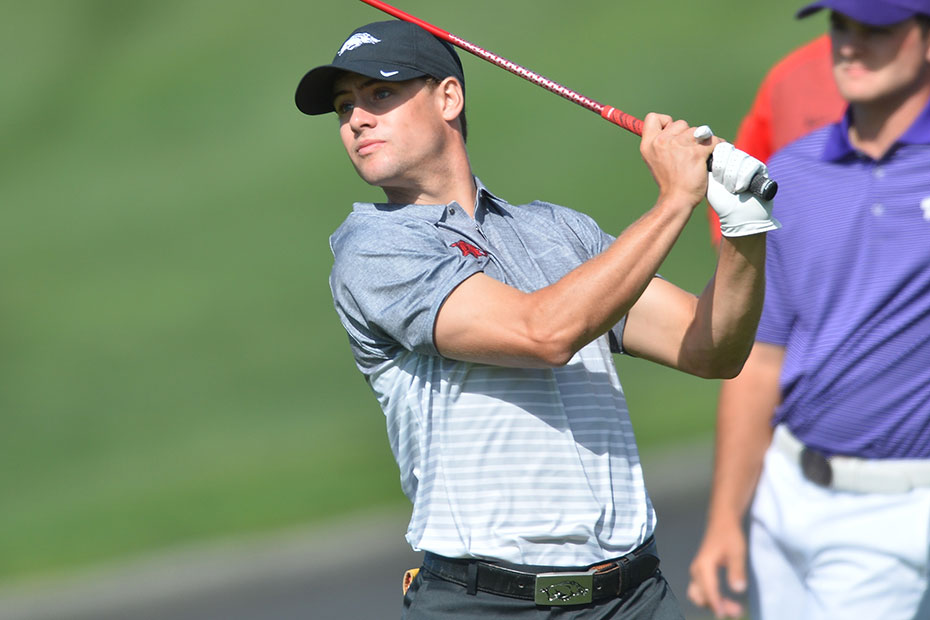 Moore Leads Arkansas To Top 5 Finish
CARLSBAD, Calif. – Senior Taylor Moore capped his 40th career collegiate tournament and the team's final fall event in style on Wednesday, carding a three-under 68 in the final round of the 11th Annual Gifford Collegiate to help the Arkansas men's golf team jump three spots for a fifth place finish out of 15 teams at the La Costa Legends Course.
Moore's three-under 68 was the second-lowest round turned in by the 81-player field, as he moved up 19 spots to finish in seventh (74-71-68) on the individual leaderboard. The top 10 finish in the 15th of Moore's stellar career as a Razorback.
Arkansas put together its second straight four-man score of 289, also good for the second-lowest score of the day by the 15-team field that includes nine teams in the top 60 of the most recent Golfweek rankings. The top five finish is the second in a row for the Razorbacks, as it wraps up its four-tournament fall campaign with a 22-22-2 head-to-head record.
Moore's clutch final round performance is nothing new to Arkansas and head coach Brad McMakin, as his 68 marked the sixth time in his last 11 tournaments that he's shot under-par in the final round. The Edmond, Okla. product has been the team's low-man in seven of the aforementioned 11 final rounds with a scoring average of 70.6. Moore fell one birdie short of hitting 350 for his career, as he led Arkansas with 12 for the tournament while leading the field in par 5 scoring at seven-under.
Joining Moore in the top 20 were senior Kolton Crawford and sophomore Alvaro Ortiz, who both finished in a tie for 20th place, respectively. Crawford played bogey-free over his first 12 holes, reaching five-under par before shooting even-par 71. Crawford's final round 71 moved him up 13 spots for his 14th career top 20 (73-74-71). Ortiz was just one stroke off the lead after the first round three-under 68, following with back-to-back rounds of 75. The top 20 finish is the third of the fall for Ortiz after just four all of 2014-15.
Arkansas' low-man during the second round, Echavarria's 69 was the third-lowest round turned in by the field on Tuesday. He closed with his second 75 of the week to tie for 24th place.
Quick Hits
The top five finish is Arkansas' 71st under head coach Brad McMakin, who now has 974 career head-to-head wins.
The fifth place finish evens Arkansas' head-to-head record at 22-22-2 through four spring tournaments with a strength of schedule ranked ninth nationally.
Arkansas finished second in the field in par 5 scoring (-13).
Moore's 12 birdies brought his career total to 349.
Moore has finished in the top 20 in 10 of his last 14 tournaments and 23 total for his career.
Both Moore and Echavarria had an eagle in the tournament, bringing their career totals to five and six, respectively.
Ortiz equaled Moore for the team lead with 12 birdies
Crawford led Arkansas with 34 pars.
@RazorbackMGolf Lineup
7. Taylor Moore – 74-71-68/213 (E)
T20. Alvaro Ortiz – 68-75-75/218
T20. Kolton Crawford – 73-74-71/218
T24. Nicolas Echavarria – 75-69-75/219
78. Noah Edmondson – 76-76-83/235
Gifford Collegiate Final Standings (Golfweek Ranking)
1. Washington (47) – 285-275-285/845 (-7)
2. Stanford (5) – 285-277-293/855
3. San Diego State (26) – 290-282-294/866
4. UCLA (29) – 287-288-291/866
5. Arkansas – 290-289-289/868
6. Oregon (31) – 287-290-294/871
7. USF (22) – 290-288-298/876
8. Colorado (71) – 292-286-299/877
9. Tennessee (44) – 296-298-289/883
10. Wisconsin (143) – 294-299-293/886
11. Texas AM (28) – 292-299-296/887
12. Northwestern (52) – 298-290-301/869
13. Harvard (80) – 298-293-301/892
14. Marquette (90) – 299-293-305/897
15. San Jose State (96) – 306-307-305/918