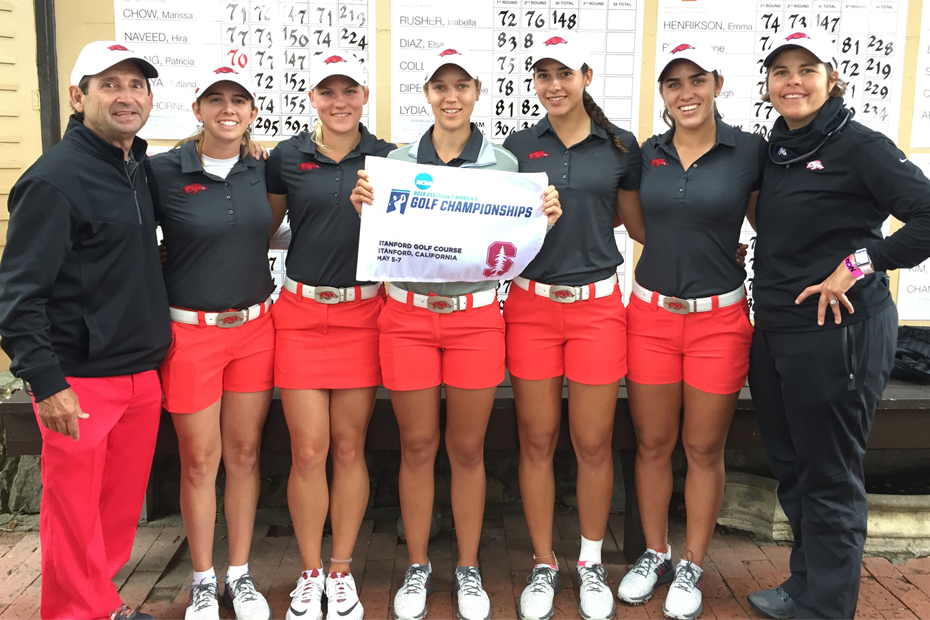 Moving On
Results | Tournament Central | Photo Gallery | Results (pdf)
PALO ALTO, Calif. – The seventh-ranked University of Arkansas fired a final round 290 finishing fifth at the Stanford University NCAA Regional Championship moving on to the NCAA Championship in Eugene, Oregon, May 20-25.
Sophomore Alana Uriell led the team wire-to-wire and played to a third-place finish in her second NCAA Regional appearance. The Carlsbad, California, native was solid in each round shooting 72-67-71 — 210. Her round of 67 was the best of the day on Friday and she finished with 11 birdies over three rounds.
Uriell's final day saw her open with a bogey on the second hole only to get it back with a birdie on No. 6, making the turn even. She bogeyed No. 10 and followed with a birdie on No. 11 before finishing her round with seven consecutive par holes.
Arkansas struggled out of the gates with a first round 298 but improved each day shooting 298-291-290 — 879 to move on to the program's eighth NCAA Championship appearance.
Sophomore Cara Gorlei followed Uriell shooting 72-73-77 — 222 and finished tied for 30th in her first NCAA Regional. Also playing in the postseason for the first time was freshman Maria Fassi who posted scores of 77-76-71 — 224 to tie for 42nd overall. Junior Summar Roachell and senior Regina Plasencia both posted their best score in the last round with 74s. Roachell finished tied for 52nd with 77-75-74 — 226, while Plasencia shot 77-76-74 — 227 to tie for 55th overall.
Host and No. 12 Stanford and No. 2 Southern California tied for the win followed by No. 31 Ohio State, No. 45 North Carolina, No. 7 Arkansas and No. 15 Virginia rounding out the six teams who advance.
@RazorbackWGolf Results
| | | |
| --- | --- | --- |
| 5 | Arkansas | 298-291-290 — 879 |
| 3 | Alana Uriell (3) | 72-67-71 — 210 |
| T30 | Cara Gorlei (5) | 72-73-77 — 222 |
| T42 | Maria Fassi (1) | 77-76-71 — 224 |
| T52 | Summar Roachell (4) | 77-75-74 — 226 |
| T55 | Regina Plasencia (2) | 77-76-74 — 227 |
Team Results
T1
No. 12 Stanford
289-280-287 — 856
T1
No. 2 Southern California
287-284-285 — 856
3
No. 31 Ohio State
299-285-291 — 875
4
No. 45 North Carolina
302-289-287 — 878
5
No. 7 ARKANSAS
298-291-290 — 879
6
No. 15 Virginia
288-296-299 — 883
—CUT—
7
No. 34 Colorado
295-300-289 — 884
8
No. 39 Wake Forest
295-299-293 — 887
9
San Jose State
299-301-288 — 888
10
No. 49 Pepperdine
298-295-296 — 889
11
No. 42 Michigan State
291-301-301 — 893
12
No.21 San Diego State
299-297-299 — 895
13
No. 26 Texas Tech
291-307-298 — 896
14
No. 18 UNLV
300-295-313 — 908
15
Idaho
300-304-307 — 911
16
UC-Riverside
306-313-308 — 927
17
Richmond
306-312-313 — 931
18
Seton Hall
310-315-319 — 944
Notes
• This is Arkansas' 15th NCAA Regional appearance – the 14th consecutive NCAA Regional appearance
• Arkansas has advanced to the NCAA Championship from the NCAA Regional eight times as a team (including this year)
• Arkansas' best NCAA Regional finish as a team is third (2015) and tied for third (2013)
• Arkansas' best individual finish is a tie for second by #ProHogs Gabriela Lopez and Alana Uriell in 2015 in St. George, Utah
• There are four NCAA Regional sites and the top six teams from each of the four sites move on to the NCAA Championship