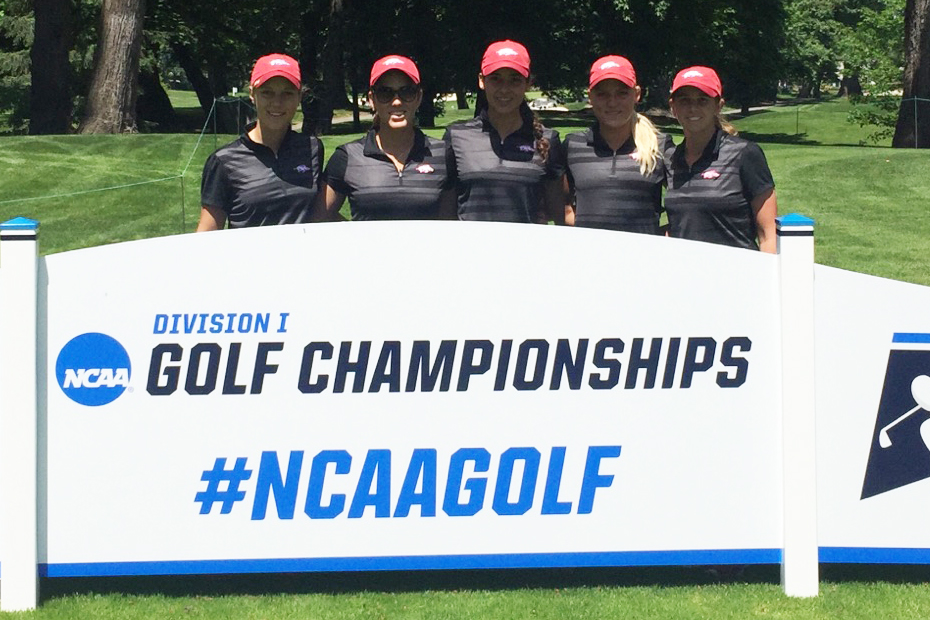 No. 11 Razorbacks Survive First Cut
Results (PDF) | Photo Gallery | Tournament Central
EUGENE, Ore. – Tougher conditions and faster greens prompted some third-round nail-biting but the 11th-ranked University of Arkansas survived the first cut at the 2016 NCAA Women's Golf Championship on Sunday.
The 24-team field was reduced to 15 after the conclusion of the third round of stroke play and Arkansas came in just under the wire in a tie for 12th place, two shots above the cut.
Intermittent and sometimes heavy showers along with wind and cooler temperatures were on tap for the morning flight and the Razorbacks felt the sting of the fast greens shooting a 10-over 298 in the third round. They came off the course near last place for the first flight and had to wait out the entire second flight to be sure their team score of 17-over 292-291-298 — 881 was enough to advance.
The Razorbacks watched as the second flight of teams battled rain and the warmest weather of the championship so fa. As a result, when the day ended, Arkansas found itself tied with No. 38 North Carolina and two shots better than the team in the final spot.
The top 15 teams move on to the final round of stroke play Monday where the field will again be cut, this time to eight teams, who will continue in a match play format to crown the team title.
Freshman Maria Fassi posted her best round of the tournament shooting a one-under 71 Sunday. She has improved with each round and is in the clubhouse with a 78-72-71 — 221. Fassi played the back nine one-under as Arkansas started on the 10th tee for the second consecutive day. She birdied holes 10, 14 and 16 and added birdies on holes 6 and 7 on the front side finishing the last nine even on the round.
Sophomore Alana Uriell continues to lead the Razorbacks. The Carlsbad, California, native is two-over shooting 70-74-74 — 218 for the tournament. Uriell was two-over at the turn and even on the second nine of her round Sunday. She is tied for 27th in the tournament.
Freshman Cara Gorlei finished strong with birdies on Nos. 7 and 8 shooting a four-over 73-71-76 — 220 while senior Regina Plasencia is nine-over for the tournament with 73-74-78 — 225. Junior Summar Roachell rounds out the Razorback scores shooting 76-78-77 — 231.
From Shauna Estes-Taylor
"Obviously it was a bit of a stressful day to have to watch the last teams finish. I'm just really excited about the opportunity to advance and to be in the top 15 and have a chance tomorrow to lay it all on the line and to do what we came to do. It's going to take a good round of golf to get in the top eight. We are lucky to be in the place we are after today.
I'm proud of Maria (Fassi) for her solid round today. Obviously Alana (Uriell) continues to play well. I'm proud of their fight at the end. Cara (Gorlei) birdied seven and eight and pared nine to give us a shot. At this point all shots matter. The girls are excited and feel blessed to have a shot at the top eight."
Notes
• This is Arkansas' eighth team NCAA appearance, and the second consecutive showing
• Arkansas' 292 in round one was the lowest team score at an NCAA Championship in program history
• Sophomore Alana Uriell's first round 70 tied for the fourth-lowest individual round at an NCAA Championship
• Alana Uriell continues to play well in the postseason. Two of her three rounds were par or better at the NCAA Stanford Regional and one round of the 2016 NCAA Championship was under par. Add in last year's regional and six of her 12 NCAA Regional/Championship rounds have been under par.
• Three of the six Southeastern Conference teams in the field advanced through the first cut
Important Links
• Tournament Central: http://bit.ly/1OeTq4X
• Arkansas Social: twitter.com/@RazorbackWGolf || Facebook.com/@RazorbackWGolf
• NCAA Live Stats: http://bit.ly/1XEuWEz
Television Coverage
Golf Channel NCAA Women's Golf Championships Coverage (all times ET)
Monday, May 23 Final Round, Individual National Championship 7-10 p.m. (Live)
Tuesday, May 24 Quarterfinals, Team Match Play 1:30-3:30 p.m. (Live)
Tuesday, May 24 Semifinals, Team Match Play 6:30-10 p.m. (Live)
Wednesday, May 25 Finals, Team Match Play 6-10 p.m. (Live)
@RazorbackWGolf
| | | | |
| --- | --- | --- | --- |
| T12 | Arkansas | 292-291-298 — 881 | +17 |
| T27 | Alana Uriell (2) | 70-74-74 — 218 | +2 |
| T45 | Cara Gorlei (5) | 73-71-76 — 220 | +4 |
| T58 | Maria Fassi (1) | 78-72-71 — 221 | +5 |
| T90 | Regina Plasencia (3) | 73-74-78 — 225 | +9 |
| T113 | Summar Roachell (4) | 76-78-77 — 231 | +14 |
The Field
1.
No. 2 Southern California
289-280-291 — 860
-4
T2.
No. 3 UCLA
286-291-285 — 862
-2
T2.
No. 5 Duke
299-283-280 — 862
-2
4.
No. 13 Washington
289-285-292 — 866
+2
5.
No. 12 Stanford
295-284-290 — 868
+4
6.
No. 20 Oregon
297-282-291 — 870
+6
7.
No. 18 South Carolina
293-289-290 — 872
+8
T8.
No. 15 Virginia
293-294-286 — 873
+9
T8.
No. 10 Arizona
291-289-293 — 873
+9
T10.
No. 7 Northwestern
292-289-295 — 876
+12
T10.
No. 8 Oklahoma State
283-295-297 — 876
+12
T12.
No. 11 ARKANSAS
292-291-298 — 881
+17
T12.
No. 38 North Carolina
298-292-291 — 881
+17
14.
No. 1 Alabama
300-292-290 — 882
+18
15.
No. 16 Florida State
295-290-299 — 884
+20
CUT
16.
No. 21 Tennessee
297-285-303 — 885
+21
17.
No. 4 Florida
297-293-296 — 886
+22
T18.
No. 47 Michigan
296-299-292 — 877
+23
T18.
No. 6 Georgia
298-291-298 — 887
+23
20.
No. 19 Furman
298-297-292 — 888
+24
21.
No. 33 Miami
299-292-299 — 890
+26
22.
No. 25 Ohio State
292-292-306 — 892
+28
23.
No. 24 Texas
301-290-306 — 897
+33
24.
No. 26 BYU
294-306-298 — 898
+34