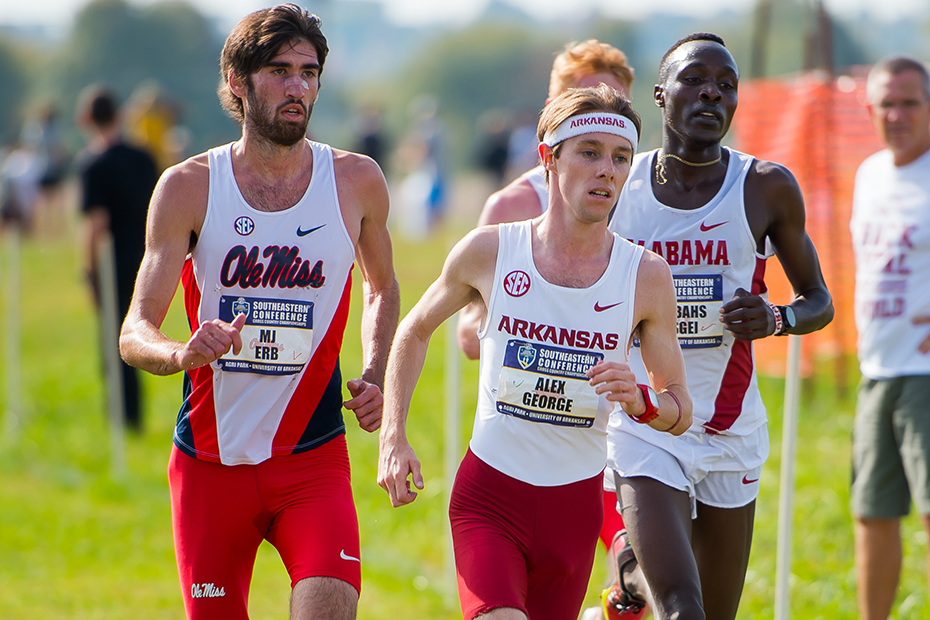 No. 5 Arkansas Races To Runner-Up Finish In NYC
Iona Meet of Champions Results
NEW YORK — The No. 5 Arkansas men's cross country team posted its second consecutive top-two team finish of 2017, finishing as the Iona Meet of Champions runner-ups with a final score of 48 points.
Arkansas raced past meet host No. 9 Iona but came up 21 points short in its efforts against another native New York foe in Columbia.
"Great effort all around from our guys today," head coach Chris Bucknam said. "It's another step in the process as we continue the early part of the season."
First Five
The Razorbacks were led by senior Alex George and junior Cameron Griffith who placed seventh and eighth, respectively. Western State transfer Preston Cates also posted a top-10 finish off a season best 8K time of 26 minutes, 5.50 seconds.
Arkansas' top five was completed by Ethan Moehn and Carter Persyn, both of whom finished among the top-15 best runners of the day.
"We had a little confusion on the course, where Alex George took a wrong turn in the last mile or so, that probably impacted a little bit how things ended up at the end of the race," Bucknam said. "The goal of the race today was to get some guys that needed it some race experience. The rest of the group had a really good workout this morning. I want to thank Iona for putting on this great meet and allowing us to take part. Van Cortlandt Park is historic in our sport and it is a unique opportunity for our guys to come to New York and have some new experiences."
Up Next
Following two week break from action Bucknam's crew will return to competition on their home course of Agri Park at the 29th annual Chile Pepper Festival Saturday, September 30.
"We are really excited to host the Chile Pepper Festival in two weeks and be able to show our stuff in front of the home crowd," Bucknam said.
Arkansas Results (Overall)
7. Alex George – 25:56.50
8. Cameron Griffith – 25.56.90
10. Preston Cates – 26:05.50
13. Ethan Moehn – 26:21.70
15. Carter Persyn – 26:33.30
19. Kyle Levermore – 26:45.30
31. Graham Brown – 27:27.40
2017 Cross Country Schedule
Fri, Sept. 1 – Cowboy Preview (Stillwater, Okla.) 1st of 4
Fri, Sept. 15 – Iona College Meet of Champions (New York, N.Y.) 2nd of 11
Sat, Sept. 30 – Chile Pepper Festival (Agri Park)
Sat, Oct. 14 – Pre-Nationals (Louisville, Ky.)
Fri, Oct. 27 – SEC Championship (Athens, Ga.)
Fri, Nov. 10 – NCAA South Central Regional (College Station, Texas)
Sat, Nov. 18 – NCAA Championship (Louisville, Ky.)
*italicized meet denotes completion.
For more information on Arkansas track and field including in-meet updates, follow @RazorbackTF on Twitter.