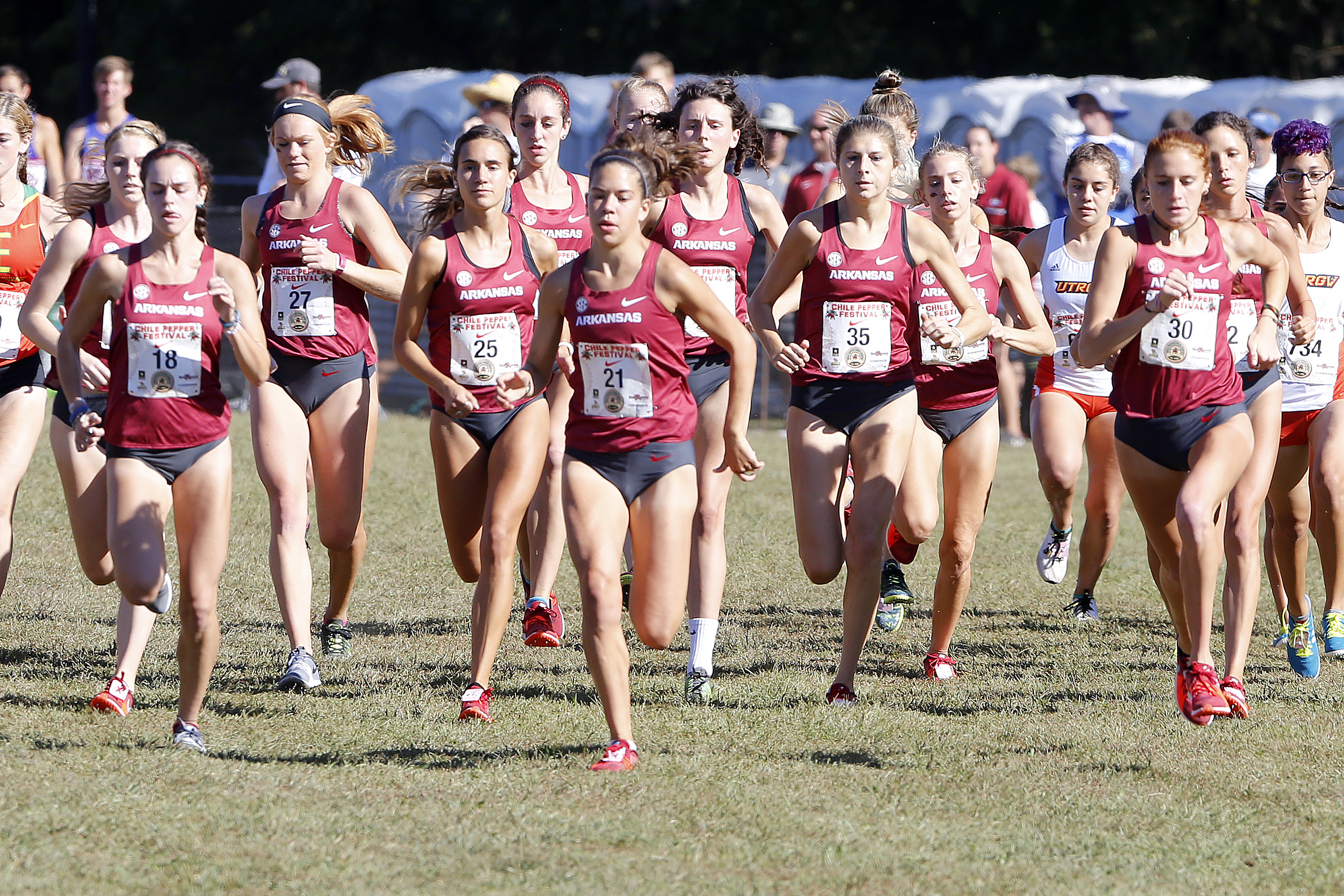 No. 9 Arkansas Takes First at Chile Pepper
FAYETTEVILLE, Ark. – No. 9 Arkansas finished first at the 29th annual Chile Pepper Festival, led by freshman Ashton Endsley, for its third win of the season.
Endsley led all Razorbacks and finished fourth overall as the top freshman with a time of 16:48.00 in the 5K. It marked the second-straight strong performance from Endsley after a 13th-place finish at the Riverside Invitational 6K (Sept. 16). The Razorbacks had three freshman place in the top-15 with Ruth Wiggins and Alex Ritchey finishing in 14th and 15th place, respectively.
"It was amazing," Endsley said. "When I was in high school thinking about coming here, I knew it was going to be amazing and that's exactly what it was."
Junior Sydney Brown finished fifth, right behind Endsley, at 16:56.10. Brown has competed in three races this season, finishing in the top-5 in each of them.
"I think this was a big confidence builder," Brown said. "Just being at the front and for our younger ones, having a competitive, serious race. I think it was an awesome opener.
Sophomore Maddy Reed rounded out the top-10 performers for the Razorbacks, finishing in eighth place with a time of 17:14.80. It was Reed's second race of the season, following a second place finish at the Riverside 5K.
This year's event saw 45 teams compete in the women's collegiate 5K with 381 athletes participating in the race.
Team Results (Top Five)
Arkansas – 33
Colorado School of Mines – 98
Oklahoma Baptist – 133
Dallas Baptist – 146
Missouri State – 188
Arkansas Results (Overall)
4. Ashton Endsley – 16:48.00
5. Sydney Brown – 16:56.10
8. Maddy Reed – 17: 14.80
14. Ruth Wiggins – 17:26.30
15. Alex Ritchey – 17:28.40
The Razorbacks will take a two-week break from action, and will return Saturday, Oct. 14 for the Pre-Nationals in Louisville, Kentucky.
2017 Cross Country Schedule
Fri, Sept. 1 – Cowboy Duals (Stillwater, Okla.) 2nd of 4
Sat, Sept. 16 – Riverside Invitational (Riverside, Calif.) 1st of 29
Sat, Sept. 16 – Southern Stampede (Joplin, Mo.) 5th of 32
Fri, Sept. 29 – Joe Piane/Notre Dame Invitational (South Bend, Ind.) 4th of 20
Sat, Sept. 30 – Chile Pepper Festival (Agri Park) 1st of 45
Sat, Oct. 14 – Pre-Nationals (Louisville, Ky.)
Fri, Oct. 27 – SEC Championship (Athens, Ga.)
Fri, Nov. 10 – NCAA South Central Regional (College Station, Texas)
Sat, Nov. 18 – NCAA Championship (Louisville, Ky.)
For more information on Arkansas track and field including in-meet updates, follow @RazorbackTF on Twitter.