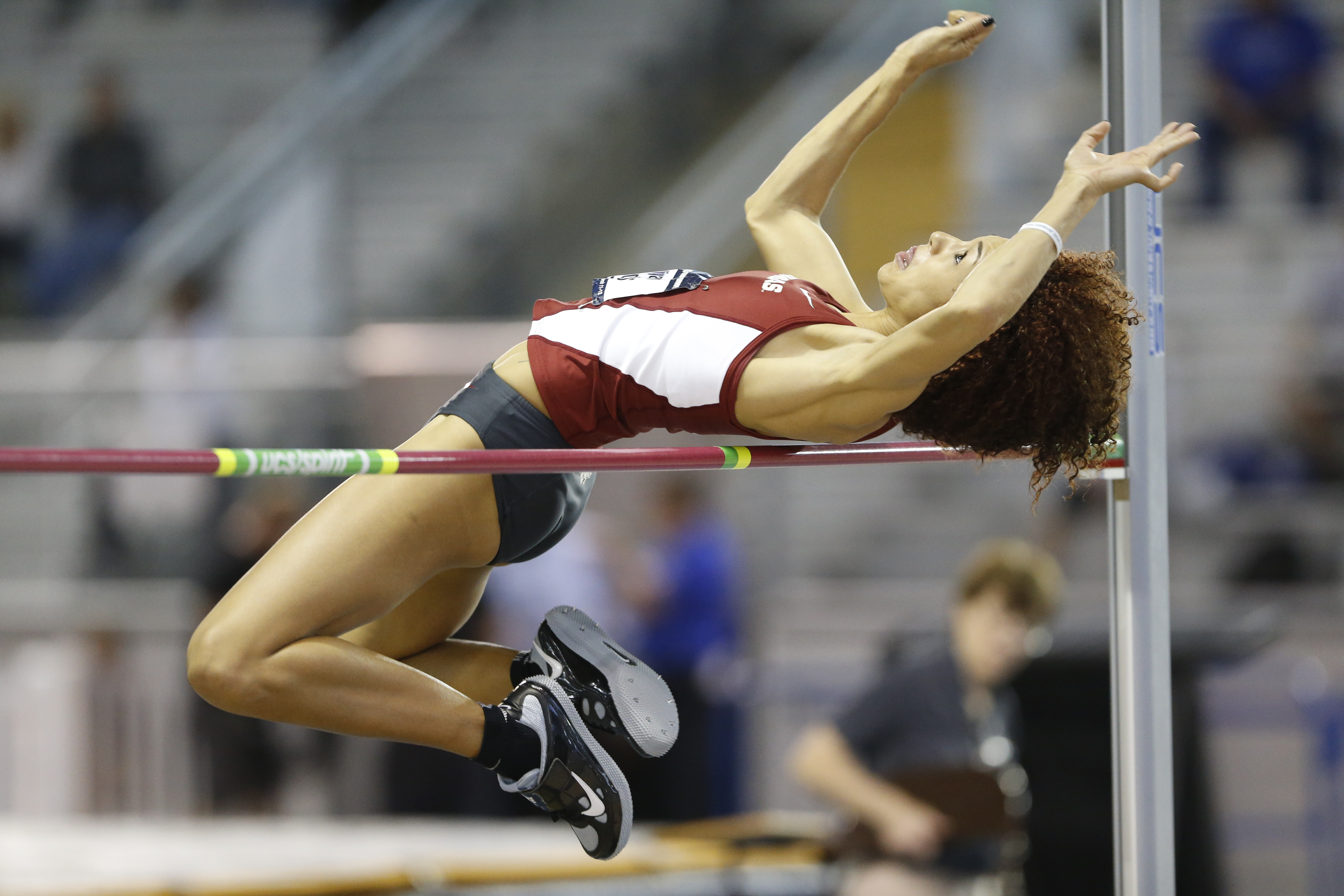 Pentathlon Crew Make History
Friday Results
Saturday Start Lists
BIRMINGHAM, Ala. – Never has a school ever had three student-athletes finish inside the NCAA top eight in the pentathlon. Arkansas women's track and field changed that at the 2016 NCAA Indoor Track and Field Championship under the roof of the Birmingham Crossplex.
Day one of the 2016 NCAA Indoor Track and Field Championships for No. 4 Arkansas began in phenomenal fashion. Razorback pentathlon quartet of Taliyah Brooks, Leigha Brown, Alex Gochenour and Payton Stumbaugh opened up with strong performances in the 60-meter hurdles setting the pace for the rest of the day.
Sophomore sensations, Brooks and Stumbaugh, were responsible for two of the best hurdle times of the day running personal bests of 8.17 and 8.10 respectively. A veteran talent in the multis Gochenour also raced to a new PR posting a time of 8.38 to collect a good base of 1,044 points.
Never yielding, the pentathlon crew continued to step on the gas through the next four events. Brooks and Stumbaugh picked up major points off career best clearances of 1.83m/6-0 and 1.74m/5-8.5 feet respectively in the high jump. Stumbaugh promptly followed with another PR — this time in the shot put with a throw of 12.14m/39-10. Brown also threw to a new personal best in shot put picking up 735 points off a mark of 13.11m/43-0.25.
Heading into the 800-meter run inside scoring contention, Brooks, Gochenour and Stumbaugh dug deep to finish the four lap race and secure a combined 15 points towards Arkansas's team total finishing second, sixth and fifth respectively. Brown clocked the fastest pentathlon 800-meter time in Arkansas history with 2:13.87 but was eight points shy of a spot in the top eight. Stumbaugh improved her lifetime pentathlon best by 201 points with her final score 4,371.
Upon completing the pentathlon Brooks and Stumbaugh were back in action in the 60-meter hurdle semifinals. Stumbaugh broke her PR from earlier in the day with an 8.09 performance earning a spot in tomorrow's final off her time.
Seven-time All-American Taylor Ellis-Watson was the second Razorback to advance to day two picking up a heat win in the 400-meter dash with 52.52. Ellis-Watson heads into tomorrow's final section with the second fastest time in the 400-meter dash this year of 51.84.
Arkansas closed out the night with four points off the heels of its distance medley relay. A-team of Nikki Hiltz, Daina Harper, Therese Haiss and Jessica Kamilos ran a huge season PR of 10:59.22. Hiltz kicked off the relay with third fastest 1,200 meter split getting the baton to Harper in 3:23.78. In a united team effort, trio of Harper, Haiss and Kamilos capitalized off Hiltz's momentum placing six spots higher than their No. 11 seed.
Head Coach Lance Harter
"Today was an outstanding start to the national meet. We're way ahead of expectations heading into tomorrow's events. Our pentathletes did a fantastic job – to have three place was phenomenal and I don't believe it has ever been done in the history of our sport. Leigha Brown was slightly off scoring contention but had an overall great day which is a tribute to her conditioning. Another amazing thing to see were the strengths of Taliyah [Brooks] and Payton [Stumbaugh] coming back to compete in other events only an hour after the pentathlon. In the case of the DMR, seeded 11th we figured we would entertain ourselves and see what we could do. They battled hard and went for the win and broke 11 (10:59.22) in the process which is a tribute to their talent."
The 2016 NCAA Indoor Track and Field Championship will be held on March 11-12 in Birmingham, Alabama at the Birmingham Crossplex. Ticket and meet information can be found at the NCAA Championship Central.
ESPN3 will stream the meet live on March 12 starting at 3:55 p.m. Central time. A re-air of the championship will take place on Sunday, March 13 starting at 6 p.m. Central time on ESPN2 and also Wednesday, March 23 starting at 9 p.m. Central time on ESPNU.
2016 NCAA Indoor Championship Day One Results
Birmingham Crossplex
Birmingham, Ala.
400m Semifinals
Taylor Ellis-Watson – 52.52
60mH Semifinals
Payton Stumbaugh – 8.09q
Taliyah Brooks – 8.27
DMR (5) – 10:59.22
Nikki Hiltz
Daina Harper
Therese Haiss
Jessica Kamilos
Pentathlon
Taliyah Brooks (2) – 4,432 points – 60mH: 8.17, HJ: 1.86m/6-0, SP: 11.55m/37-10.75, LJ: 6.18m/20-3.50, 800m: 2:22.59 Payton Stumbaugh (5) – 4,371 points – 60mH: 8.10, HJ: 1.74m/5-8.5, SP: 12.14m/39-10, LJ: 5.97m/19-7, 800m: 2:18.01
Alex Gochenour (6) – 4,336 points – 60mH: 8.38, HJ: 1.71m/5-7.25, SP: 12.65m/41-6, LJ: 5.95m/19-6.25, 800m: 2:15.38
Leigha Brown (9) – 4,218 points – 60mH: 8.64, HJ: 1.71m/5-7.25, SP: 13.11m./43-0.25, LJ: 5.57m/18-3.25, 800m: 2:13.87
WOMEN'S TEAM SCORES (through 5 of 17 events)
1. Georgia (27)
2. Arkansas (19)
3. Notre Dame (18)
4. Michigan (13)
5. Kentucky (10)
5. Georgetown (10)
5. Alabama (10)
5. UC Riverside (10)
9. Kansas (9)
10. Washington (8)
10. Louisville (8)
10. NC State (8)
13. USC (7)
14. Tennessee (6)
14. Stanford (6)
16. Sam Houston St. (5)
16. Wisconsin (5)
18. Tennessee St. (4)
19. Winthrop (3)
20. Georgia Tech (2)
20. Oregon (2)
20. Air Force (2)
2016 NCAA Indoor Championship Day Two
Birmingham Crossplex
Birmingham, Ala.
4:00 p.m. – Pole Vault – Lexi Weeks and Tori Weeks
4:35 p.m. – 60mH Finals – Payton Stumbaugh
5:20 p.m. – 400m Finals – Taylor Ellis-Watson
6:55 p.m. – 4x400m Finals – Payton Stumbaugh, Daina Harper, Brianna Swinton and Taylor Ellis-Watson
For more information on Arkansas track and field including in-meet updates, follow @RazorbackTF on Twitter.