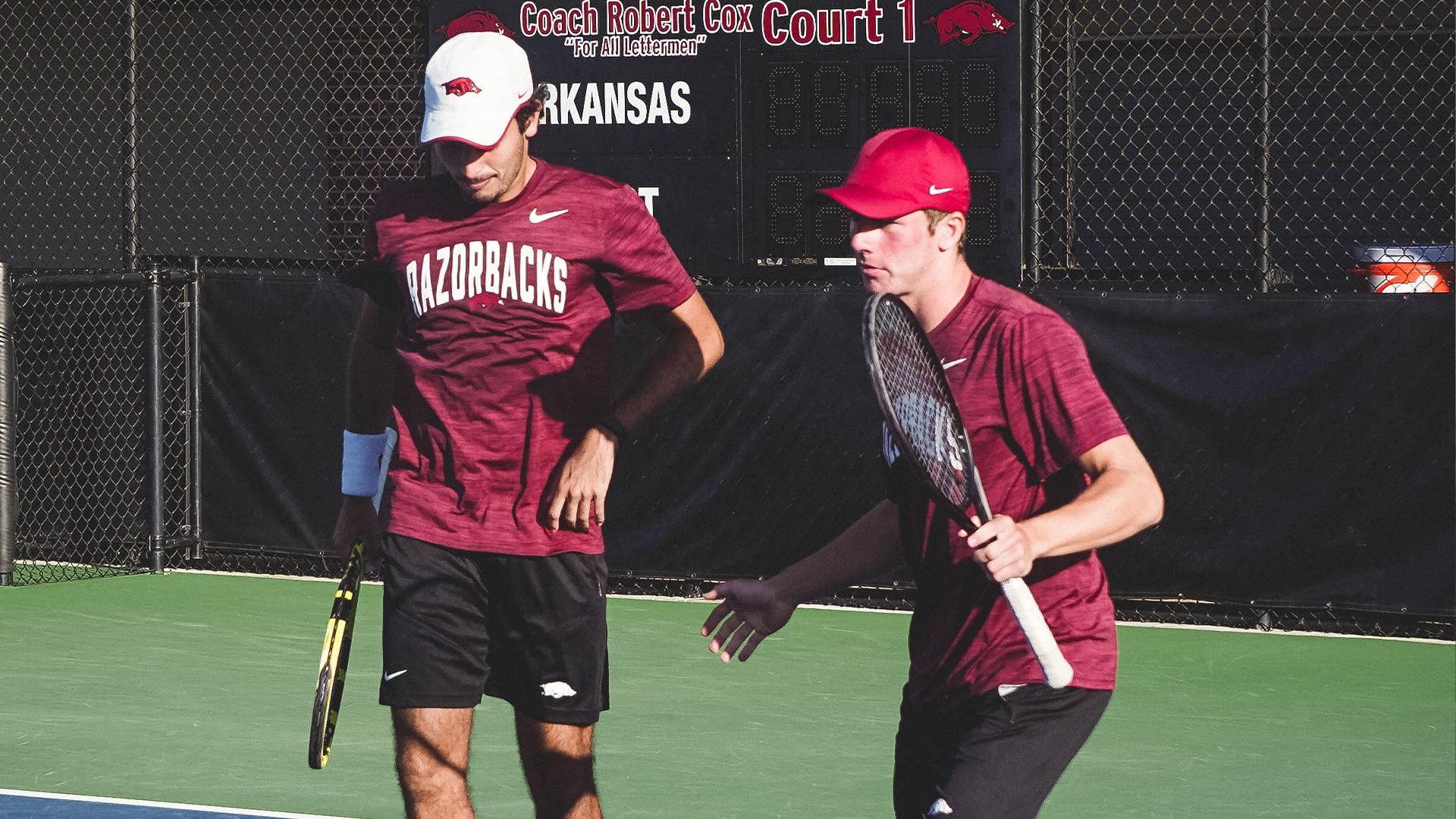 Razorback Doubles in Final at ITA Regional
FAYETTEVILLE, Ark. – The Razorback duo of Alan Sau Franco and Adrien Burdet advance to the doubles final of the ITA Central Regional and earn a spot in the ITA National Fall Championships.
Sau Franco and Burdet were faced with two challenges today on their way to the doubles final. In the quarterfinals, the pair were up against Richards/Minarik of Wichita State posting an 8-3 win. The scoring format changed to two full sets with a match tiebreak at one set all in the semifinals as Sau Franco/Burdet faced the strong Drake pair of Matic/Johansson.
The Razorbacks took the first set 6-4 with their Bulldog opponents battling back in the second to keep the match tight. Sau Franco/Burdet took three straight games in the second to win the match and advance, 6-4.
In the singles Round of 16, Adrien Burdet faced Oklahoma's Jordan Hasson looking to win one match today to advance to the quarterfinals. Burdet dropped his first set 6-2, coming back to win three games in a row in the second set to go up 4-1 but couldn't finish falling 4-6.
Sophomore Jake Sweeney won two consolation matches today and advances to the semifinals of the consolation draw tomorrow, facing Ovil of Wichita State at 10: 30 a.m. CT.
The doubles final will be played on Sunday, Oct. 15 at 8:30 a.m. with Arkansas up against Oklahoma's Hasson/Mandlik. Live stats and video will be available on the schedule page.
For the latest information on all things Arkansas Men's Tennis, follow the Hogs on social media by liking us on Facebook (Arkansas Razorback Men's Tennis) and following us on Twitter and Instagram (@RazorbackMTEN).