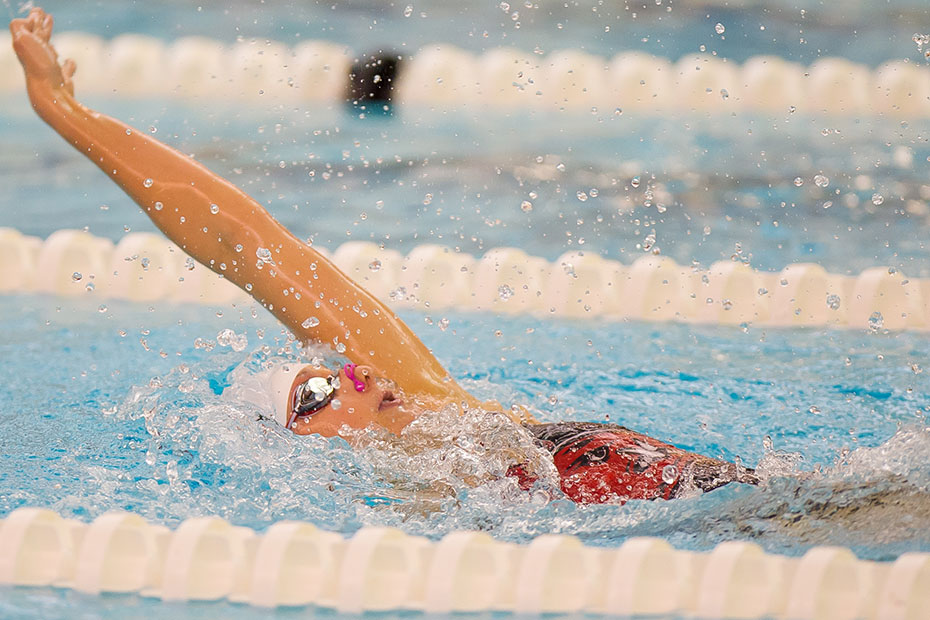 Razorbacks Close Competition At NCAA Championships
Preliminary Results – Day 4 (PDF)
ATLANTA – The Arkansas swimming and diving team wrapped up the 2015-16 season on the fourth and final day of the 2016 NCAA Swimming and Diving Championships at Georgia Tech's McAuley Aquatic Center Friday.
Senior Anna Mayfield placed 21st overall in the 200-yard backstroke in a season-best time of 1:53.58, shaving 0.24 seconds off her seed time. Mayfield's mark is the Razorbacks' top time in the event this season.
Senior Maddie Monroe finished 45th overall in the 100-yard freestyle with a time of 49.47.
Mayfield, Monroe and senior Nina Drolc then closed out their collegiate careers with the 400-yard freestyle relay. The trio teamed with junior Natalie Burnett to place 23rd overall in 3:17.51, the third-fastest time in program history.
"It has been an honor to coach these three seniors," Arkansas swimming and diving head coach Sean Schimmel said. "I am very proud of Maddie, Nina and Anna in what they have accomplished over the past four years. I am even more excited about the type of young women they have become and what they are going to accomplish in the future. It was a disappointing week overall, but it was nice to see Anna and the 400 free relay team finish with season-best performances. Anna, Maddie, Nina and the seven other seniors at home have sacrificed and given a lot to Arkansas swimming and diving. I am grateful and appreciative of them as individuals and what they have done for the team."
Mayfield qualified for the NCAA Championships in each of her four seasons. The San Antonio, Texas, native leads Arkansas's individual record holders with three program records, including the 500-yard freestyle, 100 and 200-yard backstroke, and 18 top five all-time performances. In addition, she is a member of three of four NCAA "A" cut relay times in program history.
Drolc also made four NCAA Championships appearances and is a member of the 800-yard freestyle relay team that clocked an NCAA "A" cut time of 7:06.08 at the 2016 SEC Championships on Feb. 16. Drolc, Mayfield and Missy Allert (1990-93) are the only three swimmers in program history to accomplish qualifying for four NCAA Championships.
Monroe's career ends with three NCAA Championships appearances. The Godfrey, Illinois, native holds the program record in the 100 and 200-yard freestyle along with being a member of three of four NCAA "A" cut relay times in program history.
Prior to the NCAA Championships, Arkansas finished the regular season 9-1 overall and 3-1 in Southeastern Conference action. At the 2016 SEC Championships in Columbia, Missouri on Feb. 16-20, the Razorbacks placed ninth, totaling 491 points for the third-highest point total at the SEC Championships in program history and the most since 594 in 2013.
For more information on Arkansas swimming and diving, follow @RazorbackSD on Twitter.
ARKANSAS FINISHES AT THE 2016 NCAA CHAMPIONSHIPS:
800 Free Relay (Timed Finals)
24th – Anna Mayfield, Maddie Monroe, Chelsea Tatlow, Nina Drolc (7:09.37)
500 Free (Prelims)
31st – Anna Mayfield (4:43.71)
50 Free (Prelims)
51st – Maddie Monroe (23.07)
1m Springboard (Prelims)
20th – Nicole Gillis (279.00)
200 Free (Prelims)
41st – Maddie Monroe (1:46.80)
51st – Anna Mayfield (1:47.52)
3m Springboard (Prelims)
25th – Nicole Gillis (293.10)
200 Back (Prelims)
21st – Anna Mayfield (1:53.58)
100 Free (Prelims)
45th – Maddie Monroe (49.47)
400 Free Relay (Prelims)
23rd – Maddie Monroe, Natalie Burnett, Nina Drolc, Anna Mayfield (3:17.51)