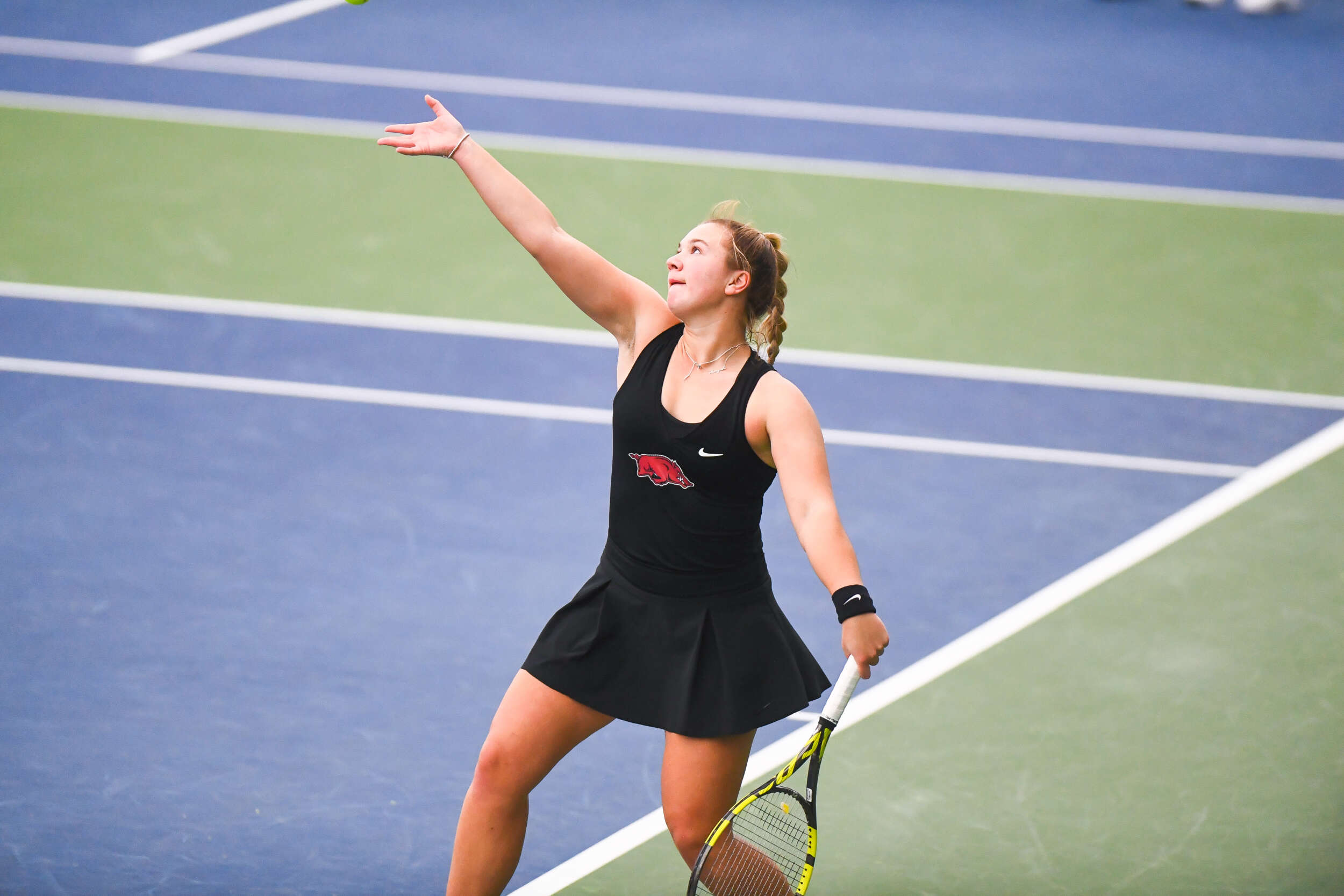 Razorbacks Come Up Short at SMU, 4-3
DALLAS – The University of Arkansas women's tennis team (5-2) fell short in singles play against SMU (4-3) after taking the doubles point. The Razorbacks dropped four straight singles matches, grabbing their first two singles points after  SMU had clinched the match.
The Razorbacks started out strong, sweeping doubles play to earn the early lead. On court one, Indianna Spink and Morgan Cross took the first match, 6-3, followed up by Kelly Keller and Carolina Gomez Alonso with a 6-3 win to clinch the doubles point. No. 57 Lenka Stara and Grace O'Donnell wrapped doubles play up with a 6-4 win over SMU's Hadley Doyle and Lava Mavor.
The Mustangs gained steam early on in singles play, winning the first set on five courts. SMU got on the board to tie up the match with a victory on court four over Lenka Stara. On the top three courts, the Razorbacks weren't going down without a fight, forcing a third-set tiebreaker across the board. Kelly Keller and Indianna Spink both came back from a 0-5 deficit in the second set, winning four straight games before they fell. SMU clinched the match win over Indianna Spink with courts three and five playing on.
Junior Morgan Cross won her sixth straight match of the dual season, taking a second-set tiebreak for the 6-1, 7-6 (6) win over her opponent. On court three, No. 45 Carolina Gomez Alonso took care of business to remain undefeated this spring. She is now 4-0 at the No. 3 position with a 3-6, 6-2, 6-4 victory over Jackie Nylander.
The Razorbacks remain on the road as they travel to Norman, Okla. to face Oklahoma and Missouri State on Saturday, Feb. 25.
For the latest information on all things Arkansas Women's Tennis, follow the Hogs on social media by liking us on Facebook (Arkansas Razorback Women's Tennis) and following us on Twitter and Instagram (@RazorbackWTEN).