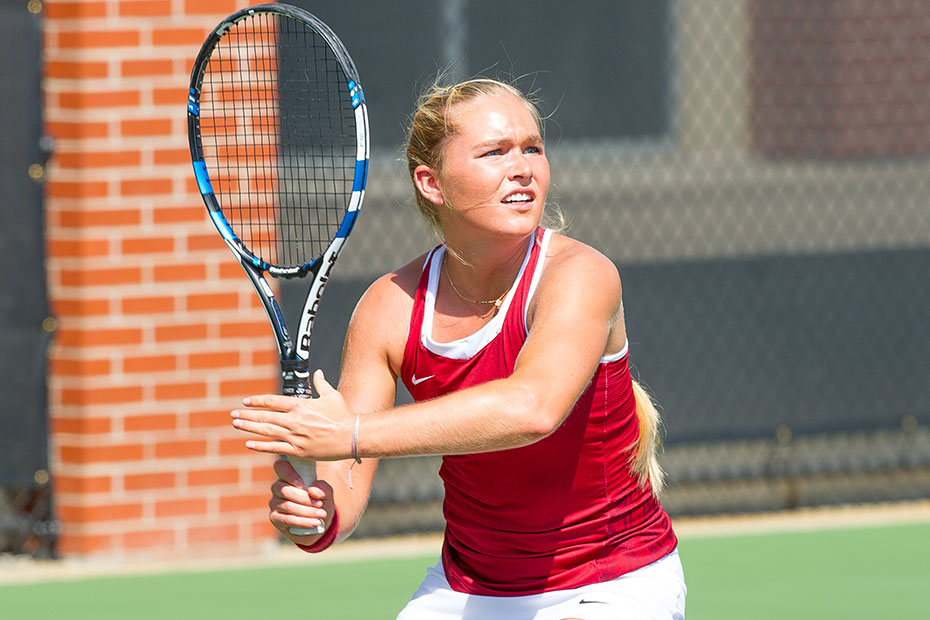 Razorbacks Complete Day Two at Brown
PROVIDENCE, R.I. – Another impressive performance on the doubles court highlighted Arkansas' second day of competition at the Brown Classic against Boston College.
Mia Jurasic and Ana Oparenovic tallied their second doubles win of the weekend, taking down Jennifer Ren and Asiya Dair, 7-6 (4). Peyton Jennings and Nicole Breaux followed up with a victory of their own, defeating Emily Safron and Katya Vasilyev, 7-6 (7).
"Although we didn't quite get rewarded fully on the scoreboard, we had some strong singles performances today go alongside an outstanding effort in doubles," head coach Michael Hegarty said.
The Razorbacks will close out their fall slate Sunday against Utah.
@RazorbackWTEN Results:
Arkansas vs. Boston College
Saturday, Nov. 7, 2015
Doubles
Flight 1 – Lexi Borr/Jackie Urbinati (BC) def. Makenzie Craft/Flavia Araujo (Arkansas), 6-2
Flight 2 – Mia Jurasic/Ana Oparenovic (Arkansas) def. Jennifer Ren/Asiya Dair (BC), 7-6 (4)
Flight 3 – Peyton Jennings/Nicole Breaux (Arkansas) def. Emily Safron/Katya Vasilyev (BC), 7-6 (7)
Singles
Flight 1 – Asiya Dair (BC) def. Ana Oparenovic (Arkansas), 6-4, 6-4
Flight 2 – Lexi Borr(BC) def. Mia Jurasic (Arkansas), 3-6, 6-4 (10-7)
Flight 3 – Makenzie Craft (Arkansas) def. Jennifer Ren (BC), 6-2, 6-4
Flight 4 – Emily Safron (BC) def. Flavia Araujo (Arkansas), 6-1, 6-3
Flight 5 – Jackie Urbinati (BC) def. Peyton Jennings (Arkansas), 6-1, 7-5
Flight 6 – Wan-Yi Sweeting (BC) def. Nicole Breaux (Arkansas), 2-6, 6-4 (10-7)