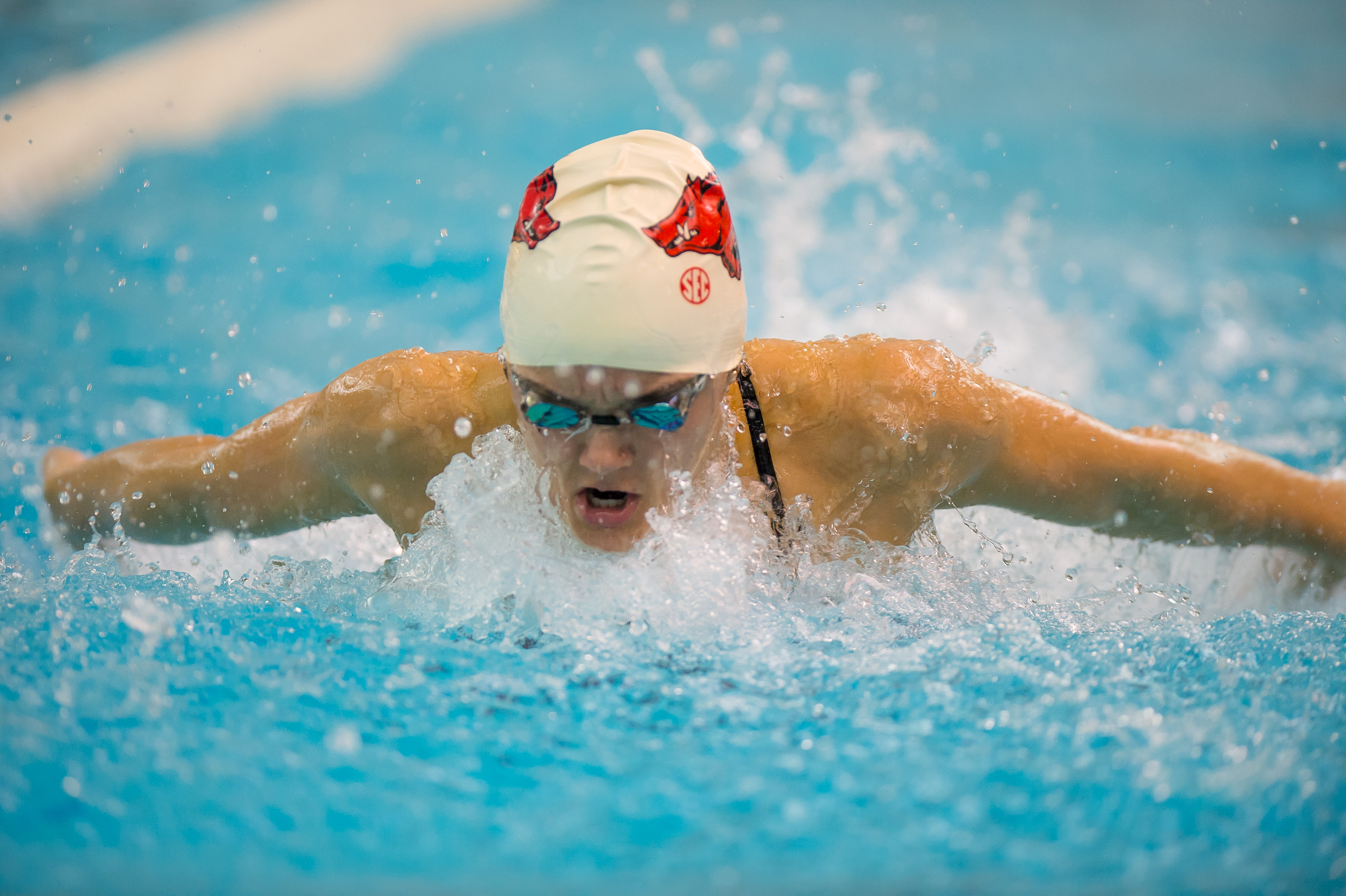 Razorbacks Complete Day Three Of SEC Championships
COLUMBIA, Mo. – After three days of competition, the Arkansas swimming and diving team remains in eighth place with 303 points through 21 events at the Southeastern Conference Championships held at the Mizzou Aquatic Center in Columbia, Missouri.
"I thought we did a nice job this morning," Arkansas swimming and diving head coach Sean Schimmel said. "We're doing everything we can to take care of our business and put ourselves in scoring positions. Tomorrow is an important day for us."
Day three began with preliminaries in the 400 IM, 100 fly, 200 free and 3-meter diving. The Razorbacks posted four lifetime bests, and seven swimmers earned spots in the evening finals.
In the 400 IM, all four Razorback swimmers that competed captured a spot in the finals.
"Going four-for-four was really big for us," Schimmel said. "It definitely got things going."
Sophomore Chloe Hannam led the way with a time of 4:13.57, good for 13th overall. Sophomore Chelsea Tatlow followed with a season-best 4:16.12 to grab 16th. Dropping 2.44 seconds off her lifetime best, sophomore Jessie Garrison clocked a 4:16.87 to finish 18th, while junior Mary Margaret Soderberg checked in at 22nd with a time of 4:17.71.
Focus then shifted to the 100 fly. Junior Natalie Burnett clocked a lifetime-best 53.19 en route to an 11th-place finish overall for a spot in the finals. Sophomore Olivia Weekley recorded a lifetime-best 54.3 to get an NCAA 'B' cut in the event.
In the 200 free, seniors Maddie Monroe (1:46.55; ninth) and Anna Mayfield (1:46.62; tenth) each garnered spots in the B-Final. Freshman Kiera Michailoff-Russell swam a lifetime-best 1:51.74.
In 3-meter diving, sophomore Nicole Gillis (289.75) placed 13th while seniors Hannah Bortnick (276.45) and Shelby Bartlett (268.05) checked in at 19th and 23rd respectively. Bortnick's finish marks a career high at the SEC Championships.
The Razorbacks opened up the evening finals with a pair of lifetime bests in the 400 IM C-Final. Soderberg touched second with a time of 4:15.54, dropping 2.17 seconds off her lifetime best. After improving her lifetime best by 2.44 seconds in the prelims, Garrison bettered her mark, clocking a 4:16.75 to capture sixth place. Tatlow took seventh in the B-Final with a time of 4:17.96.
"Jessie works extremely hard day in and day out," Schimmel said. "She has a consistency with the best of them on our team. Two best times in one day is a reflection of her determination, work ethic and what she's trying to accomplish. It's just really exciting."
In the 100 fly B-Final, Burnett finished seventh with a time of 53.60.
To close out the night, Monroe placed fourth in the 200 free B-Final with a time of 1:46.89, and Mayfield was sixth in 1:47.30.
Day four begins with prelims at 10 a.m. and will feature the 200 fly, 100 back and 100 breast. Finals for the three events as well as the 400 medley relay will begin at 6 p.m.
Team Rankings – Through Event 21 
1. Texas A&M – 657.5
2. Tennessee – 645.5
3. Georgia – 584.5
4. Florida – 426
5. Auburn – 354.5
6. Missouri – 352.5
7. LSU – 337
8. Arkansas – 303
9. Kentucky – 286
10. South Carolina – 261
11. Alabama – 234.5
12. Vanderbilt – 93