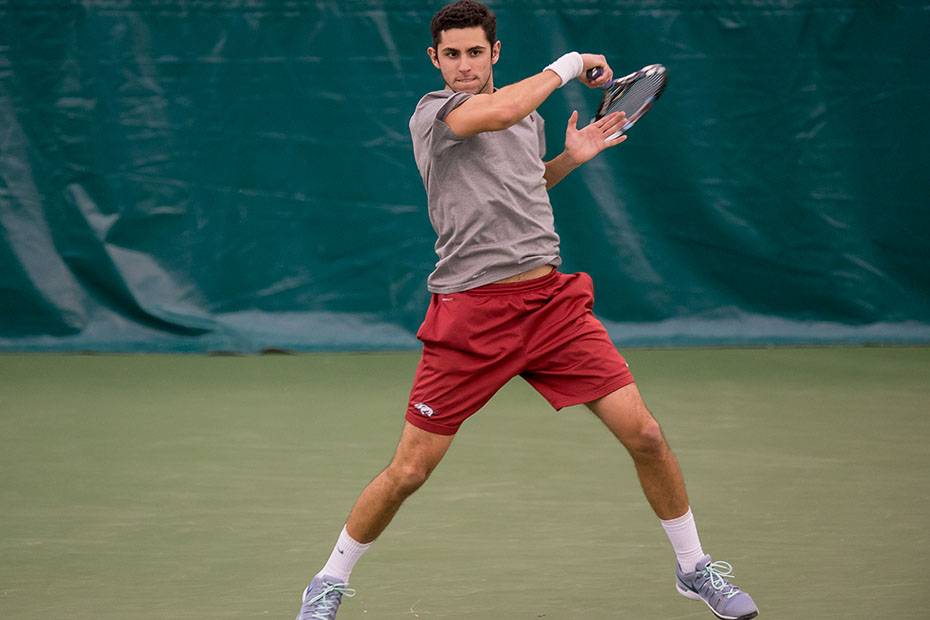 Razorbacks Down Mavericks in Opener
FAYETTEVILLE, Ark. — The Arkansas men's tennis team started its season on the right foot, as the Razorbacks beat UT Arlington 6-1 on Friday evening at Dills Indoor Courts. After clinching a quick doubles point, the first five singles matches went Arkansas' way, and the Razorbacks cruised to victory.
In all, the Razorbacks lost only one set out of 12 in singles play, putting forth a performance that head coach Andy Jackson expects from this year's squad day-in and day-out.
"UTA finished ahead of us in the national rankings last year so it was good to start the season with a result that suggests we may be better this year," he said. "Today was a nice start."
In the quickest match of the day, Giammarco Micolani defeated Mario Muniesa at No. 2 singles by a score of 6-3, 6-1 to give the Razorbacks their second point. Given the tough assignment of starting at No. 1 singles, Mike Redlicki responded with a convincing 6-2, 6-1 victory over Jhonathan Gonzalez to set the tone.
Santiago Munoz, William Albanese and David Herrerias also clinched straight-set win for Arkansas, as No. 3, No. 5 and No. 6, respectively.
In doubles play, the duo of Micolani and Redlicki defeated the Mavericks' Gonzalez and Muniesa, winning 6-0. Jose Salazari and Adam Sanjurjo then clinched the first point for Arkansas, finishing off their opponents Carlos Arbiza and Ion Efrim by a score of 6-1.
The third doubles match also went to the Razorbacks, with Munoz and Johan den Toom taking care of Daniel Armengol and Guanarteme Nuez with a 6-3 score.
UP NEXT
Arkansas continues its opening weekend with Michigan State coming into town. The Razorbacks and Spartans face off on Sunday, Jan. 24 at 1 p.m. at Dills Indoor Courts.
"We expect Michigan State to be a challenge on Sunday," Jackson said. "MSU has played three matches already, one being with national power Notre Dame. They're an indoor-oriented team from a major conference so we will have to be better."