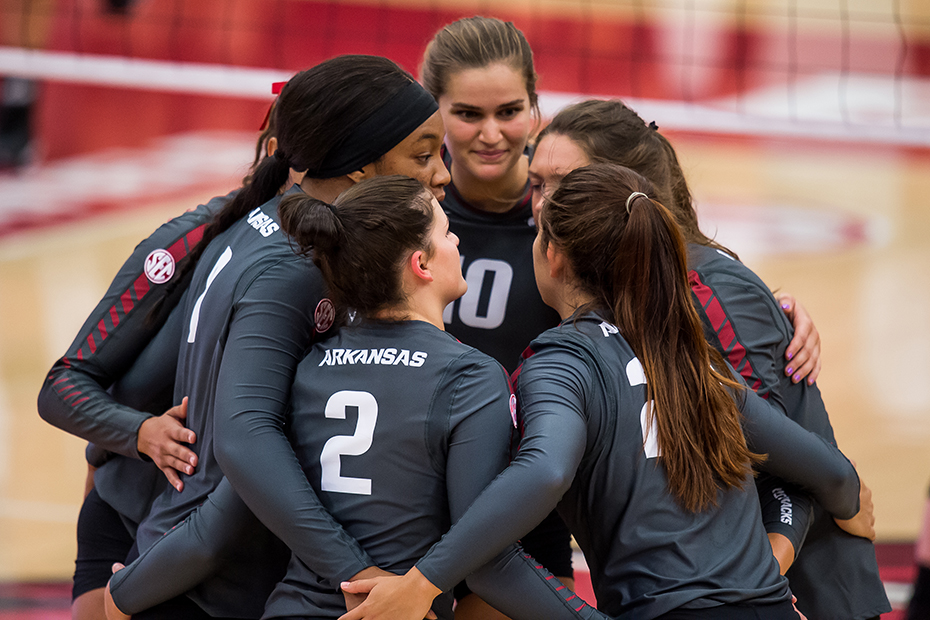 Razorbacks Sweep Yale, Push No. 19 USC to Five
SANTA BARBARA, Calif. – Behind a .348 hitting percentage and four players in double figures, the University of Arkansas volleyball team swept Yale in its second match Friday at the UCSB Thunderdome Classic. In the Razorbacks' first match of the day, they had a 2-1 lead over No. 19 USC but ultimately lost in five sets. With Friday's results, Arkansas is 7-2—both losses coming to ranked team—and handed Yale its first loss of the season.
FINAL
Arkansas 3, Yale 0 | Box Score
Attendance: 200 | Time: 1:26
Thunderdome Events Center (Santa Barbara, Calif.)
#RazorStats
Leaders vs Yale

Kills: Pilar Victoria – 16
Digs: Pilar Victoria – 12
Blocks: Three with 2.0

Double-Doubles

Pilar Victoria – 16 kills, 12 digs
Facing a quick turnaround against Yale (4-1), the Razorbacks saved seven set points in the opening frame before cashing in on their fourth set point with a tandem block by Kelly O'Brien and Rachel Rippee. The 33-31 win was Arkansas' longest set of the season. Redshirt senior Pilar Victoria had six of her nine first-set kills down the stretch when Yale had set points at 24-21. She led all players with 16 kills to go along with 12 digs.
Early in the second set, the Razorbacks trailed by three points but surged ahead at 7-6 after back-to-back kills from Reagan Robinson. The sophomore outside hitter finished the match with 10 kills. Arkansas held a 15-14 lead later in the set before scoring nine of the next 12 points, arriving at set point after consecutive kills by freshman Elizabeth Pamphile. She registered a career-high 12 kills against the Bulldogs.
Arkansas won the first two points of the third set and never trailed, using a five-point push to go up 11-4 on the scoreboard. During that stretch, Pamphile and fellow freshman Hailey Dirrigl each put down two kills. Dirrigl tallied 13 kills on 20 swings, registering a .500 hitting percentage in the match. The lead reached as high as nine points at 22-13 after another Pamphile tallied her final kill. Playing back in her home state, O'Brien posted the final point with a kill to secure the sweep.
Rippee dished out 50 assists in the straight-set win, guiding the team to its fourth match of the season with a .300 or higher hitting percentage. The sophomore setter leads the SEC with 12.22 assists per set.
FINAL
No. 19 USC 3, Arkansas 2 | Box Score
Attendance: 150 | Time: 2:17
Thunderdome Events Center (Santa Barbara, Calif.)
#RazorStats
Leaders vs No. 19 USC

Kills: Pilar Victoria – 29
Digs: Okiana Valle – 20
Blocks: Elizabeth Pamphile – 7.0 (0-7)

Double-Doubles

Rachel Rippee – 49 assists, 10 digs
Pilar Victoria – 29 kills, 15 digs
Victoria posted 29 kills against the 19th-ranked team in the country, good for her third match of the season with 25 or more kills. She added a season-high 15 digs to complete a double-double performance. Rippee notched her third double-double of the year with 49 assists and 10 digs.
Defensively, junior libero Okiana Valle tied for the match lead with 20 digs and senior Krista Kolbinskie established a career high for a second-consecutive outing with 12 digs of her own. At the net, the Razorbacks had a season-high 16.0 total team blocks. The blocking effort was led by Pamphile with seven, O'Brien with six and Victoria with five. Arkansas' 16.0 total team blocks are the most by the program since the 2015 season.
After a back-and-forth start to the match, Arkansas took a 10-9 advantage on a killy by Victoria but the Women of Troy won eight of the next 10 points to go ahead 17-12 on the scoreboard. The Razorbacks began chipping away and pulled even at 19-all after O'Brien and Rippee teamed up for a block. Arkansas scored three straight to turn a tie into a 24-21 edge, and secured the 1-0 match lead on a USC attack error.
The teams split the next two sets and the Razorbacks jumped out to a 10-5 lead after back-to-back kills by Dirrigl. USC put together a run that evened the score at 13-all. With the score tied at 17, Arkansas scored four of the next five to take a 21-18 advantage after consecutive kills from Victoria and Dirrigl. USC responded with a run of its own and tied the score at 22 which initiated a see-saw ending to the set. The Razorbacks were two points away from the upset at 24-all but the Trojans won the final two points to force a decisive fifth set. USC won the final frame, 15-9.
For more information about Arkansas Volleyball, follow @RazorbackVB on Instagram, Snapchat and Twitter.