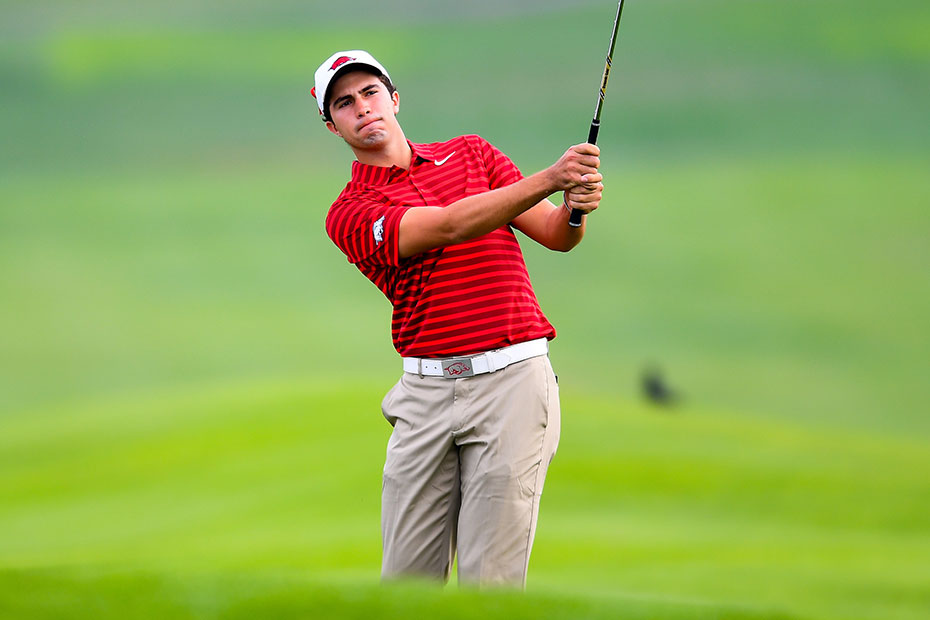 Razorbacks Finish Play In Palm City
PALM CITY, Fla. – The No. 16 Arkansas men's golf team wrapped up play at the Valspar Collegiate on Tuesday, finishing T-10th with rounds of 288-291-286 – 865 (+13) at Floridian National Golf Club.
Top-ranked Oklahoma State (-12) ran away with the team title, capturing a five-shot victory over No. 23 Florida State, a team Arkansas defeated last week at the Southern Intercollegiate. The Razorbacks had the third-lowest round on Tuesday, a 2-over 286 to move one spot up the leaderboard and ahead of three nationally ranked programs.
Luis Garza led the team for the second consecutive week, finishing T-23rd overall following a final round even-par 71 that featured two birdies in the final six holes. Mason Overstreet tallied a top-30 finish at T-27th, signing for back-to-back 2-over 73's to end the event.
Alvaro Ortiz and William Buhl both finished T-31st overall as Ortiz was the only Razorback to finish under par on the final day, while Buhl was 1-under over his final eight to finish 1-over on the round.
Landon Ernst finished T-66th at 13-over as an individual, while Tyson Reeder finished T-85th overall.
The Razorbacks will have a week off before returning to action April 7-8 at the Aggie Invitational in Bryan, Texas. The 54-hole event will take place at Traditions Club.
For more information on Arkansas men's golf, follow @RazorbackMGolf on Twitter.
Razorback Lineup Final Results

| Place | Player | Score |
| --- | --- | --- |
| T23. | Luis Garza | 70-74-71 – 215 (+2) |
| T27. | Mason Overstreet | 70-73-73 – 216 (+3) |
| T31. | Alvaro Ortiz | 73-74-70 – 217 (+4) |
| T31. | William Buhl | 75-70-72 – 217 (+4) |
| T66. | Landon Ernst (IND) | 77-77-72 – 226 (+13) |
| T85. | Tyson Reeder | 83-75-79 – 237 (+24) |
Valspar Collegiate Final Team Results

| Place | Team | Score |
| --- | --- | --- |
| 1. | No. 1 Oklahoma State | 277-274-289 – 840 (-12) |
| 2. | No. 23 Florida State | 286-278-281 – 845 (-7) |
| 3. | No. 2 Texas A&M | 281-283-286 – 850 (-2) |
| 4. | No. 3 Georgia Tech | 287-282-283 – 852 (E) |
| T5. | No. 37 Duke | 286-282-286 – 854 (+2) |
| T5. | No. 9 Baylor | 284-279-291 – 854 (+2) |
| 7. | No. 12 LSU | 287-279-292 – 858 (+6) |
| 8. | No. 20 South Florida | 289-280-292 – 861 (+9) |
| 9. | No. 14 Texas | 294-278-290 – 862 (+10) |
| T10. | No. 16 Arkansas | 288-291-286 – 865 (+13) |
| T10. | Houston | 296-283-286 – 865 (+13) |
| 12. | No. 22 Wake Forest | 283-297-298 – 878 (+26) |
| 13. | No. 31 South Carolina | 293-292-296 – 881 (+29) |
| 14. | No. 28 Pepperdine | 292-286-305 – 883 (+31) |
| 15. | UT Arlington | 302-292-304 – 898 (+46) |
| 16. | Lamar University | 301-307-318 – 926 (+74) |