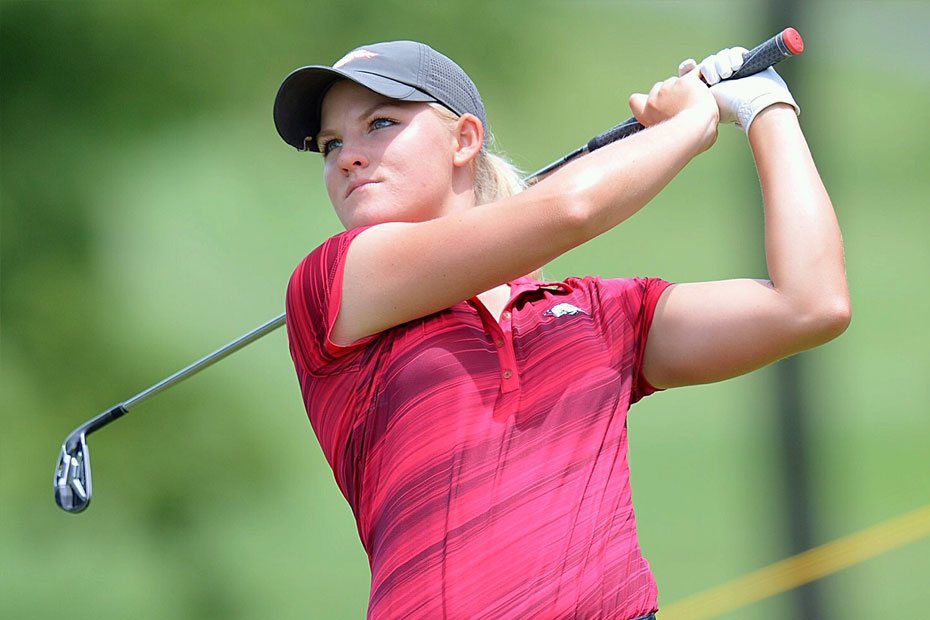 Razorbacks In Striking Distance
Results
CHAPEL HILL, N.C. – The top-ranked University of Arkansas women's golf team fired an even par 288 and is tied for fifth place after round one action at the Ruth's Chris Tar Heel Invitational in Chapel Hill, North Carolina, on Friday.
Arkansas' 288 is well within striking distance of the leaders. The Razorbacks are five shots back of No. 6 Duke's 283 on the Blue Devils' home course. Southeastern Conference member and No. 14 South Carolina is second at 284, followed by second-ranked Alabama at 285 and No. 31 North Carolina State at 286.
Paced by senior Alana Uriell, the Razorbacks were 2-over as a team on the back nine after starting their day on the 10th hole of Finley Golf Course. The front side saw Arkansas move up the leaderboard with six birdies as the Razorbacks played the second nine holes 2-under to finish even on the day.
Uriell is in the top-10 for the seventh consecutive round this season and is four-back of the leader with two days remaining. The Carlsbad, California, native was one of two Razorbacks to avoid a bogey on the back nine and she picked up birdies on holes two and six after the turn. Uriell is tied for seventh overall.
Junior Dylan Kim was also bogey-free on the backside of the course. She birdied holes four and seven but counted her lone bogey of the round on her final hole of the day to finish tied for 13th.
Junior Maria Fassi was 1-over through nine holes with a bogey on No. 11 to start her round. She added another bogey on No. 2 but got that stroke back with a birdie on No. 6 to finish 1-over.
Junior Cara Gorlei had a bogey on both the back and the front nine and junior Kaylee Benton rallied with a birdie on her 17th hole to finish strong.
From Coach Taylor
"We did a lot of really good stuff out there. It is a matter of staying patient when you have 30-footers. We hit it great today but didn't make as many putts as we did the first two weeks. They did a great job of staying patient and if we keep giving ourselves opportunities, we will be in a position to accomplish our goals. I'm really proud of Alana (Uriell). Two birdies and 16 pars is very solid golf. She hung in there. Overall, we are in a position to accomplish our goals and that is exactly what we want to do each day."
More Information
Keep up with all of the latest news and information and get behind the scenes looks into our program on our social media accounts. Follow us on Twitter at @RazorbackWGolf and check out our Facebook page "Razorback Women's Golf." Stats, news and player information can be found at ArkansasRazorbacks.com.
Arkansas Lineup

| | PLAYER | SCORE | TO PAR |
| --- | --- | --- | --- |
| T7 | Alana Uriell | (36–34) 70 | -2 |
| T13 | Dylan Kim | (36–35) 71 | -1 |
| T34 | Maria Fassi | (37–36) 73 | +1 |
| T41 | Cara Gorlei | (37–37) 74 | +2 |
| T41 | Kaylee Benton | (39–35) 74 | +2 |
The Field

| | TEAM | SCORE | TO PAR |
| --- | --- | --- | --- |
| 1 | No. 6 Duke | 283 | -5 |
| 2 | No. 14 South Carolina | 284 | -4 |
| 3 | No. 2 Alabama | 285 | -3 |
| 4 | No. 31 North Carolina State | 286 | -2 |
| T5. | No. 1 Arkansas | 288 | E |
| T5. | No. 45 Louisville | 288 | E |
| T7. | No. 34 North Carolina | 289 | +1 |
| T7. | No. 26 Wake Forest | 289 | +1 |
| 9 | No. 45 Ohio State | 292 | +4 |
| 10 | Rollins | 296 | +8 |
| 11 | No. 9 Michigan State | 297 | +9 |
| T12. | No. 24 Virginia | 298 | +10 |
| T12. | No. 16 Vanderbilt | 298 | +10 |
| T12. | No. 62 Iowa | 298 | +10 |
| T12. | No. 73 Michigan | 299 | +11 |
| 16 | No. 91 Tulane | 300 | +12 |
| 17 | No. 72 UNC-Wilmington | 303 | +15 |
| 18 | No. 53 Virginia Tech | 304 | +16 |