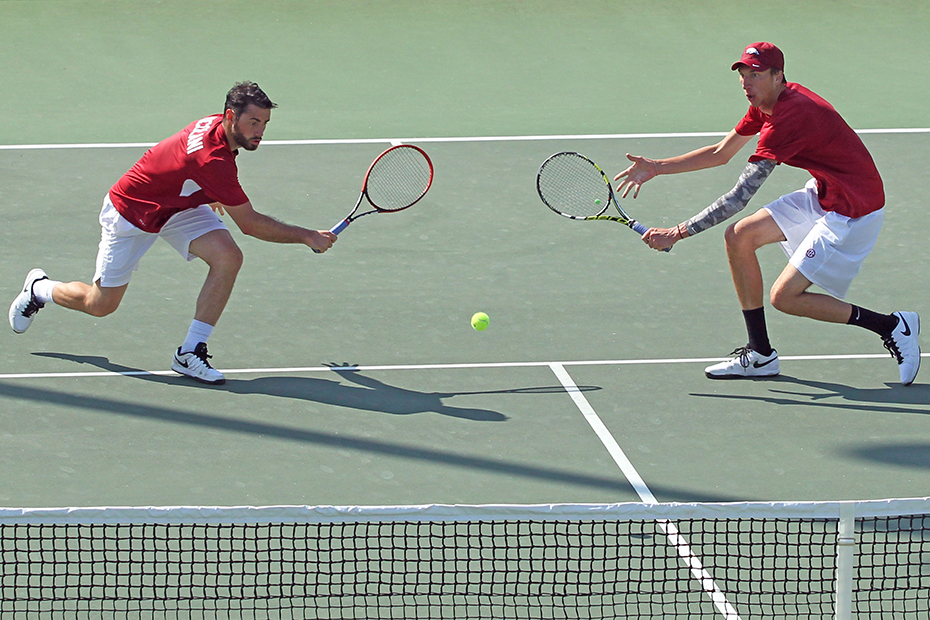 Razorbacks Learn Singles, Doubles Draws
Singles Bracket | Doubles Bracket
TULSA, Okla. — The NCAA Division I Men's Tennis Subcommittee has announced the singles and doubles brackets for the 2016 NCAA Championships.
In the first round of the 64-player singles draw, Arkansas' Mike Redlicki will face TCU sophomore Cameron Norrie, the overall No. 5 seed in the nation. Meanwhile, in the 32-pair doubles draw, Giammarco Micolani and Redlicki will face the Wake Forest duo of Skander Mansouri and Christian Seraphim in the first round.
Redlicki and Norrie are scheduled to play at 11:30 a.m. CDT on Wednesday, while the Micolani-Redlicki vs. Mansouri-Seraphim match time Thursday remains TBD. Jose Salazar, who is fourth on the singles draw alternate list, still awaits news on whether he will be able to compete.
Norrie owns an 18-4 singles dual record, which includes a 15-4 mark at the No. 1 spot. The Auckland, New Zealand, native ended the season on a five-match win streak, including a 3-0 mark during the No. 4 Horned Frogs' NCAA Tournament run, which ended at the Sweet 16.
Overall, Norrie has a 12-5 record this season against currently-ranked singles players, almost identical to Redlicki's 11-5 mark in such matchups. In terms of common opponents, both players have wins this spring over Oklahoma's No. 25 Axel Alvarez Llamas, LSU's No. 44 Jordan Daigle and Oklahoma State's Temur Ismailov.
The only difference is Norrie's win over Texas' No. 68 George Goldhoff on April 16 compared to Redlicki's loss to Goldhoff on March 23. Norrie also fell to Alvarez Llamas in their first matchup of the season April 8, before avenging his loss April 30 with a three-set victory in the Big 12 Tournament.
In the opening doubles bout, the Arkansas top pair faces off against the No. 13 pair of Mansouri and Seraphim, who is 17-9 in doubles dual matches for the No. 6 Demon Deacons this season. The Wake Forest duo boasts a 12-9 record this season against currently-ranked doubles teams, compared to the Micolani-Redlicki team's 8-8 mark.
Mansouri-Seraphim most recently lost 6-2 to Oklahoma's pair of Axel Alvarez and Andrew Harris in the teams' Sweet 16 match, but had previously won four consecutive decisions. Meanwhile, Micolani-Redlicki finished their season with a 6-4 victory over Oklahoma State's No. 10 duo of Julian Cash and Arjun Kadhe.
Further updates on the singles and doubles brackets will be posted as they become available. For more information on Razorback men's tennis, please follow @RazorbackMTEN on Twitter.