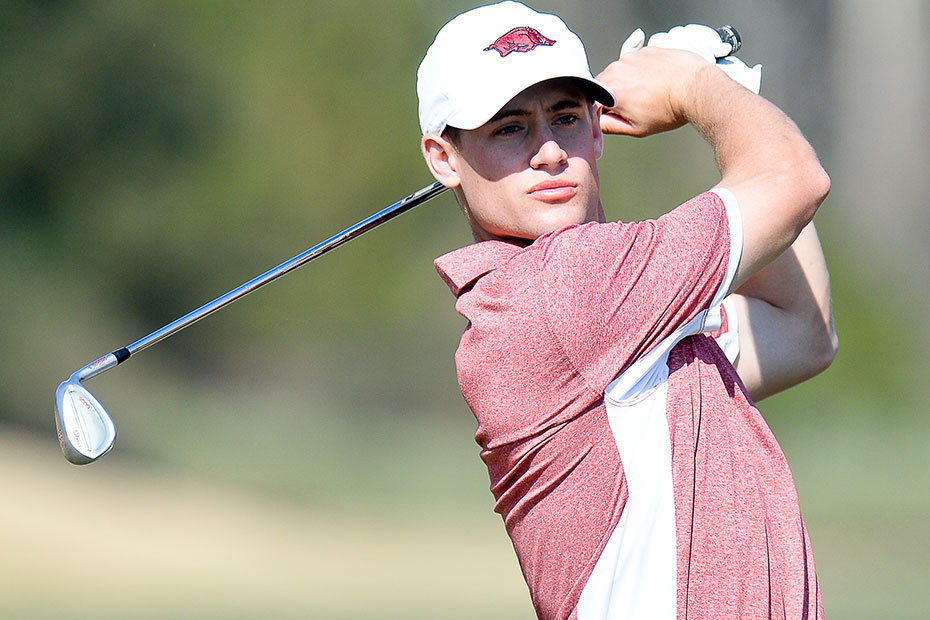 Razorbacks Make Final RD Push At TPC Sawgrass
EPONTE VEDRA BEACH, Fla. – With all four counting scores at 72 or lower, including a pair in red numbers, the Arkansas men's golf team moved up three spots on the leaderboard during the final round of the Sea Best Invitational held at TPC Sawgrass to finish in a tie for third in the 15-team field.
Behind seniors Nicolas Echavarria and Taylor Moore, Arkansas was one of just two teams to have two players shoot under-par in the final round en route to the second-best score of the day at one-over 281. The four-man score of 281 was nine-stroke improvement from Monday's afternoon round, as Arkansas finished in front of four teams ranked in the Golfstat top 50 and tied No. 21 North Carolina.
The top five finish is the third in a row for the Razorbacks dating back to the spring. Over that span, Arkansas has put together a 28-10-1 head-to-head record.
-MORE TO COME-
Arkansas will be back in action at the All-American Intercollegiate from Feb. 19-21 at the Golf Club of Houston in Humble, Texas.
@RazorbackMGolf Lineup
T7. Kolton Crawford – 70-70-71/211
T12. Nicolas Echavarria – 71-73-69/213
T23. Charles Kim – 72-72-73/217
T33. Taylor Moore – 75-75069/219
T49. Alvaro Ortiz – 74-75-
Individual
T40. Gonzalo Rubio – 78-69-74/221
Sea Best Invitational Standings (Golfstat Rankings)
1. Florida (19) – 265-278-283/826 (-14)
2. Liberty – 281-288-280/849
T3. Arkansas (35) – 287-290-281/858
T3. North Carolina (21) – 283-279-296/858
5. North Florida (45) – 281-293-286/860
6. Texas A&M (42) – 282-293-292/867
T7. Lipscomb – 292-287-290/869
T7. Campbell – 297-280-292/869
9. Tennessee (47) – 286-295-290/871
10. Charleston Southern (34) – 294-296-288/878
11. McNeese State – 291-293-303/887
T12. Jacksonville (66) – 293-291-304/888
T12. Jacksonville State (153) – 299-292-297/888
14. Stephen F. Austin (143) – 300-300-310/910
15. USC Upstate (173) – 306-302-311/919