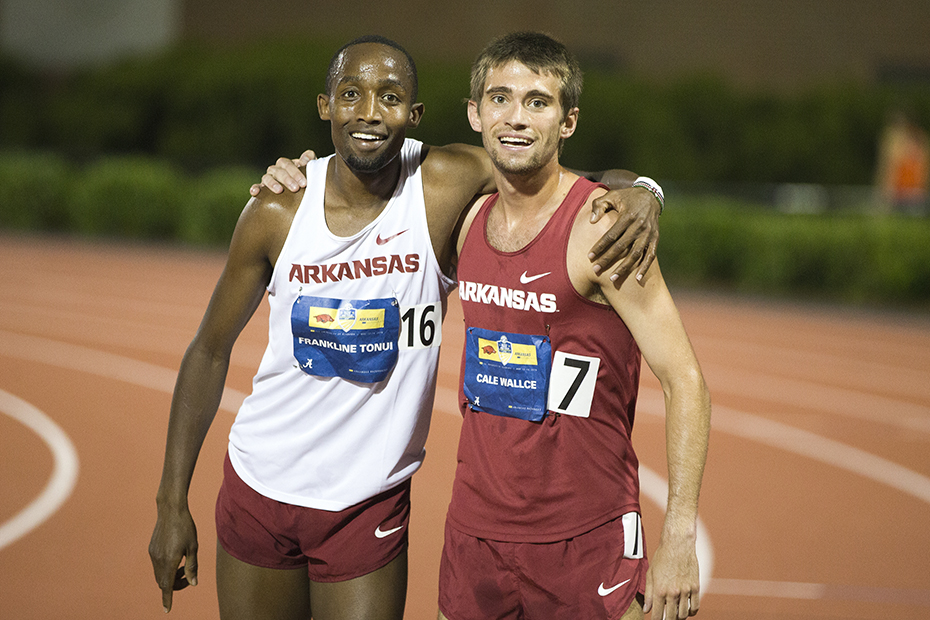 Razorbacks Nab Two SEC Individual Crowns
Day Two Results | Day Three Heat Sheets | Watch Live SECN+ Tomorrow
TUSCALOOSA, Ala. – The No. 4 Arkansas men's track and field team had a remarkable afternoon at Sam Bailey Track Stadium in Tuscaloosa on day two of the 2016 Southeastern Conference Outdoor Championships.
The Razorbacks amassed 35 points from wins in the 3,000-meter steeplechase and long jump while also placing two student-athletes among each event's top five.
Arkansas heads into the final day of competition ranked second by a one point margin behind Georgia.
SEC Champions
Senior captain Jarrion Lawson was the first Razorback to win an individual title with a first attempt mark in the long jump of 7.91/25-11 ½.
The mark remained the best performance through the duration of the event, giving the Texarkana, Texas native his second conference title of the year.
"I've never been an SEC Champion until my senior year and to go out as the indoor and outdoor champion, I'm just so grateful and give all thanks to God," said Lawson. "I scooted back to a new approach after indoor, so this meet was really my first time actually really jumping. It was a good test. For regionals I should be able to go out there and put out a good mark on my first jump and go to nationals and really compete."
Cross country All-American Frankline Tonui followed Lawson's performance with a spectacular showing of his own as the Iowa Central transfer posted a new lifetime best of 8 minutes, 39.82 seconds to earn a gold medal in the 3KSC.
Confident in his speed and endurance, Tonui raced to the front from the start of the race and maintained pace with the event leaders through the majority of the competition. Upon entering the bell lap, Tonui shifted gears, opening up his stride to cover more ground than his competitors never yielding in speed until the title was well in hand.
SEC Scorers
Not the only success stories of the day, Lawson and Tonui were joined by teammates Andreas Trajkovski (long jump) and Cale Wallace (3,000-meter steeplechase) who both added to the Razorbacks' point totals through exceptional performances of their own.
In the first SEC Outdoor Championship of his career, Trajkovski picked up four points with a fifth-place in the long jump with his best mark of the day 7.48/24-6 ½.
Although more familiar with the conference meet, Wallace had the most productive SEC championship of his career with eight points for his runner-up finish in the 3,000-meter steeplechase. His new PR in the event of 8:41.47 ranks Wallace as the 10th-best performer in program history.
Razorback multis Derek Jacobus (seventh) and Lane Austell (eighth) also contributed to the Arkansas's team total combining to collect three points off a pair of top-eight finishes in the decathlon.
Preliminary Powers
Ohio State transfer Davon Anderson advanced out of the challenging second heat of the 110 hurdle preliminary round. He sprinted to the eighth-fastest performance of the day with his 13.93.
Another Razorback cross country All-American, Jack Bruce impressed spectators and student-athletes alike posting the best time of the day in the 1,500 (3:46.53) to earn an automatic qualifier to tomorrow's final.
Arkansas' final two qualifiers of the day were 2015 NCAA national champion 4-x-100 teammates Kenzo Cotton and Lawson whom both moved on to the finals section of the 100.
SEC Championships – Results
100 – K. Cotton (3) 10.30Q, J. Lawson (8) 10.39Q, R. Ejiakuekwu (20) 10.64
200 – J. Lawson (5) 20.56Q, J. Washington (12) 20.79, K. Cotton (21) 21.06, R. Ejiakuekwu (29) 21.27, M. Washington (39) 21.94
400 – O. Igbokwe
800 – C. Orange (6) 1:47.75Q, R. Thomas (9) 1:48.34Q
1,500 – J. Bruce (1) 3:46.53Q, A. Dalquist (13) 3:48.16, A. George (15) 3:48.31
10,000 – G. Gonzalez (3) 29:50.01, A. Ronoh (5) 29:53.93
110H – D. Anderson (9) 13.93Q, K. Mowatt (12) 14.24, L. Donald (16) 14.46
400H – K. Mowatt (4) 51.14Q, L. Donald (7) 51.70Q
3KSC – F. Tonui (1) 8:39.82, C. Wallace (2) 8:41.47
Long Jump – J. Lawson (1) 7.91/25-11 ½, A. Trajkovski (5) 7.48/24-6 ½, R. Owens (10) 7.15/23-5 ½, K. Jenner (11) 7.12/23-4 ½
Shot Put – D. Randall (9) 17.24/56-6 ¾, J. Rogers (10) 16.98/55-8 ½
Men's Team Standings: 1. Georgia (46); 2. Arkansas (45); 3. Texas A&M (34); 4. Alabama (30); 5. Kentucky (27); 6. Missouri (23); 7. Ole Miss (19); 8. Florida (18); 9. South Carolina (10); 10. Tennessee (7); 11. Mississippi State (6); 12. Auburn (5); 13. LSU (3).
Day Three Finals
• 3:10 p.m. 4-x-100
• 3:30 p.m. 1,500 – Jack Bruce
• 3:40 p.m. Triple Jump – Clive Pullen, Rubin Owens
• 3:45 p.m. Discus Throw – Devin Randall
• 3:50 p.m. 110H – Davon Anderson
• 4:00 p.m. High Jump – Ken LeGassey
• 4:30 p.m. 100 – K. Cotton, J. Lawson
• 4:50 p.m. 800 – C. Orange, R. Thomas
• 5:10 p.m. 400H – K. Mowatt, L. Donald
• 5:30 p.m. 200 – J. Lawson
• 6:00 p.m. 5K – J. Bruce, A. George, G. Gonzalez
• 6:35 p.m. 4-x-400
Meet information and live results can be found at the outdoor championships central.
A live broadcast of the competition on SEC Network+ will be available Saturday, May 14 at 3:00 p.m.
The championship will also air Sunday, May 15 via tape delay from 2-4 p.m.
For more information on Arkansas track and field including in-meet updates, follow @RazorbackTF on Twitter.