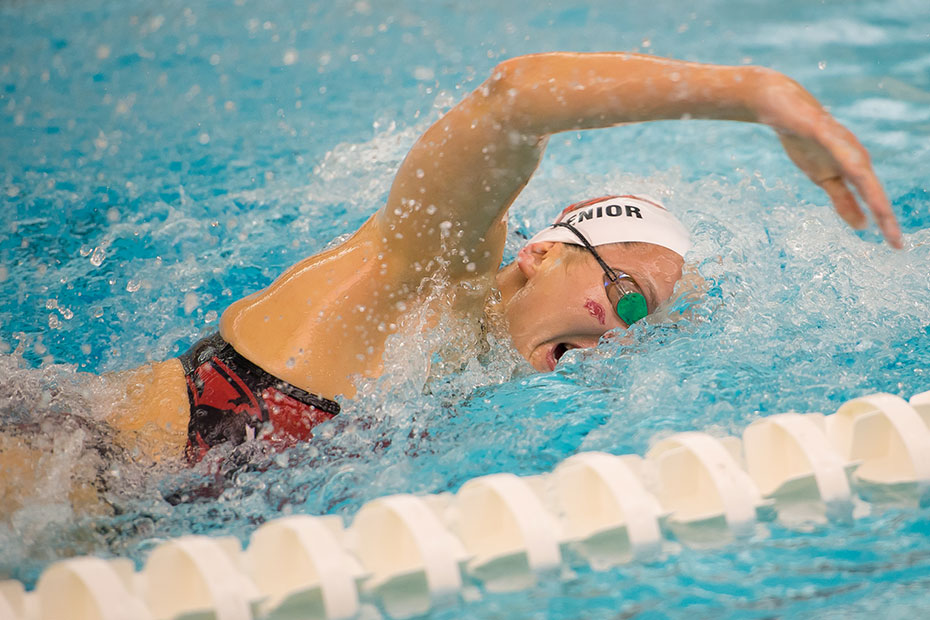 Razorbacks Open Competition At NCAA Championships
Results – Day 1 | Heat Sheet – Day 2 | Meet Headquarters | Watch | Live Results
ATLANTA – The Arkansas swimming and diving team opened competition at the 2016 NCAA Swimming and Diving Championships Wednesday evening at Georgia Tech's McAuley Aquatic Center.
Opening night featured just the 800-yard freestyle relay timed finals. Senior Anna Mayfield, senior Maddie Monroe, sophomore Chelsea Tatlow and senior Nina Drolc teamed up to place 24th overall in a time of 7:09.37.
Thursday's action will begin with prelims at 9 a.m. and will feature the 200-yard freestyle relay, 500-yard freestyle, 200-yard individual medley, 50-yard freestyle, 400-yard medley relay and 1m springboard. Finals for the events will begin at 5 p.m.
Mayfield will compete in the 500-yard freestyle, Monroe will take the pool in the 50-yard freestyle and sophomore diver Nicole Gillis will compete on the 1m springboard.
Complete coverage of all five days will be streamed through AtlantaSwimming.com. Additionally, ESPN3.com will stream finals sessions Friday and Saturday, and ESPNU will air a two-hour show at 6 p.m., Tuesday, March 29.
For more information on Arkansas swimming and diving, follow @RazorbackSD on Twitter.
SCHEDULE OF EVENTS (All times listed are in the Central Time Zone):
THURSDAY
Prelims – 9 a.m.
Diving Trials – 1 meter – 11:30 a.m.
15 minutes following trials: 1-meter diving consolation finals
Finals – 5 p.m.
200 Free Relay Consolation
200 Free Relay Final
500 Free Consolation
500 Free Final
200 IM Consolation
200 IM Final
50 Free Consolation
50 Free Final
1m diving finals
400 Medley Relay Consolation
400 Medley Relay Final
FRIDAY
Prelims – 9 a.m.
Diving Trials – 3 meter – 11:15 a.m.
15 minutes following trials, the three-meter diving consolation finals will occur
Finals – 5 p.m.
400 IM Consolation
400 IM Final
100 Butterfly Consolation
100 Fly Final
200 Free Consolation
200 Free Final
100 Breaststroke Consolation
100 Breast Final
100 Backstroke Consolation
100 Back Final
3-meter diving finals
200 Medley Relay Consolation
200 Medley Relay Final
Prelims – 9 a.m.
Platform Diving Trials – 11:15 a.m.
15 min following trials, platform consolation finals will occur
2:45 p.m. – 3:50 p.m. Freestyle early heats begin
3:50 p.m. – Free last heat of timed finals
Finals – 5 p.m.
200 Back consolation
200 Back Final
100 Free Consolation
100 Free Final
200 Breast Consolation
200 Breast Final
200 Butterfly Consolation
200 Fly Final
Platform Diving Finals
400 Free Relay Consolation
400 Free Relay Final