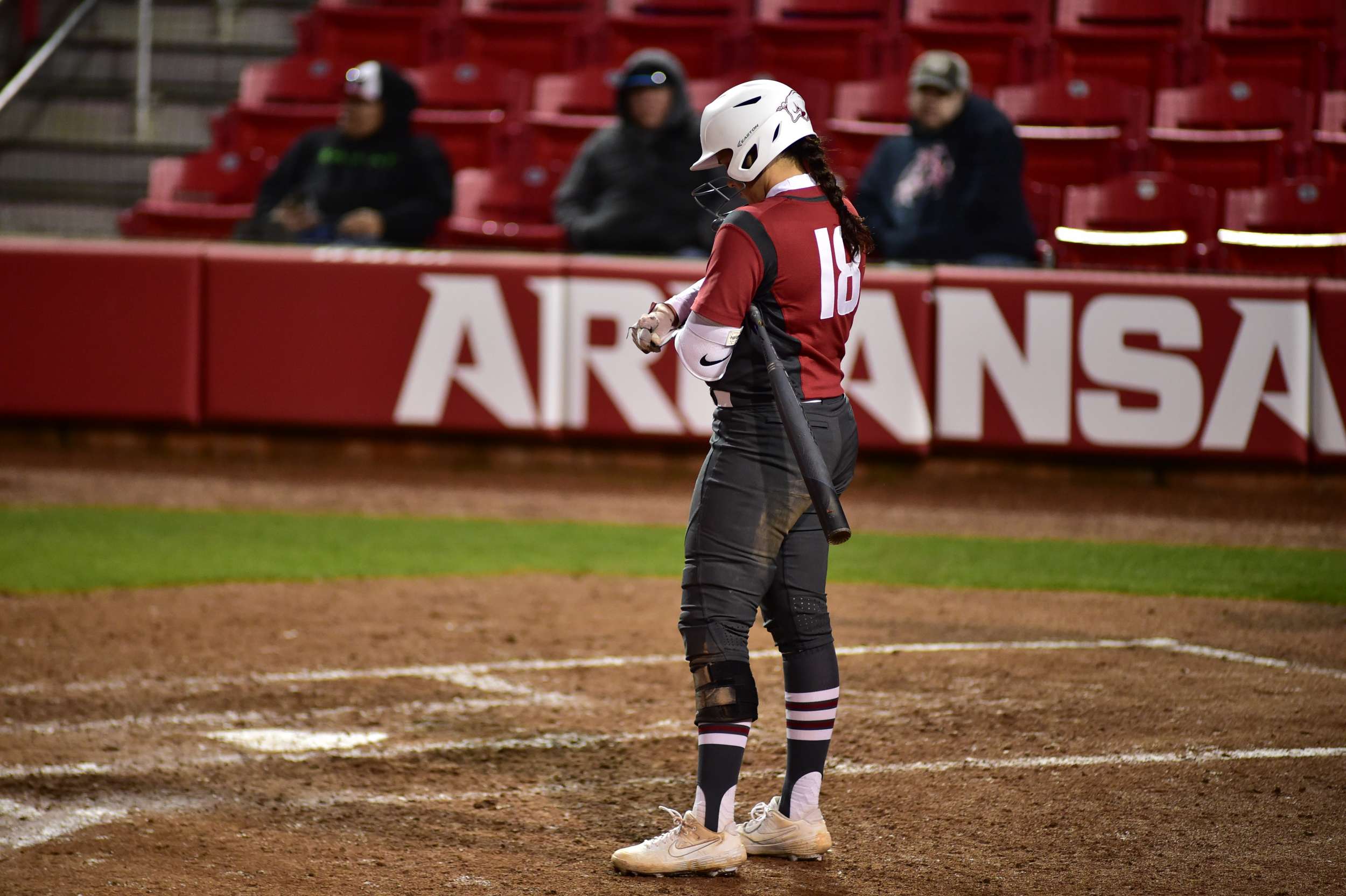 Razorbacks' Rally Falls Short in 2-1 Loss to Tulsa
FAYETTEVILLE – The University of Arkansas softball team dropped its third-straight game on Wednesday (March 13), after falling to Tulsa, 2-1. The Razorbacks managed to put the winning run on base in the seventh, but the rally fell short as two Hogs were left stranded.
Arkansas (19-6, 1-2) jumped out to a one-run lead in the first inning, with the night's lone RBI coming from starting catcher, freshman Taylor Greene. The offensive fire in the first inning looked to be the start of an exciting evening, but the Razorbacks just couldn't maintain their momentum in the following innings.
Tulsa (14-8, 0-0) responded with a run of its own in the top of the second to tie the game, a solo home run far over the left-field wall. The home run was the fourth given up by sophomore Mary Haff this season.
The Golden Hurricane took the lead in the fifth inning off back-to-back base hits from Alexis Perry and Rylie Spell, with Spell's double bringing in Perry for the winning run.
Now trailing, 2-1, Arkansas would look to Autumn Storms for help in the circle. Storms entered and pitched two innings, giving up no additional runs and only one hit, dishing out 15 strikes in 19 pitches.
Diaz went 2-for-4 at the plate for Arkansas and was the lone Hog to cross the plate, off Greene's bat in the first. It was Diaz' 45th multi-hit game in the cardinal and white.
The Razorbacks' will be back in action on Friday as they pick back up in SEC play, hosting South Carolina beginning on Friday at 6:00 pm (CT). Two of the three games during the conference series will be broadcast on SEC Network +: Friday (March 15) and Sunday (March 17).
For all Razorback softball news and information, go to ArkansasRazorbacks.com and follow the Hogs on Twitter at @RazorbackSB, on Facebook at Razorback Softball and on Instagram at @Razorback_SB. Fans can also follow head coach Courtney Deifel on twitter at @CoachDeifel.