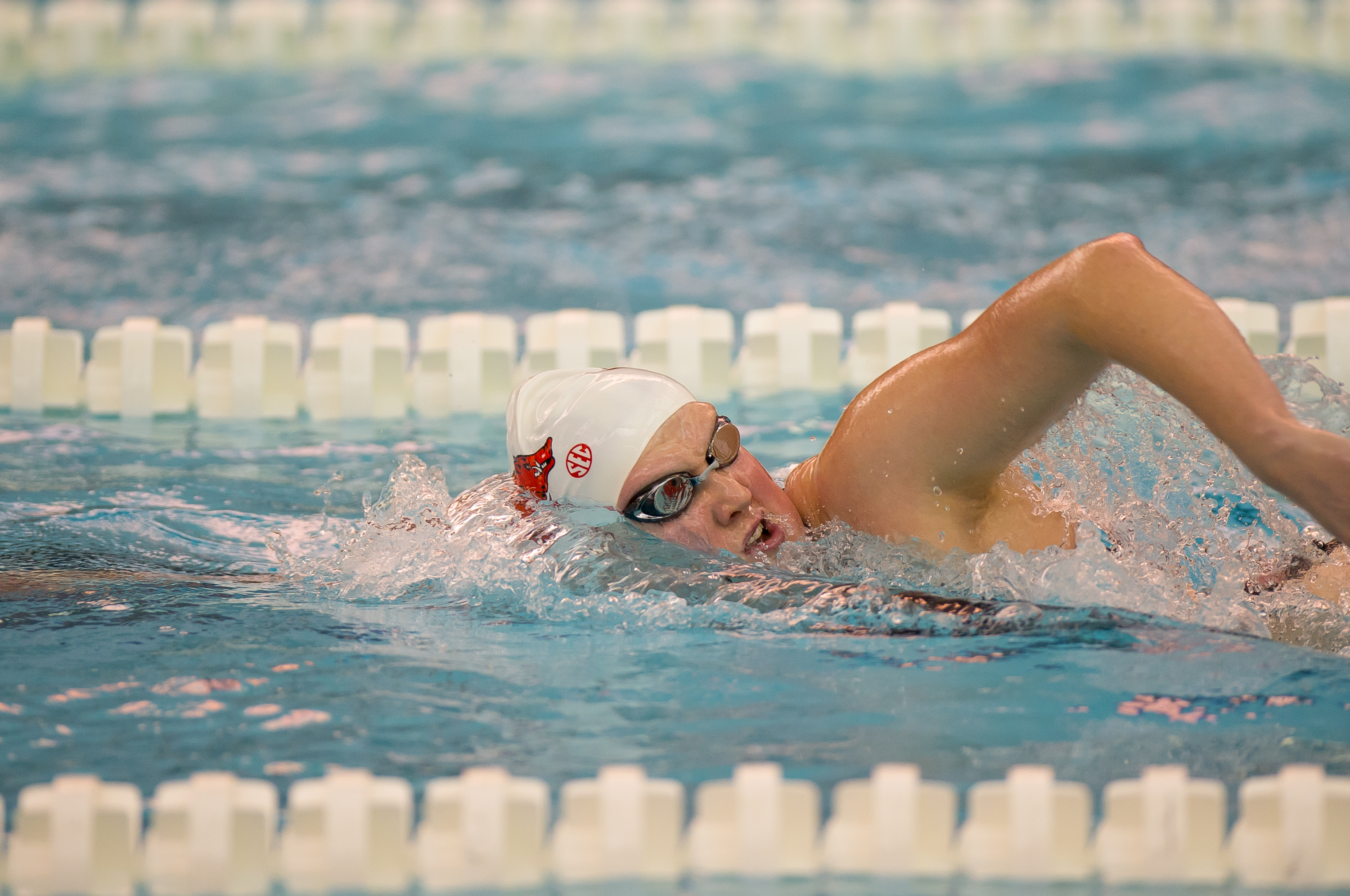 Razorbacks Send Six To Day Two Finals
COLUMBIA, Mo. – The Arkansas swimming and diving team sent six swimmers to finals and achieved nine individual lifetime-best times on the second day of competition at the Southeastern Conference Championships at the Mizzou Aquatic Center in Columbia, Missouri.
The Razorbacks sit in eighth place with 219 points through 14 events.
"There's definitely a lot of tight races going on," Arkansas swimming and diving head coach Sean Schimmel said. "Every swim and dive counts. We're going to keep doing the best we can as a team to set ourselves up for scoring positions. There's six more sessions left to go, and we're just taking them one at a time."
To begin the day, senior Anna Mayfield and junior Aiden Lister both qualified for the 500 free finals after solid performances in the prelims. Mayfield's time of 4:41.95 earned her a spot in the A final while Lister swam a 4:45.57 to get into the B final. Senior Rachel Stoehr logged a time of 4:48.69, and junior Annah Carney notched a lifetime-best 4:53.73.
In the 200 IM prelims, sophomore Chelsea Tatlow paced the Razorbacks, posting the 17th best time (1:58.62), claiming a spot in the C final. Sophomore Chloe Hannam (2:00.41), sophomore Jessie Garrison (2:01.73), junior Sarah Easterling (2:02.79) and sophomore Madison Edwards (2:05.01) each registered lifetime bests. Junior Mary Margaret Soderberg recorded a season-best time of 2:00.59.
Junior Natalie Burnett led the way for Arkansas in the 50 free, swimming a lifetime-best 22.60 en route to a spot in the B final. After helping capture the squad's first NCAA 'A' cut of the season last night in the 800 free relay, seniors Maddie Monroe and Nina Drolc each garnered spots in the C final, registering times of 23.02 and 23.11, respectively. In addition, freshmen Caitlin Tootill (23.68) and Kiera Michailoff-Russell (23.79) each clocked lifetime bests in their heats.
The Razorbacks returned to the pool a few hours later for the finals.
Lister led off the night by touching first in the 500 free B final, clocking a lifetime-best 4:42.91
"That was the swim of the night right there," Schimmel said. "It was inspiring and I'm really impressed with the way she performed."
Although Lister was bound by the B final, her time would have been good for seventh place overall. In the A final, Mayfield swam a 4:42.56 for a sixth-place finish.
Tatlow also earned second-day points for the Razorbacks in the 200 IM as she placed 20th, posting a season-best 1:58.53.
Burnett was 16th in the 50 free with a time of 22.84 while Monroe was 20th in 23.02 and Drolc was 23th in 23.32.
Burnett, Monroe, Mayfield and Drolc combined to take eighth place in the 200 free relay with a time of 1:31.13, closing out the second day of competition.
Day three begins with prelims at 10 a.m. and will feature the 400 IM, 100 fly and 200 free. The 3-meter diving prelims are slated for 1 p.m. Finals for the four events will begin at 6 p.m.
For more information on Arkansas swimming and diving, follow @RazorbackSD on Twitter.
Team Rankings – Through Event 14                  
Tennessee – 437.5
Georgia – 430
Texas A&M – 412.5
Florida – 274
Missouri – 244.5
LSU – 226
Kentucky – 222
Arkansas – 219
Auburn – 217.5
South Carolina – 173
Alabama – 150
Vanderbilt – 92