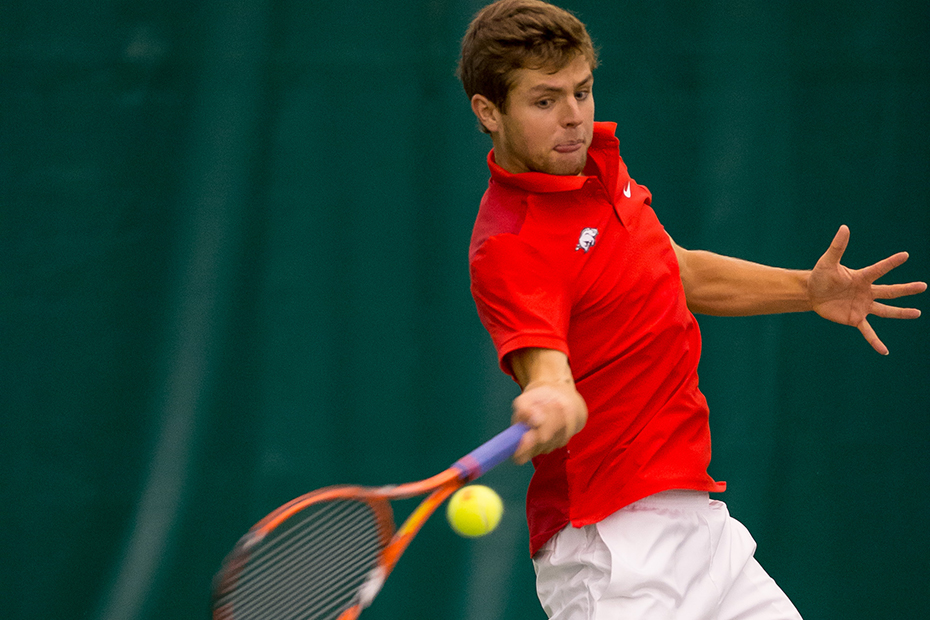 Razorbacks Sweep Jackson State
FAYETTEVILLE, Ark. — A long day yielded great results for the Arkansas men's tennis team, as the Razorbacks picked up four team victories against visiting Jackson State on Saturday.
"We got a lot done out there," head coach Andy Jackson said of his team, who improved to 8-2 on the season. "William Albanese was great today, and I liked what I saw from a lot of other guys as well. Santa Clara will be a challenge for us tomorrow."
NOTABLES
• All six players who competed for Arkansas notched at least two singles wins, led by four from Albanese.
• Meanwhile, Jacob Herndon, David Herrerias, Juan Marino, Austin Robles and Adam Sanjurjo all picked up a pair of singles victories apiece.
• Following the results against Jackson State, 10 of the 11 Razorbacks who have played singles this season have two or more victories.
UP NEXT
Arkansas turns right back around for a matchup against West Coast Conference opponent Santa Clara on Sunday, Feb. 21 at 12 noon. The first 50 Razorback fans in attendance will receive free Whataburger.
TODAY'S RESULTS
ARKANSAS 4, JACKSON STATE 1
DOUBLES (1st)
1. Adam Sanjurjo/Juan Marino (AR) def. Federico Boscarino/Camilo Patino (JSU) 6-2
2. Jacob Herndon/Austin Robles (AR) def. Styliouos Guontsaris/Ryan Swainer (JSU) 6-4
SINGLES (1st)
1. Federico Boscarino (JSU) def. David Herrerias (AR) 7-6, 3-6, 6-1
3. Juan Marino (AR) def. Hernan Geria (JSU) 6-0, 6-1
5. Jacob Herndon (AR) def. Vishu Prasad (JSU) 4-6, 6-3, 6-3
6. William Albanese (AR) def. Richie Agarwal (JSU) 6-2, 6-2
ARKANSAS 4, JACKSON STATE 0
SINGLES (2nd)
2. Adam Sanjurjo (AR) def. Camilo Patino (JSU) 6-3, 6-2
4. William Albanese (AR) def. Styliouos Guontsaris (JSU) 6-1, 6-3
5. David Herrerias (AR) def. Richie Argawal (JSU) 6-2, 6-4
6. Austin Robles (AR) def. Federico Mentieta (JSU) 6-0, 6-7, 6-3
ARKANSAS 4, JACKSON STATE 0
SINGLES (3rd)
1. Adam Sanjurjo (AR) def. Federico Boscarino (JSU) 6-3, 6-3
3. David Herrerias (AR) def. Styliouos Guontsaris (JSU) 6-3, 6-1
5. Jacob Herndon (AR) def. Federico Mendieta (JSU) 6-1, 6-2
6. William Albanese (AR) def. Hernan Geria (JSU) 6-0, 6-1
ARKANSAS 4, JACKSON STATE 0
DOUBLES (4th)
3. William Albanese/David Herrerias (AR) def. Richie Agarwal/Federico Mendieta (JSU) 6-2
SINGLES (4th)
2. Juan Marino (AR) def. Camilo Patino (JSU) 6-3, 6-4
4. William Albanese (AR) def. Vishu Prasad (JSU) 6-1, 6-0
6. Austin Robles (AR) def. Ryan Swanier (JSU) 6-3, 6-3