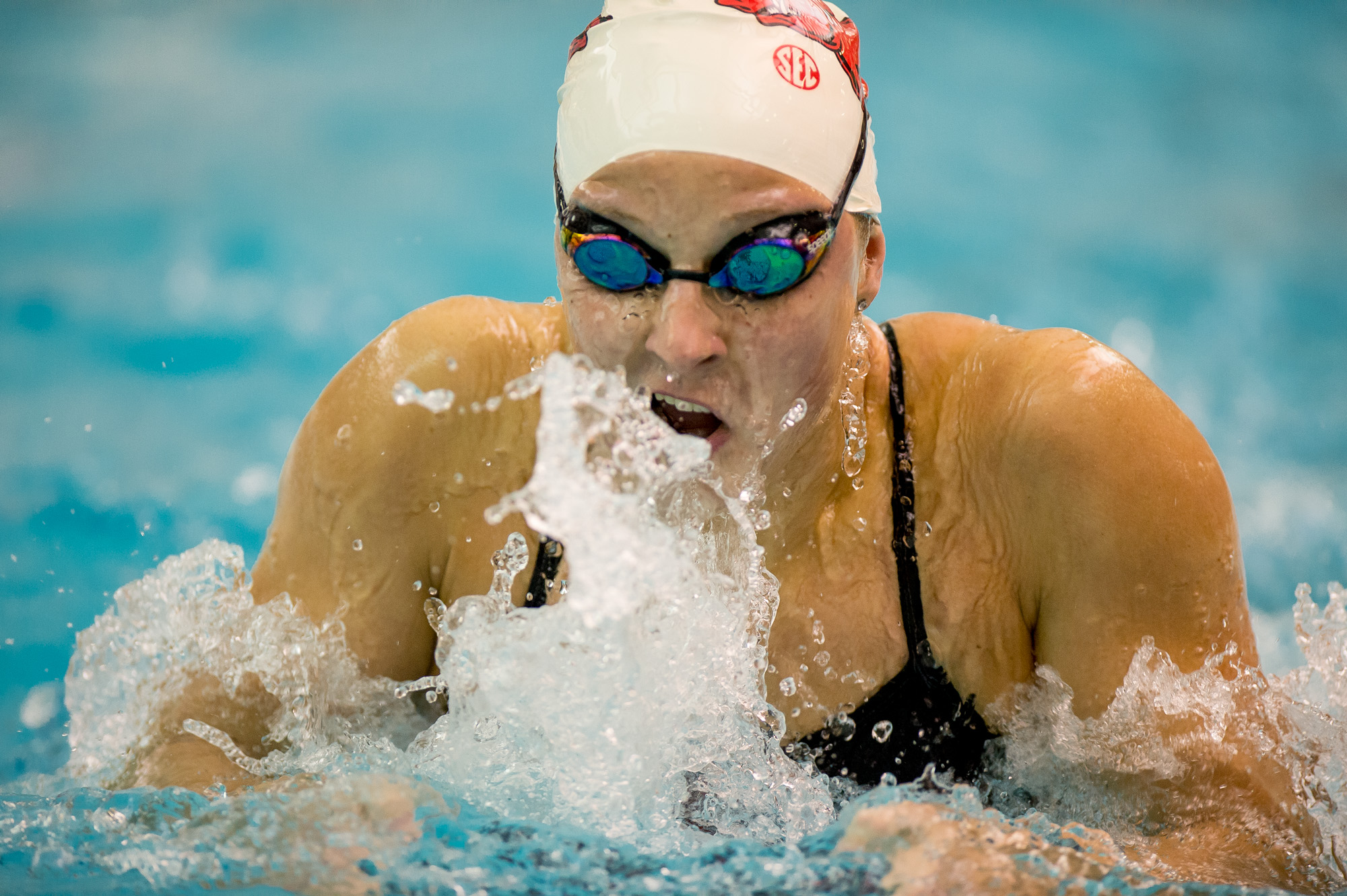 Razorbacks Sweep Quad Meet
FAYETTEVILLE, Ark. – The No. 24 Arkansas swimming and diving team posted strong showings Saturday morning at home to finish off a two-day quad meet against Southeastern Conference foe Vanderbilt, Houston and Clemson.
Arkansas tallied first-place finishes in five individual events and two relay events en route to earning team victories over all three opponents. The Razorbacks defeated Vanderbilt 225-101, Houston 221-122 and Clemson 233-19.
"We had a lot of people step up today," Arkansas swimming and diving head coach Sean Schimmel said. "We have a great team dynamic right now and have really come together. Feeding off of each other is a big part of what we do. When people are swimming well, others jump on board and help get it going. We're excited about what we're doing and where we're headed."
The 200 medley relay team of senior Anna Mayfield, freshman Madison Strathman, junior Natalie Burnett and senior Nina Drolc led off day two's action with a win, registering a time of 1:44.08.
Junior Mary Margaret Soderberg followed suit, opening up individual events with a first-place finish in the 400 individual medley (4:26.62).
Turning her attention to individual events, Drolc swam to a first-place finish in the 100 free with a time of 51.13. The individual win was the senior's second of the weekend.
After winning the 200 free on Friday, Mayfield continued to impress as she swam past her competition to claim first place in the 200 backstroke (1:58.66).
In the 100 butterfly, Burnett nabbed second place (56.62), while Vanderbilt's Breanna Sapienza won with a time of 55.26.
Junior Aiden Lister captured her second victory of the weekend when she placed first in the 500 free (4:58.57).
Once again, Strathman turned in an impressive individual performance. The three-time SEC Freshman of the Week nabbed first place in the 200 breaststroke with a time of 2:16.85 – her third-best time of the season in the event.
"We're very happy with the way Madison has performed," Coach Schimmel said. "She's in a really good spot right now and has handled coming in as a freshman very well. She's given us a spark a lot this year, like she did today. We're looking to have that when we go to SEC Championships in a few weeks as well."
For the weekend, Strathman tallied wins in two individual events and was also a member of two winning relay teams.
"Having this whole environment with my teammates and coaches has really helped me develop this season," Strathman said. "We're all constantly getting better as we prepare for championship season."
In diving, senior Shelby Bartlett produced a season-best 295.70 in the one-meter competition en route to earning second place. Sophomore Nicole Gillis recorded a personal best in platform diving with a score of 242.10.
"I was really happy with the way we performed today. We were in the moment, dove well as a whole and put together a solid meet," Arkansas diving coach Jeff DiNicola said.
Drolc, senior Maddie Monroe, Burnett and Mayfield closed out the weekend with a first-place finish in the 400 free relay with a time of 3:26.53.
Arkansas returns to action on Saturday, Jan. 30 at 11 a.m. when it hosts Illinois at the Arkansas Natatorium on Senior Day.
For more information on Arkansas swimming and diving, follow @RazorbackSD on Twitter.