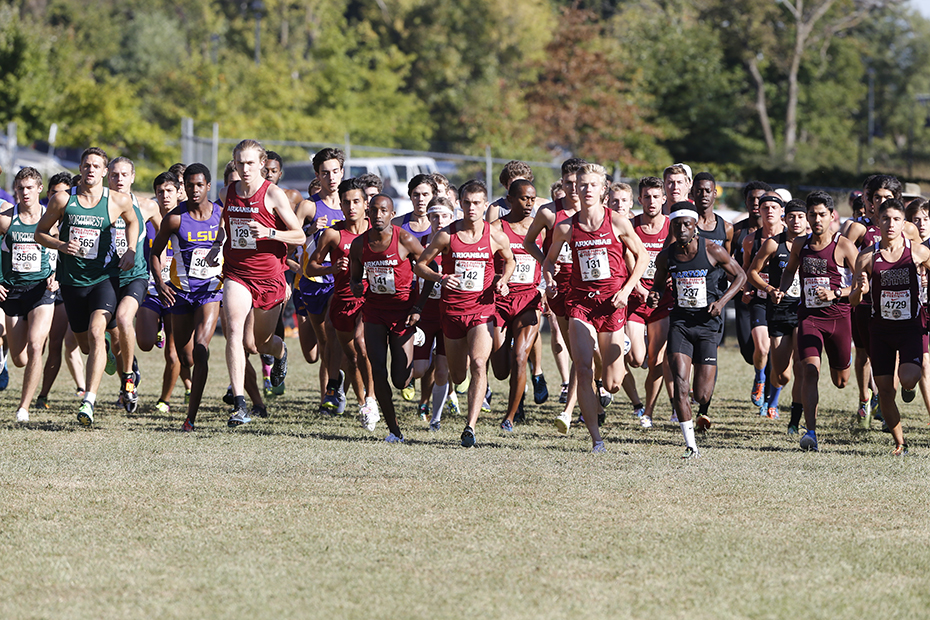 Razorbacks Top ORU and WSU In Dual Competition
STILLWATER, Okla. – The No. 6 Arkansas men's cross country team kicked off its 2016 season in Stillwater, Oklahoma, Thursday morning, racing against Oklahoma, Oklahoma State, Oral Roberts, Tulsa and Wichita State.
Scored as a head-to-head team competition, the Razorbacks squad represented primarily by newcomers raced past Oral Roberts with a near perfect score of 16 to the Golden Eagles' 39.
The Hogs' top five managed to attain a perfect score of 15 in their match-up with Wichita State all crossing the finish line ahead of the Shockers' top runners.
Arkansas was led by Oregon transfer Kyle Levermore who completed the 5K course in 16 minutes, 13.50 seconds. The Mahwah, New Jersey, native placed 12th overall and was followed by Cameron Griffith (15th), Kyle Hosting (16th), Carter Persyn (17th) and Chris Mooneyham (26th).
The Razorbacks will travel next to Boston, taking on the highly-competitive Coast-to-Coast Battle in Beantown hosted by Boston College on Friday, Sept. 16 at Franklin Park.
Dual Meet Team Results
Oklahoma (16), Arkansas (44)
Oklahoma State (19), Arkansas (36)
Arkansas (16), Oral Roberts (39)
Tulsa (23), Arkansas (34)
Arkansas (15), Wichita State (40)
Arkansas Results (Overall Finishes)
12. Kyle Levermore – 16:13.50
15. Cameron Griffith – 16:22.40
16. Kyle Hosting – 16:23.80
17. Carter Persyn – 16:24.90
26. Chris Mooneyham – 17:14.60
2016 Cross Country Schedule
Thurs, Sept. 1 – Cowboy Duals (Stillwater, Okla.) | 4th of 6
Fri, Sept. 16 – Battle in Beantown (Boston, Mass.) 2:30 p.m.
Sat, Oct. 1 – Chile Pepper Festival (Agri Park) 9:45 a.m.
Sat, Oct. 15 – Pre-Nationals (Terre Haute, Ind.) 10:35 a.m.
Fri, Oct. 28 – SEC Championship (Agri Park) 10:00 a.m.
Fri, Nov. 11 – NCAA South Central Regional (Agri Park) 11:00 a.m.
Sat, Nov. 19 – NCAA Championship (Terre Haute, Ind.) 11:00 a.m.
Bold denotes a home event.
For more information on Arkansas track and field including in-meet updates, follow @RazorbackTF on Twitter.