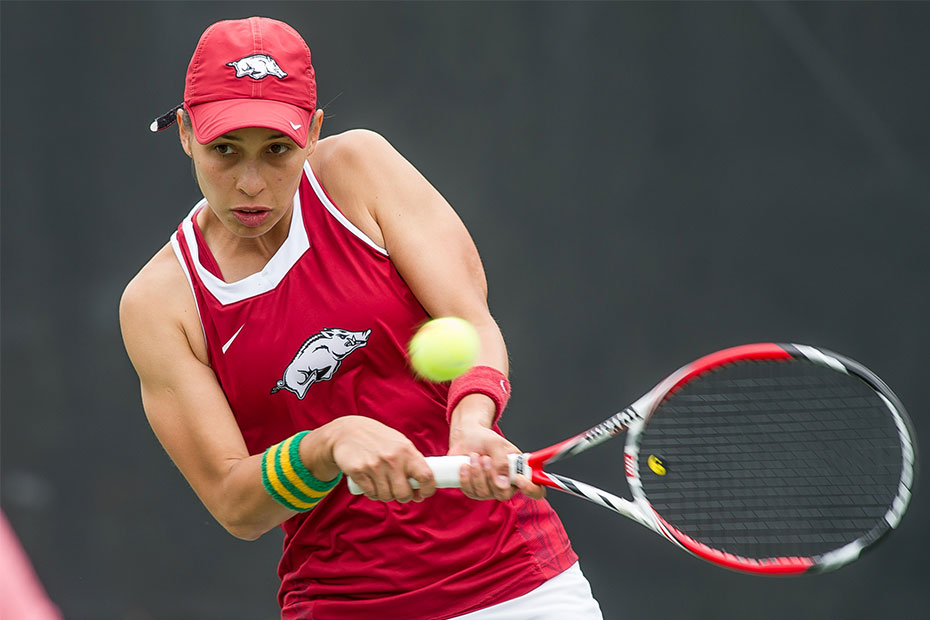 Razorbacks Wrap Up Regular Season
FAYETTEVILLE, Ark. – The No. 29 Arkansas women's tennis team came up short by a score of 5-2 to No. 24 Mississippi State on Saturday at the George M. Billingsley Tennis Center.
The Razorbacks moved to 16-12 overall and 5-8 in Southeastern Conference play, while the Bulldogs improved to 16-7 overall and 7-6 in league action.
Saturday's match marked Senior Day for Flavia Araujo, Nicole Breaux, Makenzie Craft and No. 27 Yuliya Lysa. The four seniors were recognized prior to the match.
After the Bulldogs claimed the No. 1 doubles match, sophomore Mia Jurasic and freshman Ana Oparenovic rallied from a 5-4 deficit to earn a 7-6 (5) win at No. 2. With all eyes on court three, Craft and Araujo picked up back-to-back points for a 7-6 (5) win to clinch the doubles point and the 1-0 advantage.
Mississippi State responded in singles by winning at the No. 6, 2, 3 and 1 positions to claim the overall match victory.
Jurasic upped her record to a team-best 14-8 overall with a 7-3 mark in conference play by defeating Mississippi State's Kristina Vozniak 6-2, 7-6 (6) at No. 5. She ends the regular season on a four-match win streak and has won seven of her last eight matches.
The Bulldogs earned a default win at No. 4 to close out scoring.
Quotables
"As I told the team, it's a bittersweet feeling today because we all wanted to get the victory on Senior Day," head coach Michael Hegarty said. "But most importantly, this team had a fantastic regular season and put itself in position to have great success in the postseason. In that regard, we will feel great today, and I am proud of our seniors for their contributions. We have so much left to accomplish this season."
Up Next
Arkansas will turn its attention to Baton Rouge, Louisiana, and the 2016 SEC Championship, April 20-24. The Razorbacks will learn their seeding for the conference tournament Sunday.
For more information on Arkansas Women's Tennis, follow @RazorbackWTEN on Twitter.