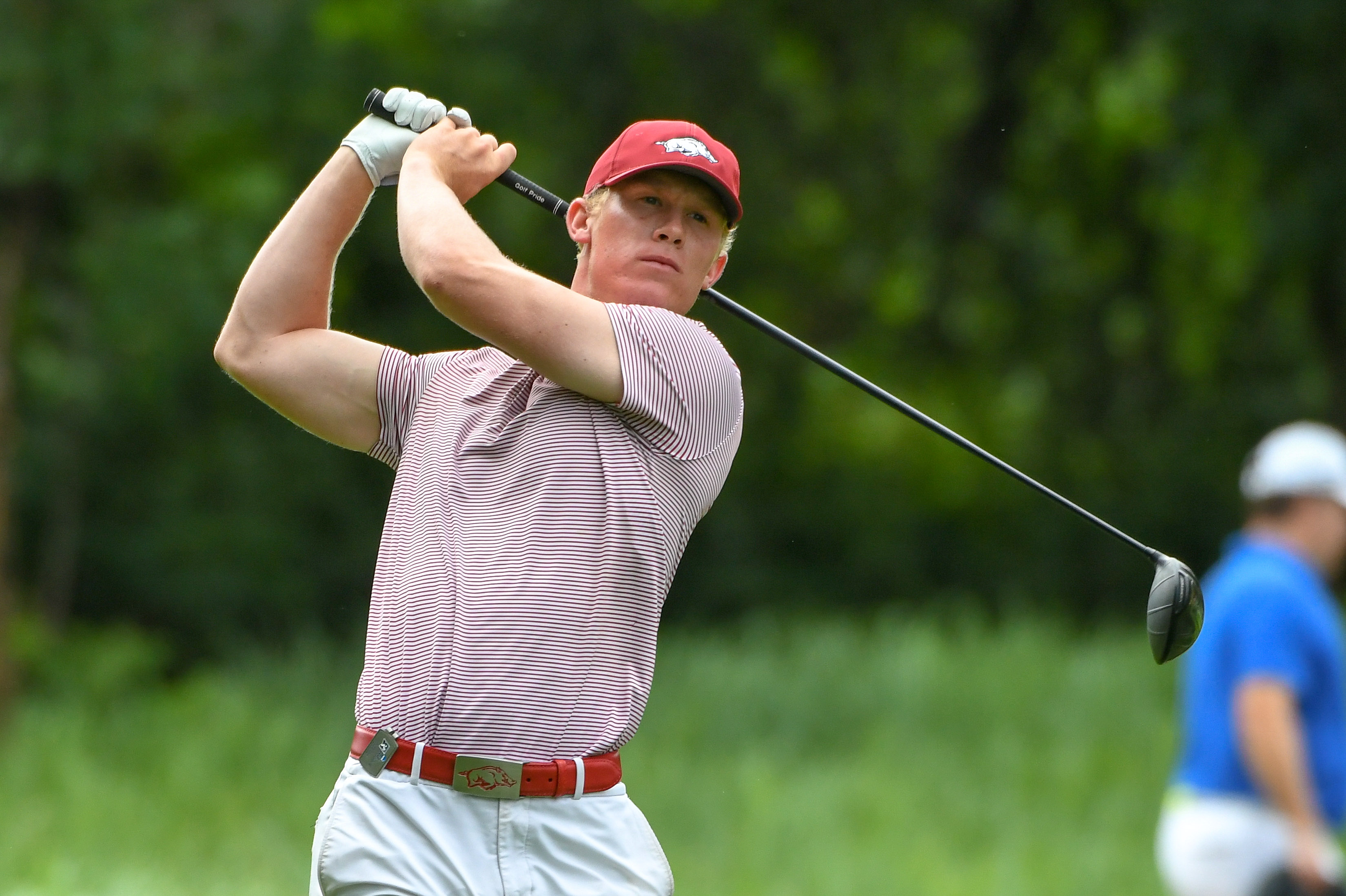 Reeder Fires A 67 In Round Two
Results
STILLWATER, Okla. – University of Arkansas sophomore Tyson Reeder fired a 5-under 67 helping the Razorback men's golf team remain above the cut line in round two of the 2018 NCAA Championship in Stillwater, Oklahoma, on Saturday.
Reeder's round of 67 ties for the second-best round of the day.
Arkansas finished the day with a 1-over 289 and is currently T-13th overall shooting 296-289=585. That is just above the first cut which takes place after Sunday's round. The top 15 teams move on to a final round of stroke play on Monday. That round will determine the individual medalist. In addition, the top-8 teams advance to match play to decide the team title.
Temperatures soared into the low 90s and Arkansas' scores fell on the front nine holes of the golf course on Saturday. Reeder, an Oklahoma State transfer, paced the Razorbacks shooting a 4-under 32 through the first nine holes. Reeder birdied Nos. 4, 6, 7 and 9 pacing the Razorbacks who had 12 birdies on the front side of the Karsten Creek Golf Course.
PING All-Central Region selection Alvaro Ortiz made the turn 2-under picking up birdies on holes 2, 3 and 6. He bogeyed No. 8 but settled in for six consecutive par holes as his round continued.
Mason Overstreet, who was also selected to the PING All-Central Region team today, finished the front nine with a flurry. The Kingfisher, Oklahoma, native was 2-over after the first four holes but picked up birdies on Nos. 6, 8 and 9 to turn 1-under helping Arkansas to an 8-under start. Luis Garza posted a 35 as the Razorbacks shot up the leaderboard into the top-10.
The back nine of the course saw Arkansas pick up a couple of big numbers but the Razorbacks finished strong with birdies on the final hole from Ortiz, Reeder and William Buhl.
From Tyson Reeder
Playing here in the past is definitely an advantage. The course is visually intimidating so once you get over the intimidation part of it, you just kinda let it go and that's what I did today. I did a really good job of staying in the moment. It was a good round. I drove it great, but my putting was really good. I didn't putt well yesterday but today I made some putts. You have to drive it well out here – you don't want to lose any golf balls. So I want to drive it well, hit a lot of greens and hopefully make some putts tomorrow.
From Coach Brad McMakin
I'm really pleased with the final results from today. We struggled on the back nine both days, so we need to get better back there. Overall, I'm very pleased with the 1-over we shot. Tyson (Reeder) had an unbelievable round. Luis (Garza) played solidly. Alvaro (Oritz) just had one bad hole. I really can't complain about it. Blessings prepares us for this. We are prepared but you gotta execute out here. I'm pleased with where we are, and we just have to come out tomorrow and work to be in that top 15.
The Lineup

| PLACE | PLAYER | SCORES | TO PAR |
| --- | --- | --- | --- |
| T28 | Tyson Reeder (4) | 77–67—144 | E |
| T46 | Alvaro Ortiz (1) | 72–74—146 | +2 |
| T68 | Luis Garza (5) | 76–72—148 | +4 |
| T100 | William Buhl (2) | 72–79—151 | +7 |
| T121 | Mason Overstreet (3) | 76–76—152 | +8 |
The Field

| PLACE | TEAM | SCORES | TO PAR |
| --- | --- | --- | --- |
| 1 | Texas Tech | 284 – 287 — 571 | -5 |
| 2 | Oklahoma State | 287 – 285 — 572 | -4 |
| 3 | Alabama | 294 – 279 — 573 | -3 |
| T4 | Duke | 291 – 287 — 578 | +2 |
| T4 | Oklahoma | 285 – 293 — 578 | +2 |
| T6 | Vanderbilt | 287 – 292 — 579 | +3 |
| T6 | Kent State | 288 – 291 — 579 | +3 |
| T6 | Clemson | 285 – 294 — 579 | +3 |
| T9 | Illinois | 289 – 291 — 580 | +4 |
| T9 | Auburn | 300 – 280 — 580 | +4 |
| T9 | Texas | 289 – 291 — 580 | +4 |
| 12 | Texas A&M | 293 – 289 — 582 | +6 |
| T13 | Arizona State | 296 – 289 — 585 | +9 |
| T13 | North Carolina | 296 – 289 — 585 | +9 |
| T13 | Arkansas | 296 – 289 — 585 | +9 |
| T13 | Brigham Young | 289 – 296 — 585 | +9 |
| 17 | Florida | 300 – 286 — 586 | +10 |
| 18 | Stanford | 292 – 295 — 587 | +11 |
| 19 | Northwestern | 280 – 308 — 588 | +12 |
| 20 | Kentucky | 292 – 297 — 589 | +13 |
| T21 | UNLV | 297 – 293 — 590 | +14 |
| T21 | UCF | 291 – 299 — 590 | +14 |
| T23 | Iowa State | 290 – 302 — 592 | +16 |
| T23 | UCLA | 295 – 297 — 592 | +16 |
| T25 | NC State | 292 – 303 — 595 | +19 |
| T25 | North Florida | 293 – 302 — 595 | +19 |
| T25 | Baylor | 297 – 298 — 595 | +19 |
| 28 | Oregon | 296 – 300 — 596 | +20 |
| 29 | Kansas | 295 – 302 — 597 | +21 |
| 30 | Augusta | 298–310—599 | +23 |