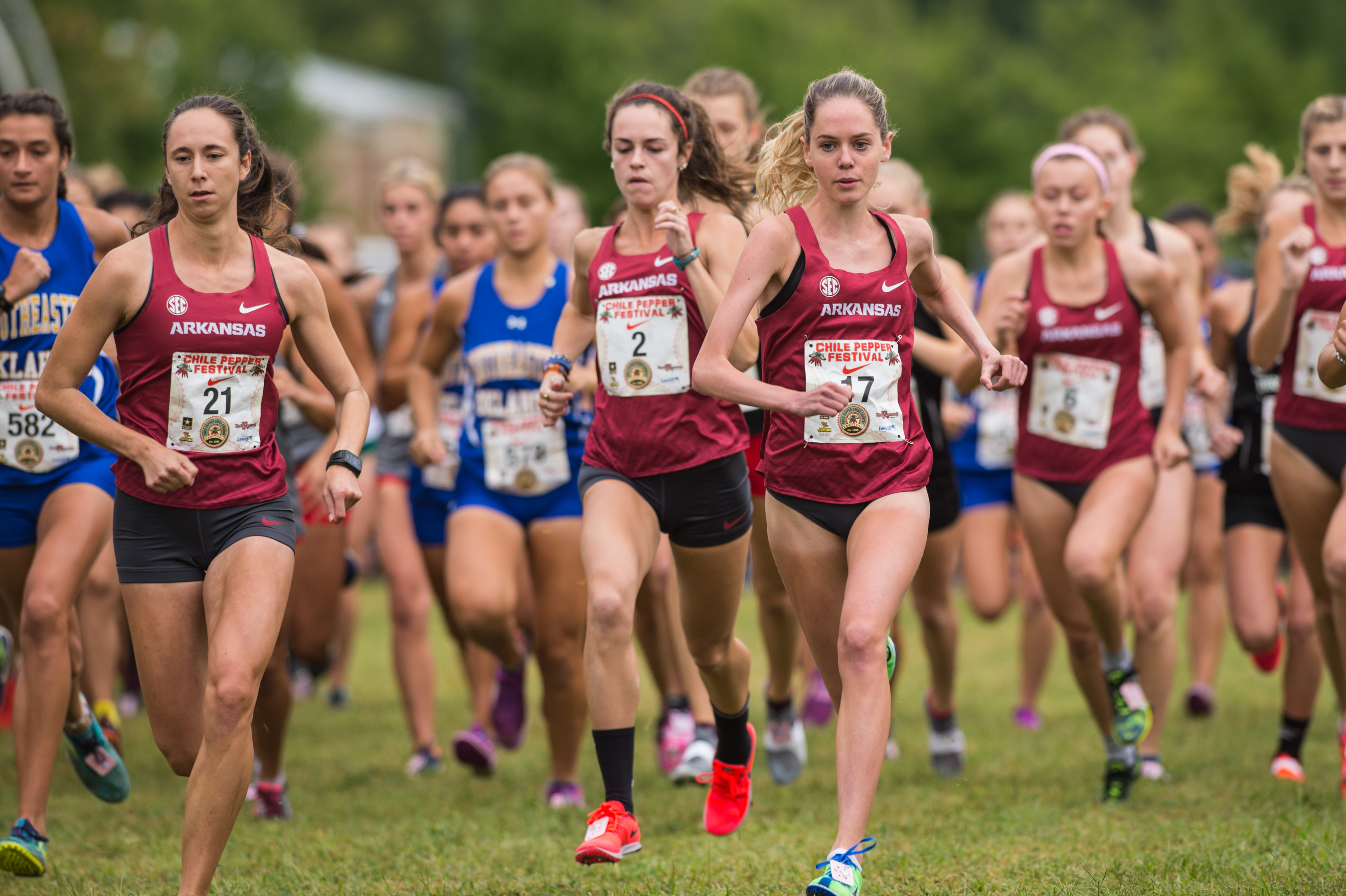 Robinson Paces No. 9 Arkansas To Chile Pepper Team Title

| | | |
| --- | --- | --- |
|  Pos. | Arkansas | Time |
| 1 | Katrina Robinson | 16:15.3 |
| 2 | Carina Viljoen | 16:28.3 |
| 4 | Taylor Werner | 16:49.4 |
| 14 | Abby Gray | 17:47.1 |
| 17 | Sydney Brown | 17:58.0 |
|  Pos. | Team Results | Score |
| 1 | Arkansas | 34 |
| 2 | Wichita State | 116 |
| 3 | Iowa Central CC | 175 |
| 4 | Texas State | 182 |
| 5 | Dallas Baptist | 188 |
FAYETTEVILLE, Ark. – The No. 9 Razorbacks cross country team was on display in front of the home crowd, claiming the team title with a score of 34-points, paced by individual champion true freshman Katrina Robinson, Saturday morning at the Chile Pepper Festival hosted at Agri Park.
"Today's Chile Pepper was a season-opener for a number of our athletes that you saw on the course today," said head coach Lance Harter. "Our depth proved to be exceptional, considering that we had as many not competing today as we did. I think having that depth is going to pay dividends as the season progresses."
Katrina Robinson, making her Arkansas debut, led the Razorbacks with a first-place finish needing only 16 minutes, 15.3 seconds to complete the 5K course at Agri Park.
"This was the first race in the U.S. for Katrina [Robinson]. Obviously, she opened it up in style. I was very impressed with how fast they ran in spite of the conditions of the course following last nights rain of 3+ inches and the five races before ours. Katrina led us, and Carina [Viljoen] had one of her best races ever. [Viljoen] continues to learn how to master this event, as far as cross country goes. Taylor Werner, who raced for the first time since indoor season following the redshirt during outdoor last year, was searching for where she was going to be, but she is back into old form and she's catching up where she left off as a freshman and sophomore. We had some breakthroughs for some people who are normally in our scoring positions, Greta Taylor and Abby Gray were both individuals who I thought did a nice job today as well as our athletes who ran unattached. I think when we put this crew together we'll have some quality front-running ability and some great depth," Harter finished.
Following the freshman phenom Robinson, were the aforementioned Viljoen (16:28.3) and Werner (24:28.7) who finished second and fourth, respectively. Rounding out scoring for the Razorbacks were Abby Gray (17:47.1) and Sydney Brown (17:58.0) in 14th and 17th-place.
Next up for the Razorbacks will be a trip to the site of the 2018 NCAA Championships, Zimmer Championship Course, for the Nuttycombe Wisconsin Invitational on Sat, Sept. 28 in Madison, Wis.
For more information on Arkansas Cross Country including in-meet updates, follow @RazorbackTF on Twitter.