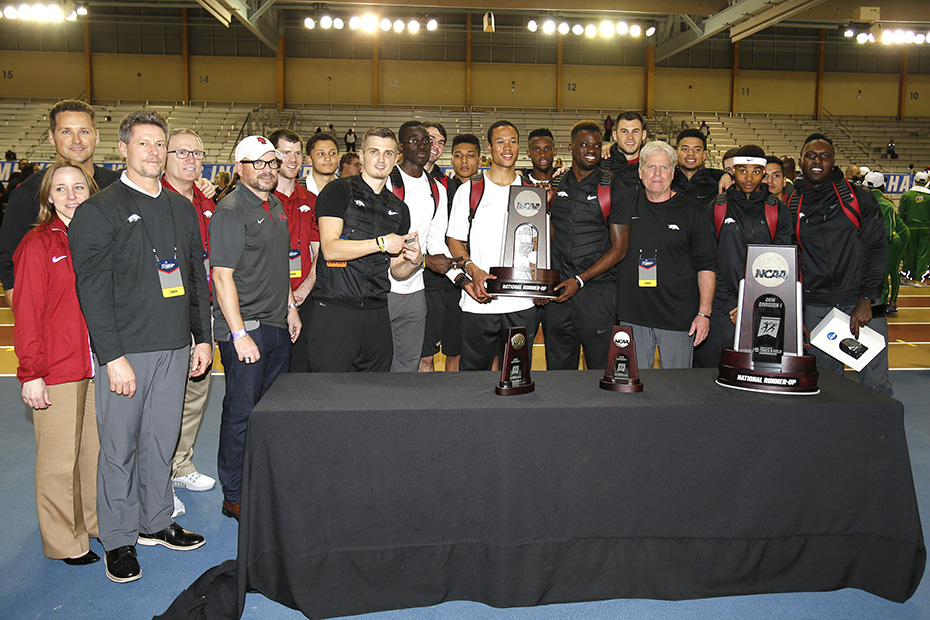 Strong Final Day Places Razorbacks Second
BIRMINGHAM, Ala. – The Arkansas men's track and field team collected a phenomenal 25 points on the final day of the 2016 NCAA Indoor Track and Field Championship in Birmingham, Ala. Already with one national champion, the Razorbacks picked up another with Clive Pullen who placed first in the triple jump.
Arkansas's runner-up finish marked its fifth consecutive NCAA indoor top-three performance since the 2012 season.
Leaping to SEC gold one week earlier Pullen returned to the runway as the No. 4 best collegian in a talented triple jump field. The Kingston, Jamaica native opened up the day fouling a big first attempt but maintained confidence in his abilities. Pullen got in the board on his second attempt marking a distance of 15.95m/52-4 to keep a spot inside the top eight. Finally finding his rhythm, Pullen exploded off the board on his third jump leaping to 16.64m/54-7.25 to move into first place and the Arkansas history books. The mark earned Pullen his first national title – Arkansas's first in the event since 2008.
With Jarrion Lawson (long jump) and Pullen's golden efforts, Arkansas successfully swept the horizontal jumps at the NCAA meet for the eighth time in program history.
Continuing to carry momentum from their solid showing on day one the Razorbacks picked up points in the 60, 200 and 800 propelling them to their second place finish.
Lawson and Kenzo Cotton kicked off the track efforts placing fifth and seventh respectively in the 60-meter dash. Already a national champion in the field, Lawson put out an outstanding effort on the track clocking a new PR of 6.60. Only a sophomore, Cotton followed suit running 6.70 to secure his first individual All-America honor.
Another underclassman to score for the Razorbacks, freshman Carlton Orange placed sixth in the 800-meter run in 1:49.69. A USATF Junior champion in the 800 last year, Orange kept pace with the group through the majority of the race. Determined to contribute to the team, Orange dug deep over the final 50 meters to passing several competitors to finish inside the top eight as the second best freshman in the country.
Following completion of the 800-meter run short-sprints specialist Cotton returned to the track for the 200-meter dash finals. Blasting out of the blocks in the first section Cotton cruised to an easy heat victory as the only sub-20 performer. His time of 20.74 placed him third overall in an event almost entirely dominated by SEC competitors.
Pleased with their indoor success the Razorbacks will begin their outdoor campaign on Saturday, March 26 at the Arkansas Spring Invitational.
Head Coach Chris Bucknam
Quote to follow.
A re-air of the championship will take place on Sunday, March 13 starting at 6 p.m. Central time on ESPN2 and also Wednesday, March 23 starting at 9 p.m. Central time on ESPNU.
2016 NCAA Indoor Championship Complete Results
Birmingham Crossplex
Birmingham, Ala.
60m Semifinals (day one)
Kenzo Cotton – 6.56q
Jarrion Lawson – 6.61q
60m Finals
Jarrion Lawson (5) – 6.60
Kenzo Cotton (7) – 6.70
200m Semifinals (day one)
Kenzo Cotton – 20.80q
200m Finals
Kenzo Cotton (3) – 20.74
800m Semifinals (day one)
Carlton Orange – 1:49.04q
800m Finals
Carlton Orange (6) – 1:49.69
5,000m Finals (day one)
Gabe Gonzalez (12) – 14:01.30
4x400m
Arkansas A – 3:09.13
Kenzo Cotton
Jarrion Lawson
Jamarco Stephen
Obi Igbokwe
High Jump Finals (day one)
Ken LeGassey (11) – 2.13m/6-11.75
Long Jump Finals (day one)
Jarrion Lawson (1) – 7.95m/26-1
Andreas Trajkovski (5) – 7.72m/25-4
Triple Jump Finals
Clive Pullen (1) – 16.64m/54-7.25
POINTS BREAKDOWN
60m – 6
200m – 6
800m – 3
Long Jump – 14
Triple Jump – 10
MEN'S FINAL TOP 10 TEAM SCORES
1. Oregon (62)
2. Arkansas (39)
3. Tennessee (34)
4. LSU (28)
5. Texas (25)
6. Washington (24)
7. Florida (21)
8. Stanford (18)
8. Virginia (18)
10. Texas A&M (17)
For more information on Arkansas track and field including in-meet updates, follow @RazorbackTF on Twitter.