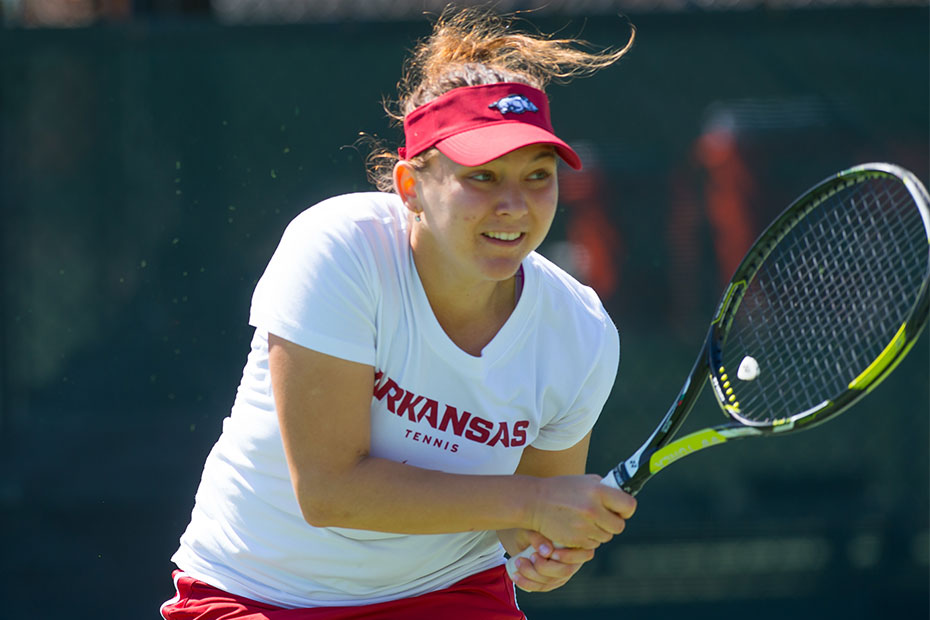 Successful Saturday For Lysa
Live Scoring | Singles Draw | Doubles Draw
STILLWATER, Okla. – With a trip to the quarterfinals on the line, Arkansas women's tennis senior Yuliya Lysa held off Tulsa's Rongrong Leenabanchong, 6-0, 6-7 (5), 6-3 in the round of 16 at the ITA Central Regional Championship Saturday.
Lysa will face Tulsa's Saana Saarteinen tomorrow at 11 a.m.
On the doubles court, Lysa and Hudson picked up right where they left off Thursday, notching two victories and earning a trip to the semifinals which is slated to begin tomorrow at 10 a.m.
"Yuliya made great progress today, and it was nice to advance again in both the singles and doubles draws," Head coach Michael Hegarty said.
For more information on Arkansas women's tennis, follow @RazorbackWTEN on Twitter.
@RazorbackWTEN Results:
ITA Central Regional Championships
Stillwater, Oklahoma
Michael and Anne Greenwood Tennis Center
October 17, 2015
Doubles
Round of 16
Lysa/Hudson (Arkansas) def. Lehmicke/Andersson (Nebraska) 8-4
Quarterfinals
Lysa/Hudson def. Laskutova/Daddireddy (Tulsa) 8-3
Singles
Round of 16
Lysa (Arkansas) def. Rongrong Leenabanchong (Tulsa) 6-0, 6-7 (5), 6-3