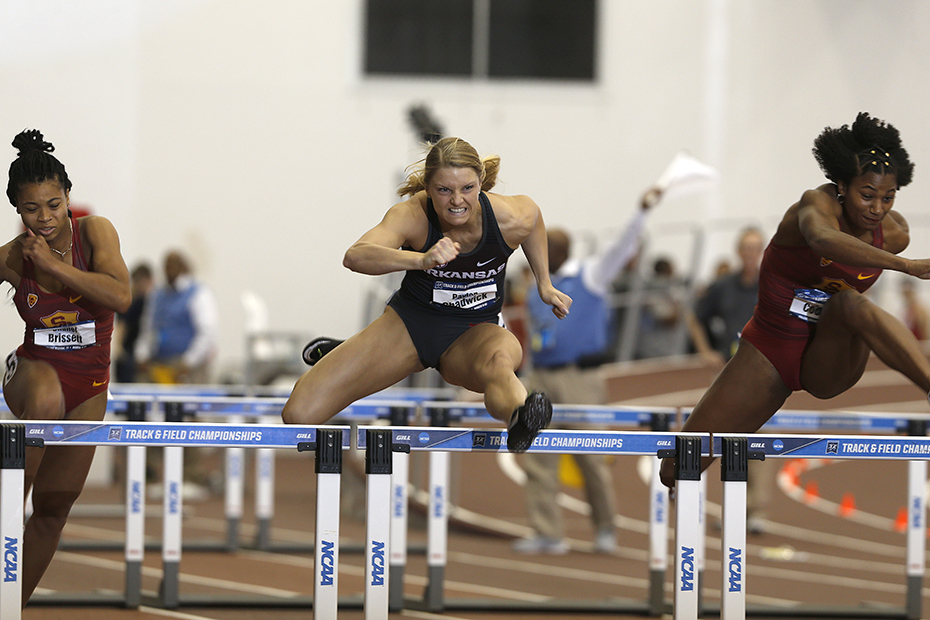 Three Individual Golds Lead To Team Silver
COLLEGE STATION, Texas — Off a trio of gold medal performances, one silver and one bronze, the Arkansas women's track and field team wrapped up its indoor campaign as the national runner-up at the 2018 NCAA Indoor Championships Saturday afternoon in College Station.
"We're going to enjoy it, it was a fantastic day," said head coach Lance Harter. "This is a great group of kids. We didn't have a lot of bullets, but the bullets we had hit their targets"
Another Golden Girl
Springdale Arkansas native Payton Chadwick became Arkansas' second national champion of the weekend, matching her personal best from the 60-meter hurdles prelim of 7.93 to win the event final. Chadwick edged out USC's Anna Cockrell by .004 seconds, making the most out of a commanding finish to secure 10 points for the Razorbacks. Arkansas picked up 11 total points from the event with freshman Janeek Brown placing eighth.
"We talked about it and said 'hey all we have to do is what we did yesterday'," associate head coach Chris Johnson said. "She went out and executed. She was composed. She got out of the blocks well and she closed like gangbusters. What more can you ask for?"
Chadwick is the first 60-meter hurdles champion in program history and the first Arkansas indoor national champion in the sprints/hurdles event group since Veronica Campbell-Brown (200) in 2004.
"I always dreamed of being on the national podium for the hurdles," Chadwick said.  "I never thought I'd win a national title in the hurdles ever. Doing this today, all of the hard work I've done from high school to now, it all has paid off. I executed the race and I'm super excited to see where I'll be next."
Champion Once More
Another Arkansas native, Lexi Jacobus of Cabot returned to the national spotlight for the third time in her career, placing first in the pole vault off a meet and program record clearance of 4.66m/15-3 1/2. Jacobus only had three misses throughout the entire competition securing the No. 1 spot with a first attempt clearance of 4.56m/14-11 1/2. Along with Jacobus, Arkansas placed two more vaulters on the pole vault podium with Tori Hoggard finishing second off a PR performance of 4.61m/15-1 1/2 and Desiree Freier finishing fifth of a PR performance of 4.41m/15-5 1/2. Combined the trio scored the highest total ever in pole vault by a team in NCAA history, collecting 22 points towards Arkansas' team total.
"In conference we've jumped just as well as we needed to," said assistant coach Bryan Compton. "This weekend we pulled out all of the stops, had a good day and put 22 points. It was amazing, they worked as a team and got on a roll. When they do that things just start snowballing."
Notables
Senior Nikki Hiltz raced to a bronze medal finish in the mile, clocking a personal best of 4 minutes, 32.59 seconds over the eight-lap race. Hiltz began the race in seventh position progressively making her way towards the front of the pack with each passing go-around the oval. The former Oregon Duck settled into third position with 800-meters left, fighting hard all the way through the finish line to secure six points for Arkansas. Her performance almost earned her the title of program record-holder, as she narrowly missed former Razorback great Dominique Scott's record by a .19-second margin.
Arkansas Scoring Breakdown (49 points)
Taliyah Brooks – Pentathlon (10)
Janeek Brown – 60-meter hurdles (1)
Payton Chadwick – 60-meter hurdles (10)
Desiree Freier – Pole Vault (4)
Nikki Hiltz – Mile (6)
Tori Hoggard – Pole Vault (8)
Lexi Jacobus – Pole Vault (10)
NCAA Indoor Championships
Gilliam Indoor Track Stadium
March 10, 2018
Team Scores (Top Five)
1. Georgia – 61
2. ARKANSAS – 49
3. Kentucky -34
4. Florida – 32
5. Oregon – 31
Mile Final
3. Nikki Hiltz – 4:32.59
60 Meter Hurdles Final
1. Payton Chadwick – 7.93
8. Janeek Brown – 8.51
Pole Vault
1. Lexi Jacobus – 4.66m/15-3 1/2
2. Tori Hoggard – 4.61m/15-1 1/2
5. Desiree Freier – 4.41m/14-5 1/2
For more information on Arkansas track and field including in-meet updates, follow @RazorbackTF on Twitter.