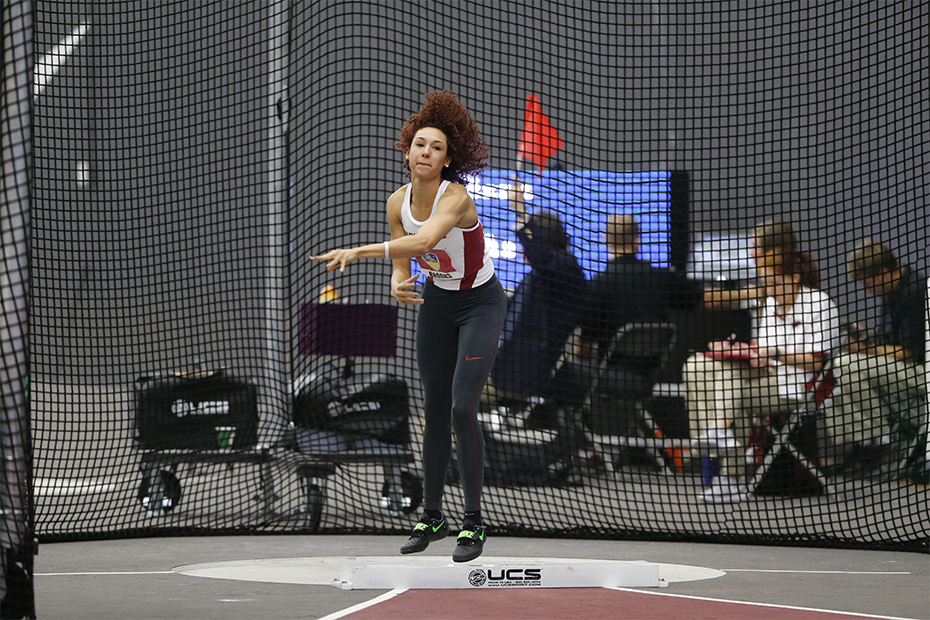 Two Hogs Top NCAA Leader Boards On Day One
FAYETTEVILLE, Ark. – Day one of the Razorback Invitational brought two event leaders for the No. 2 Arkansas women's track and field team on Friday afternoon at the Randal Tyson Track Center in Fayetteville.
Redshirt senior Taliyah Brooks and junior Lexi Jacobus captured the event titles in the pentathlon and pole vault, respectively, in dominating fashion. Brooks scored 4,395 points in the pentathlon, besting the previous NCAA leader by a 174-point margin to take over at the top of national leader boards. In the pole vault, Jacobus cleared a season best of 4.61m/15-1 1/4 to jump into the NCAA lead 1/4-inch ahead of Southeastern Conference rival Olivia Gruver of Kentucky.
Speed and Power
A two-time national runner-up in the pentathlon, Taliyah Brooks took control of the Razorback Invitational combined events, winning three (60-meter hurdles, high jump and long jump) out of the five events and placing no lower than fourth in the other two (shot put and 800 meters). Brooks opened the day tying teammate Payton Chadwick's hurdles record off an 8.09 PR performance. She picked up another PR in the shot put with a heave of 12.36m/40-6 3/4 before closing out the night scoring 711 points in the 800.
Once and Done
U.S. Olympian Lexi Jacobus wasted no time or extra effort during the majority of her attempts, clearing a new bar five-consecutive times before one miss at the national-leading height. Jacobus finished her day, following three solid attempts at an NCAA indoor record of 4.76m/15-7 1/4.
Payton PR
Springdale, Arkansas native Payton Chadwick wrapped up the day for the Razorbacks placing second in the 200 off a PR performance of 22.99. Chadwick currently ranks at No. 2 in the NCAA in the event and is one of only three Razorbacks to ever clock a sub-23 second 200, joining the elite company of Veronica Campbell-Brown (22.43, 2004) and Taylor Ellis-Watson (22.99, 2016).
Events To Watch (Saturday):
• 60 Meter Hurdles | Prelims 1:28 p.m., Finals at 3:20 p.m.
Featured Razorback: No. 12 Payton Chadwick (PR: 8.09*)
• 800 Meters | 2:38 p.m.
Featured Razorback: Nikki Hiltz (PR: 2:09.06*)
• Mile | 3:55 p.m.
Featured Razorback: Taylor Werner (PR: 4:41.31*)
Saturday's live television window on the SEC network will begin at 1:02 p.m. CT with the men's 400-meter invitational.
Razorback Invitational
January 26, 2018
Randal Tyson Track Center (Fayetteville, Ark.)
200 Meters
2. Payton Chadwick – 22.99
9. Jada Baylark – 23.49
15. Kiara Parker – 23.86
20. Tamara Kuykendall – 24.10
22. Janeek Brown – 24.18
23. Morgan Burks-Magee – 24.19
37. Sydney Davis – 25.38
41. Kayla Carter – 26.09
Distance Medley Relay
2. Arkansas A – Verstraten, Hammit, Jeacock, Endsley, 11:51.64
High Jump
8. Carmen Sitz – 1.63m/5-4 1/4
Pole Vault
1. Lexi Jacobus – 4.61m/15-1 1/2
2. Tori Hoggard – 4.39m/14-4 3/4
3. Desiree Freier – 4.24m/13-11
5. Ellie Ramos-Mata – 4.04m/13-3
6. Morgan Hartsell – 3.94m/12-11
11. Rylee Robinson – 3.79m/12-5 1/4
14. Madeline Telford – 3.44m/11-3 1/2
Pentathlon
Taliyah Brooks – 4,395 points
1. 60-Meter Hurdles – 8.09 (1,109 pts.)
1. High Jump – 1.78m/5-10 (953 pts.)
3. Shot Put – 12.36m/40-6 3/4 (685 pts.)
1. Long Jump – 6.28m/20-7 1/4 (937 pts.)
4. 800 Meters – 2:28.58 (711 pts.)
For more information on Arkansas track and field including in-meet updates, follow @RazorbackTF on Twitter.