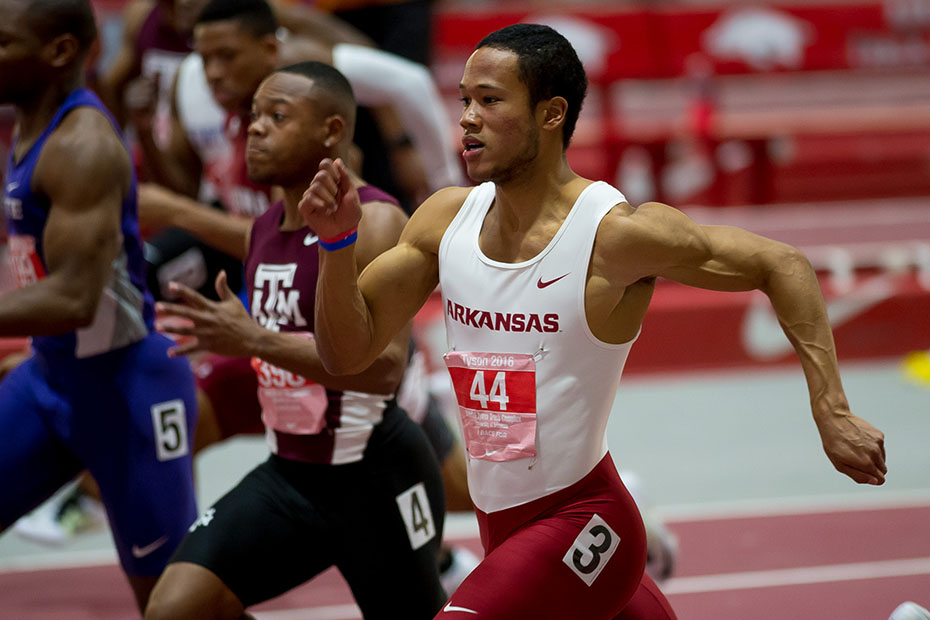 Underclassman Stand Out on Day One
FAYETTEVILLE, Ark. / Ames, Iowa – The Randal Tyson Track Center welcomed some of the top athletes from around the world making for an eventful first day of the Tyson Invitational. Razorback freshman looked in veteran form and stepped up with exciting performances.
Kenzo Cotton of Arkansas, along with Christian Coleman of Tennessee, Ronnie Baker of TCU, and Tevin Hester of Clemson represented some of the fastest times in the NCAA this year. Cotton remained consistent as he posted times of 6.65 in both the semifinals and finals leading to a third place finish behind Coleman and Baker.
Jarrion Lawson returned to the site where he recently set the mark for the best distance among collegians in the long jump. Competing with former SEC rival Marquis Dendy, Lawson jumped an 8.02m/26-03.75. The performance landed him a second place finish, but top amongst collegiate athletes.
Jamarco Stephen and Obi Ibgokwe put together a pair of personal bests in a competitive invitational section of the 400 meter dash. The underclassman hung tough with the other competitors who pushed the pair to their best races of the year. Stephen was able to shave his best time down to a 46.75 and Igbokwe crossed the line at 46.86.
Coach Geopfert on Razorbacks Performance at Tyson
"Overall it was a really good start to the meet. The 400 meter athletes ran really well. They're coming around and ready to do some big things. Kenzo is running very consistent and is excited for the 200 tomorrow. Jarrion jumped well in the long jump and was really close to putting a big one out there on his last jump. We're moving in the right direction and definitely excited for a fun day tomorrow."
In Ames, Iowa the Razorbacks distance runners collected solid performances along with a couple of personal bests. Alex George earned a new PR as he crossed the line in a time of 7:55.51 in the 3000 meter run. Continuing the trend Gabe Gonzalez posted his own personal best in the 5K with a 13:45.98.
The Razorbacks return to action for Day 2 of the Tyson Invitational tomorrow at 12:00 p.m. kicking off with the high jump. The live broadcast will begin at 2:30 p.m. and run through 5:00 p.m. on the SEC Network plus. In Ames, Iowa the Razorbacks begin with the 800 meter run at the Lied Recreation Center.
2016 Tyson Invitational Day 1 Results
Randal Tyson Track Center
Fayetteville, Ark.
60 Meters Prelim
Kenzo Cotton – 6.70
Roy Ejakuekwu – 6.75
Ryan Green – 6.84
Zach Riley – 6.88
Derek Jacobus – 7.27
Josh Washington – 7.01
60 Meters Semis
Kenzo Cotton – 6.65
Roy Ejakuekwu – 6.77
60 Meters Final
Kenzo Cotton (3) – 6.65
400 Meters College
Anthony Blakely (18) – 48.19
400 Meters Invitational
Jamarco Stephen (6) – 46.75
Obi Igbokwe (8) – 46.86
Eric Janise (14) – 47.29
800 Meters College
Noah Arrindell (20) – 1:56.96
Nick Costanza (23) – 1:58.51
60 Meter Hurdles Prelim
Kemar Mowatt – 8.13
Davon Anderson – 7.91
Larry Donald – 8.31
Lane Austell – 8.59
60 Meter Hurdles Semis
Davon Anderson – 7.82
60 Meter Hurdles Finals
Davon Anderson (6) – 8.02
Long Jump College
Rubin Owens (7) – 7.30m/23-11.50
Brandon Workman (11) – 7.07m/23-02.50
Trae Carey (19) – 6.85m/22-05.75
Lane Austell (22) – 6.56m/21-06.25
Long Jump Invitational
Jarrion Lawson (2) – 8.02m/26-03.75
Kurt Jenner (9) – 7.40m/24-03.50
Andreas Trajkovski (10) – 7.37m/24-02.25
Pole Vault College
Brad Culp – NH
Lane Austell – NH
Weight Throw
Devin Randall (14) – 17.30m/56-09.25
Erich Sullins (16) – 16.52m/54-02.50
Sam Kempka – Foul
2016 Iowa State Classic Day 1 Results
Lied Recreation Center
Ames, Iowa
3,000 Meters
Alex George (7) – 7:55.51
Stephen Mugeche (44) – 8:20.75
Jack Bruce – DNF
5,000 Meters
Gabe Gonzalez (7) – 13:45.98
Andrew Ronoh (38) – 14:22.67
2016 Tyson Invitational Day 2
Randal Tyson Track Center
Fayetteville, Ark.
12:00 p.m. – High Jump College – Brendon Rivera
12:00 p.m. – Triple Jump College – Rubin Owens
1:15 p.m. – 200m College – Anthony Blakely, Roy Ejakuekwu, Ryan Green and Zach Riley
2:45 p.m. – 200m Championship – Kenzo Cotton
3:00 p.m. – Shot Put – Brad Culp, Sam Kempka, Devin Randall, Jeff Rogers and Erich Sullins
3:00 p.m. – Triple Jump Invitational – Clive Pullen
3:00 p.m. – High Jump Invitational – Ken LeGassey
4:20 p.m. – 4×400 meter relay Invitational – Arkansas A
4:45 p.m. – 4×400 meter relay College – Arkansas B
2016 Iowa State Classic Day 2
Lied Recreation Center
Ames, Iowa
10:15 a.m. – 800m – Ethan Moehn
10:50 a.m. – Mile – Kyle Hosting and Aidan Swain
1:35 p.m. – Mile (Fast) – Austen Dalquist
4:00 p.m. – 800m (Fast) – Cameron Griffith, Andrew Pisechko, Ryan Thomas and Cale Wallace
For more information on Arkansas track and field including in-meet updates, follow @RazorbackTF on Twitter.