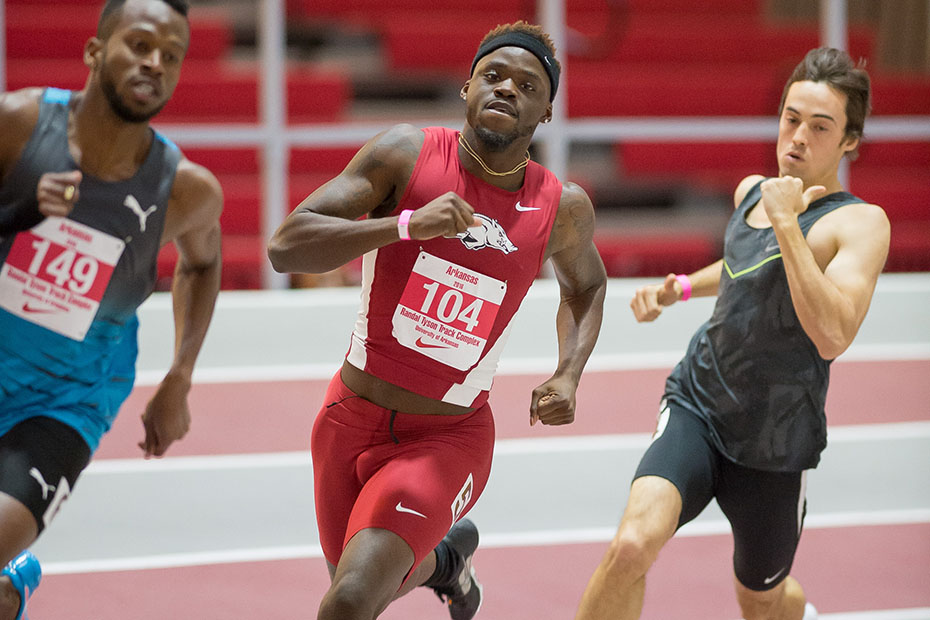 Washington Shines at Arkansas Qualifier
FAYETTEVILLE, Ark. – The top ranked Razorbacks entered the Arkansas Qualifier on their home track in Fayetteville with 10 athletes in qualifying position for the NCAA Indoor Championships. After remarkable races from Marqueze Washington and Obi Igbokwe in the 400-meter dash Arkansas closed the day adding two more qualifiers giving them a new total of 12 Razorbacks available to compete in Birmingham, Ala. on March 11-12.
Marqueze Washington arrived at the Arkansas Qualifier with a fire to prove himself. Washington used the fuel gained from a misstep at the Tyson Invitational to power himself to an NCAA lead and national runner-up position behind Deon Lendore who won the race with 45.56. The senior from West Monroe, Louisiana also moved his way up Arkansas' All-time indoor top time's list coming in at second with a 45.72.
Not to be overlooked freshman Obi Igbokwe put forth his best effort of the year as well moving up into the NCAA top 15 performance list in the 400-meter dash. Igbokwe raced to a personal best of 46.64 coming in at fourth overall and second among college competitors. The time also places Igbokwe as the fastest freshman at 400 meters in the SEC.
Arkansas hurdler Davon Anderson continues to show improvement with each race as he beat his personal best once again this year in the 60-meter hurdles. Anderson raced to his new top time of 7.81 coming in behind Isaac Williams of Houston.
Along with Anderson, Ryan Thomas improved upon his event performance for the second-consecutive week setting a new personal record in the 800-meter run of 1:48.10. With his times dropping at a rapid rate through the regular season, Thomas seems primed to continue the trend come next week at the SEC Championships.
The Razorbacks' distance medley relay team will race at the Alex Wilson Invitational tomorrow at 11:05 a.m. Scheduled to compete in section two of the event Arkansas will face off against Air Force, Georgia Tech, Indiana, Iowa State, LSU and Northern Arizona.
Live results from the Alex Wilson Invitational can be found on deltatiming.com.
Arkansas will host the 2016 SEC Indoor Track and Field Championships on Feb. 26-27. All-Session tickets for the 2016 SEC Indoor Track and Field Championships are now on sale.
The two-day, all-session ticket prices are $35 for reserved seating and $25 for adult general admission. Tickets can be purchased by logging on to arkansasrazorbacks.com or calling 800-982-HOGS.
Coach Case on Improving Razorbacks
"The jumpers did well, Andreas (Trajkovski) jumped well and he's getting better every week. The throwers did a good job today as well. The highlight was Marqueze Washington running the top time in the 400 at 45.72. Then Obi Igbokwe ran 46.64 which is 12th at the NCAA meet level, and as a freshman that's a real good time for him. We had a bunch of guys in events that got themselves ranked nationally and moved up higher in the SEC. Overall, what a great meet this turned out to be for us."
2016 Arkansas Qualifier
Randal Tyson Track Center
Fayetteville, Ark.
60 Meters – Prelims
Roy Ejiakuekwu – 6.77
Zach Riley – 6.95
Ryan Green – 6.91
60 Meter – Finals
Ryan Green (3) – 6.91
Zach Riley (4) – 6.97
Roy Ejiakuekwu – DNF
200 Meters
Roy Ejiakuekwu (1) – 21.17
Zach Riley (3) – 21.37
Ryan Green (7) – 21.82
400 Meters
Marqueze Washington (1) – 45.72
Obi Igbokwe (4) – 46.86
Josh Washington (11) – 49.03
Kemar Mowatt (7) – 47.55
800 Meters
Ryan Thomas (2) – 1:48.10
Andrew Pisechko (4) – 1:49.59
Noah Findlay (7) – 1:53.24
Mile
Kyle Hosting (2) – 4:08.21
Andrew Ronoh (3) – 4:08.27
3000 Meters
Jack Bruce (1) – 8:20.03
Aidan Swain (2) – 8:20.66
Stephen Mugeche (3) – 8:21.45
60 Meter Hurdles – Finals
Davon Anderson (2) – 7.81
Larry Donald (4) – 7.97
Brad Cup (6) – 8.32
Lane Austell (7) – 8.35
High Jump
Alex Campbell (1) – 1.96m/6-05.00
Pole Vault
Lane Austell (6) – 4.72m/15-05.75
Brad Culp (7) – 4.57m/15-0.00
Derek Jacobus (8) – 4.12m/13-6.25
Long Jump
Andreas Trajkovski (1) – 7.49m/24-7
Kurt Jenner (2) – 7.35m/24-1.50
Brandon Workman (3) – 7.24m/23-6
Trae Carey (4) – 7.08m/23-2.75
Triple Jump
Rubin Owens (1) – 15.22m/49-11.25
Shot Put
Devin Randall (1) – 17.02m/55-10.25
Jeff Rogers (2) – 16.75m/54-11.50
Sam Kempka (3) – 16.38m/53-9
Erich Sullins (4) – 15.93m/52-3.25
Brad Culp (6) – 13.14m/43-1.50
Lane Austell (7) – 12.33m/40-5.50
Derek Jacobus (8) – 12.08m/39-7.25
Weight Throw
Erich Sullins (1) – 18.27m/59-11.25
Devin Randall (2) – 17.02m/55-10.25
For more information on Arkansas track and field including in-meet updates, follow @RazorbackTF on Twitter.
— ArkansasRazorbacks.com || On Twitter @ArkRazorbacks || Facebook.com/ArkansasRazorbacks –