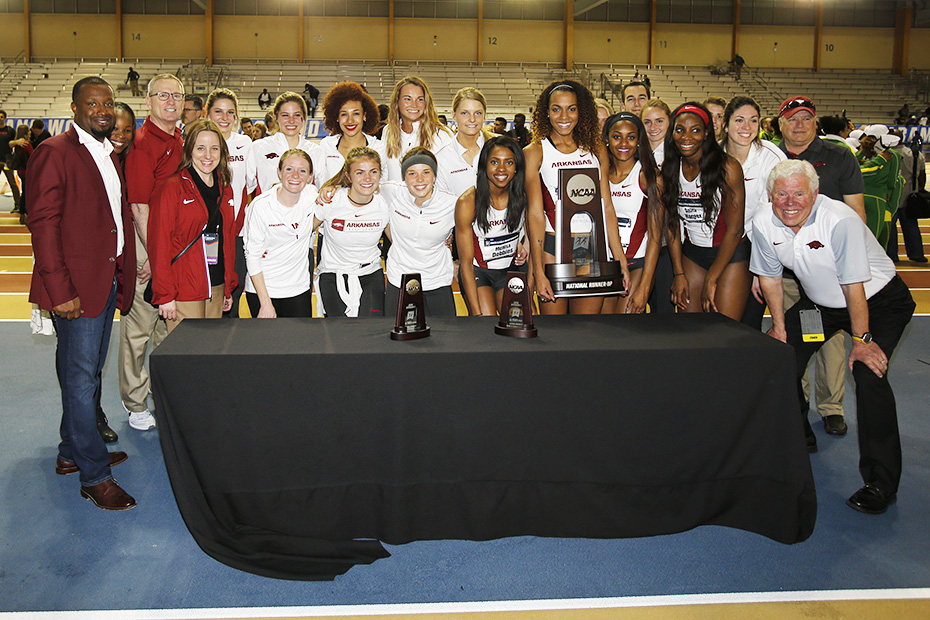 Weeks' Historic Vault Leads Arkansas to No. 2 Finish
BIRMINGHAM, Ala. – The Arkansas women's track and field team returned even stronger on day two of the 2016 NCAA Indoor Track & Field Championship in Birmingham, Ala. An all-around successful weekend for the Razorbacks the final day of the NCAA meet was highlighted by a gold-medal performance by Lexi Weeks in the pole vault. Arkansas capped the indoor season as the second best team in nation.
The runner-up finish is Arkansas's second highest finish and third NCAA indoor top three performance in program history.
In her NCAA Championship debut Lexi Weeks stunned the crowd at the Birmingham Crossplex claiming the pole vault national title in an NCAA meet record of 4.63m/15-2.25. The Cabot, Ark. native posted perfect attempts over four heights before going to head-to-head against fellow NCAA co-leader Megan Clark of Duke. An SEC Champion one week earlier Lexi Weeks emerged as the outright No. 1 following a clearance over 4.60m/15-1. She capped the night with a new PR of the aforementioned 4.63m/15-2.25 becoming the first freshman in the 18 year history of the NCAA pole vault to earn the national crown.
Lexi Weeks is the fourth pole vaulter in Arkansas history to win an NCAA Championship and the 28th Razorback to do so.
The pole vault brought in 13 total points for Arkansas as Tori Weeks picked up three with a sixth place finish. A standout in the pole vault as well, Tori Weeks cleared 4.30m/14-1.25 to cap her first indoor season as a Razorback as one of the best vaulters in the country.
On the track, 2016 pentathlon All-American Payton Stumbaugh picked up where she left putting the first points of the day for the Razorbacks on the board with a seventh place finish in an incredibly fast 60-meter hurdle final. The Northwest Arkansas native matched her personal best of 8.09, which she ran on the first day to solidify her status as the best indoor hurdler in Arkansas history. In her first national outing Stumbaugh tallied 6 points individually for Arkansas.
Senior Taylor Ellis-Watson scored eight points for the Razorbacks with a silver-medal performance in the 400-meter dash. The Philadelphia, Pa. raced to a new PR of 51.51 to become the second fastest woman in the world this season at 400 meters. Ellis-Watson returned to the mondo as the anchor of the Arkansas women's 4×400-meter relay team. The combined team effort of Monisa Dobbins, Daina Harper, Brianna Swinton and Ellis-Watson, who split a jaw-dropping 50.51 on the last leg, was good for a 3:29.65 performance – the second best of the night.
Head Coach Lance Harter
Quote to follow.
A re-air of the championship will take place on Sunday, March 13 starting at 6 p.m. Central time on ESPN2 and also Wednesday, March 23 starting at 9 p.m. Central time on ESPNU.
2016 NCAA Indoor Championship Complete Results
Birmingham Crossplex
Birmingham, Ala.
400m Semifinals
Taylor Ellis-Watson – 52.52
400m Finals
Taylor Ellis-Watson (2) – 51.51
60mH Semifinals
Payton Stumbaugh – 8.09q
Taliyah Brooks – 8.27
60mH Finals
Payton Stumbaugh (7) – 8.09
4x400m (2) – 3:29.65
Arkansas A
Monisa Dobbins
Daina Harper
Brianna Swinton
Taylor Ellis-Watson
DMR (5) – 10:59.22
Nikki Hiltz
Daina Harper
Therese Haiss
Jessica Kamilos
Pole Vault
Lexi Weeks (1) – 4.63m/15-2.25
Tori Weeks (6) – 4.30m/14-1.25
Pentathlon
Taliyah Brooks (2) – 4,432 points – 60mH: 8.17, HJ: 1.86m/6-0, SP: 11.55m/37-10.75, LJ: 6.18m/20-3.50, 800m: 2:22.59 Payton Stumbaugh (5) – 4,371 points – 60mH: 8.10, HJ: 1.74m/5-8.5, SP: 12.14m/39-10, LJ: 5.97m/19-7, 800m: 2:18.01
Alex Gochenour (6) – 4,336 points – 60mH: 8.38, HJ: 1.71m/5-7.25, SP: 12.65m/41-6, LJ: 5.95m/19-6.25, 800m: 2:15.38
Leigha Brown (9) – 4,218 points – 60mH: 8.64, HJ: 1.71m/5-7.25, SP: 13.11m./43-0.25, LJ: 5.57m/18-3.25, 800m: 2:13.87
POINTS BREAKDOWN
400m – 8
60mH – 2
4x400m – 8
DMR – 4
Pole Vault – 13
Pentathlon – 15
WOMEN'S FINAL TOP 10 TEAM SCORES
1. Oregon (53)
2. Arkansas (50)
3. Georgia (45)
4. Texas (44)
5. Notre Dame (35)
6. Michigan (31)
7. Tennessee (30)
8. Kansas State (26)
9. Georgetown (9)
10. USC (18)
10. Oklahoma State (18)
For more information on Arkansas track and field including in-meet updates, follow @RazorbackTF on Twitter.