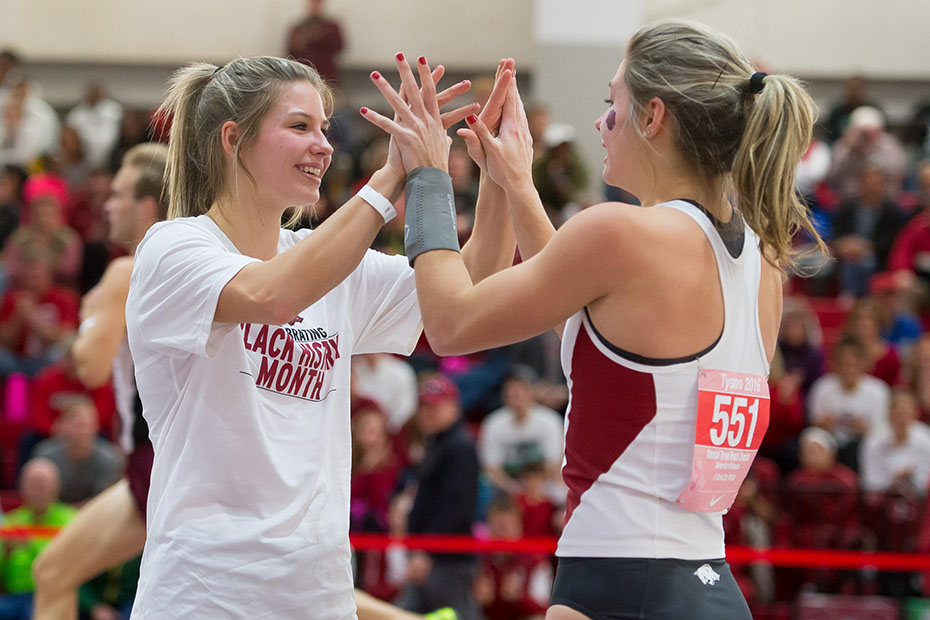 Weeks Vaults to the Top of the NCAA
FAYETTEVILLE, Ark. / SEATTLE, Wash. – The No. 1 Arkansas women's track and field team picked up two NCAA top-three performances on the final day of the Tyson Invitational as well as an SEC-leading mark in the Husky Classic.
Freshman phenom Lexi Weeks jumped to the No. 2 spot on Arkansas's all-time best list in the pole vault during her fourth meet as a Razorback.
Entering the competition at 4.00m/13-1.5 Weeks made quick work of the next four heights advancing to 4.60m/15-1 with a perfect clearance record. The Cabot, Ark. native came up short on her first attempt but bounced back strong on her second attempt to secure a new personal best. The mark moves Weeks back up the NCAA performance list to No. 1 in share with Megan Clark of Duke.
Senior Taylor Ellis-Watson kicked off day two with a runner-up finish at 200 meters off an indoor personal best time of 23.03. The 2015 NCAA Indoor 400-meter silver-medalist gave her home crowd a show getting one of her best block starts this season to win heat four and post the second best time of the day. Ellis-Watson's new PR is the third best in the NCAA at 200 meters.
California native Nikki Hiltz raced to the SEC-leading spot in the mile with a time of 4:38.27 at the Husky Classic. Hiltz along with teammate Jessica Kamilos are only two runners in the conference with a sub-4:40 mile time this season.
Already one of the top milers in the SEC, Kamilos took on the 3K in Seattle, Wash. and came out with a conference-leading time. The 2015 NCAA DMR champion eclipsed her former PR in the event by over 10 seconds finishing as one of the best collegians in the race with a time of 9:13.92. One of Arkansas's team leaders, Kamilos continues to position herself to be a major contributor for the Razorbacks during postseason competition.
Arkansas also saw improved times from Sydney Brown (Husky Classic) and Kelsey Schrader in the 3,000 meter run of 9:31.87 and 9:58.57 respectively. Oklahoma transfer Payton Stumbaugh also collected a new PR of 23.67 in the 200-meter dash.
The Razorbacks closed the meet with a solid outing in the 4×400-meter relay placing third with a season's best time of 3:32.27.
"I think we had a really good weekend," said associate head coach Chris Johnson. "Taylor Ellis-Watson had a lifetime PR indoors, she ran fantastic. Payton Stumbaugh had a lifetime PR as well. These meets (Husky/Tyson) do a great job of getting us ready for what to expect at SECs and nationals. The SEC is the best conference in the country and most of teams from the conference were here (Tyson) so we got to see a snapshot of where they are and what they can do.
Arkansas hosts its final indoor regular season meet with the Arkansas Qualifier on Friday, Feb. 19.
Following the qualifier the Randal Tyson Track Center will welcome members of the Southeastern conference to 'The Track Capital of the World' for the 2016 SEC Indoor Track and Field Championships. All-session tickets for the event are now on sale. All-session ticket prices are $35 for reserved seating and $25 for adult general admission. Youth and general admission student tickets are available for $15.
Tickets will be available online, or by calling the Razorback Athletics Ticket Center at 800-982-4647. You can also visit the Ticket Center in person at 1295 S. Razorback Road, just east of Baum Stadium.
2016 Tyson Invitational Day 2 Results
Randal Tyson Track Center
Fayetteville, Ark.
200 Meters College
Payton Stumbaugh (6) – 23.67
Brianna Swinton (29) – 24.23
Kelsey Herman (46) – 24.74
200 Meters Championship
Taylor Ellis-Watson (2) – 23.03
3,000 Meters College
Grace Taylor (7) – 10:40.84
3,000 Meters Championship
Kelsey Schrader (5) – 9:58.57
5,000 Meters
Aubree Worden (1) – 17:11.36
Logan Bishop (3) – 17:31.06
4×400-meter relay Invitational
Arkansas A
High Jump College
Leigha Brown (5) – 1.71m/5-7.25
Carmen Sitz (10) – 1.61m/5-3.25
Alyssa Parker – NH
High Jump Invitational
Taliyah Brooks (9) – 1.71m/5-7.25
Pole Vault College
Ariel LaChance (13) – 3.70m/12-1.5
Emily Bates (17) – 3.70m/12-1.5
Rylee Robinson (19) – 3.70m/12-1.5
Pole Vault Invitational
Lexi Weeks (2) – 4.60m/15-1
Tori Weeks (6) – 4.15m/13-7.25
Megan Zimlich (6) – 4.15m/13-7.25
Ariel Voskamp (8) – 4.00m/13-1.5
Shot Put
Micah Dennis (18) – 13.80m/45-3.5
2016 Husky Classic Day 2 Results
Seattle, Wash.
Mile
Nikki Hiltz (6) – 4:38.27
Therese Haiss (11) – 4:40.56
Annika Sisson (23) – 4:48.04
3,000 Meters
Jessica Kamilos (22) – 9:13.92
Sydney Brown (46) – 9:31.87
For more information on Arkansas track and field including in-meet updates, follow @RazorbackTF on Twitter.